The first time I heard about Carlo Vellutino, a Peruvian rider who already had nine Dakar rallies under his belt and was now competing in his 10th, was during the second stage of the Dakar 2019. I knew I had to talk to him: this year, the rally was held in Peru only, so I was curious about a local perspective – and from a Dakar vet at that.
I met Carlo at his XRaids camp in San Juan de Marcona bivouac which he shared with some other Peruvian riders. Although it was late already, Carlo found time to chat with me, and we talked a little about the dunes, the Dakar, and his hopes for the rally. Although the grueling second stage was already taking the toll on most riders, Carlo seemed relaxed and in high spirits; he knew exactly what he was getting into, and how he was going to ride.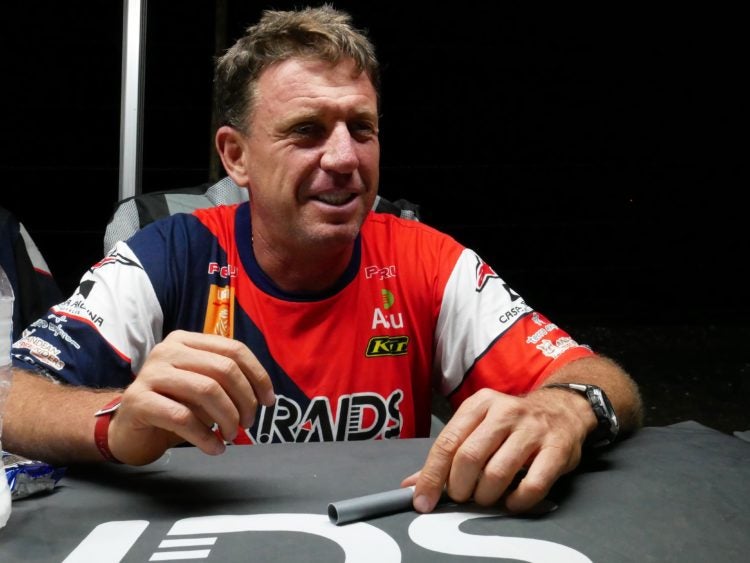 Now that the Dakar is over, I wanted to catch up with Carlo in Lima and hear his perspective on the rally. We sat down in the spacious patio of his house, Carlo, as always, smiling, but still yawning and confessing he hasn't been doing much since the Dakar except having air conditioning on full blast – and sleep. "I think the Dakar helps me keep my perspective, you know? When you come back from hell you appreciate what you have a lot more", – he said, sipping ice-cold water.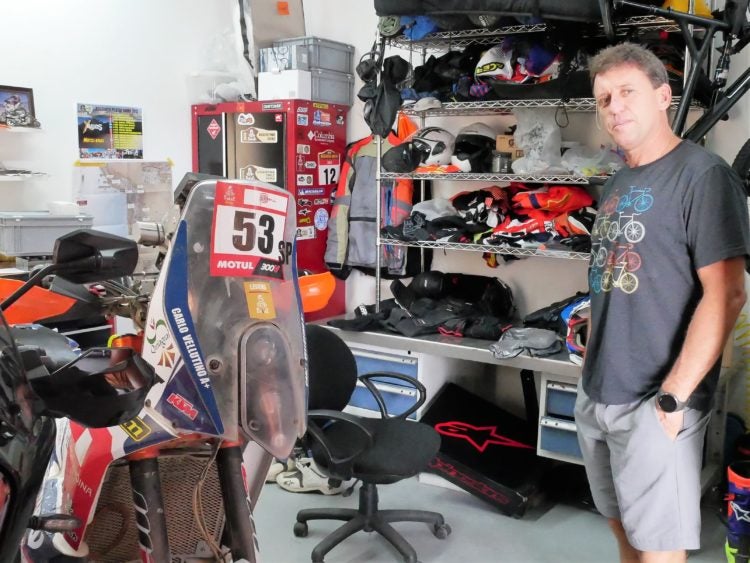 The 48-year old was the first Peruvian pilot to ever cross the Dakar finish line on a motorcycle – and he hasn't stopped since. Carlo has participated in every single Dakar rally since 2010 with three withdrawals and seven finishes under his belt. Why does he do it? "The Dakar is an enormous challenge, and every year, I just need to step way out of my comfort zone and experience that", – he said.
Ten years ago, you were the first Peruvian motorcycle pilot to finish the Dakar, and this year, there are five riders from Peru besides you. Is the Dakar getting more popular here?
Definitely. In 2010, 2011, when the Dakar was happening in Argentina and elsewhere, very few people in Peru even knew what that was. In 2012, the Dakar started in Lima, and there was some interest now since the whole world was watching. All of a sudden, sponsors were willing to help out; it became this big deal. Then, in the following years, the Dakar left Peru again, and I think the interest subsided. So the popularity of the rally here depends on where it's happening. In 2018, it touched Peru again, and in 2019, when the rally was in Peru only, the interest swelled up again.
In the decade of Dakar participation, what has changed for you?
I've been consistently working to get better. I finally got a rally motorcycle a few years back, as an example. Before, I'd race on enduro bikes because I always assumed that rally bikes were for rally professionals, and I wasn't one, I'm an amateur. Why would I spend so much money on an insanely expensive rally bike if I wasn't good enough to ride it? But this thinking changed once I actually tried it. A rally bike is just a whole another level.
I teamed up with X Raids; they're a great support team out of Barcelona, Spain. A good mechanical team is 50% of your Dakar success.
I also learned to manage stages better. For example, if it's a long stage, I'll plan to ride with reserve and just preserve my own strength as well as the bike. You can't go flat out all the time, you just won't make it to the finish line like that. Ever since my first Dakar, my goal has always been just to finish it. I never had any ambitions of placing in the top 20, for example, or winning the Dakar. Again, I'm not a pro and I'm under no illusions. So since I simply wanted to finish, this is what I thought at each stage. "Okay, this one is four hundred kilometers. I need to finish it. How do I do that?", and then I'd just plan accordingly. Take one day at a time and finish that day's stage, that's all. And then rinse and repeat. You can't think about all of it at once, you've got to break it up and focus on the task at hand.
I've also been training a lot in the dunes and fesh-fesh and preparing physically, doing lots of gym workouts and mountain biking.
Did you have any low moments in this Dakar?
I did have a good scare during the Moquegua stage. I was riding towards the route, and luckily, it was a rocky track so I was riding in the second or third gear, not very fast. I saw a few wooden posts ahead, just stuck into the ground. I didn't think much of it but as I was passing the posts I felt a sudden violent hit and flew off the bike… there was wire between the posts. The wire hit the bike on the front fairings and windshield and then sprang upwards, catching me straight in the neck and knocking me off the bike. Luckily, my Leatt brace caught it. I dread to think what would have happened if I didn't have it.
I got up, did a quick inventory – hands and arms OK, legs and feet OK – then touched my neck and realized there was a lot of blood. I got scared because I thought the wire might have cut an artery or something. All of a sudden, there were two locals just happening by. One of them tore off his shirt sleeve so I could wrap it around my neck to stop the bleeding.
The accident really messed with my head, I rode the remaining distance to Moquegua slowly, missing two waypoints, I was just so shaken and couldn't stop thinking what would have happened if I didn't have that neck brace. The crazy part is, the only reason I had the brace was because when we left Lima, I stopped at my house for a quick bathroom break and realized I'd forgotten the Leatt. So basically, if I didn't have to go to the bathroom when we left the Magdalena bivouac, I would have competed in the Dakar without it, and that wire would have probably killed me. Lucky, right?
Which Dakar was the most difficult?
For me, 2011 and 2014 are marked. In 2011, I didn't have a great bike, so I was just extremely exhausted. In 2014, I remembered the heat was absolutely insane, and two pilots died in that race. During one of the stages, 45 competitors had to take the helicopter – imagine, forty-five competitors withdrawing in just one day! Heat stroke, injuries, bike failures… It was hell.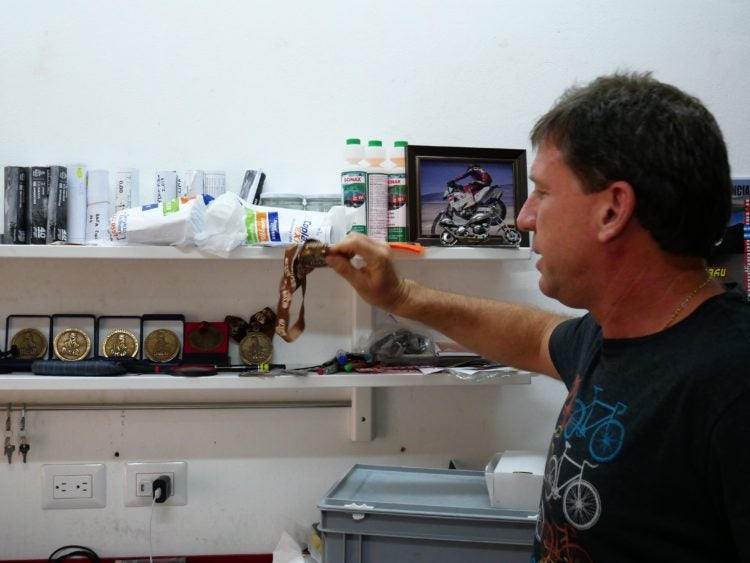 This Dakar was different. It was very technical, you really had to have a good understanding of the roadbook. But at least the heat was manageable since most of the time, we were quite close to the ocean. I would say it was more technical than grueling.
When it comes to the roadbook, you really need to have a great understanding of it and follow it. It's easy to get lost following others' tracks, because sometimes those would be old, yesterday's tracks. Or you would follow yesterday's tracks for a while and then have to turn off, and if you weren't paying attention, you'd miss the turn and lose time. So, this Dakar was all about technical riding and navigation.
You know these parts and these dunes quite well. Does being local help?
Not necessarily. I actually missed a turn-off on one of the beaches. I got to the beach and was like, oh, I know this place, I've been here before, this is great. And I got distracted. I missed the turn off and had to come back some fifteen kilometers. Whereas for riders who are here for the first time and do not know the area, they're a lot more focused on the roadbook. And that's where your head needs to be all the time.
Which stage was the most difficult?
The Arequipa – Moquegua one, that's where the wire incident happened. And the one after, Moquegua – Arequipa, because the dunes were just monstrous. In Tanaka, the dunes are tricky and soft, but at least they're small, so if you don't make it, you turn around and go at it again. In the Moquegua – Arequipa stretch, those were just mountains of sand. It was very tough.
How does the decade-long Dakar experience influence your success?
It definitely helps a lot. For example, I learned to only bring the absolute essentials with me. I used to bring sunscreen, too much food, too much tools and in two-three days, I'd have a very heavy backpack and it would start to hurt and bother me. Now, I only bring a few energy gels and bars, water, my phone, my Leatherman, and a size eight key. Why size eight? Because it opens the navigation tower of my KTM, and that's where I store all the other tools. So all I have on me is the Leatherman, the 8, and a few energy gels. I'm light. It makes a difference.
I have to ask about the "why". Why do you do the Dakar?
The Dakar is like my reward at the end of each year.  I mean, it may sound strange to call it a reward as it's pure suffering, but that's kind of the point. I love leaving my comfortable, air-conditioned house and life here, and heading out into the desert, stepping way out of my comfort zone, and for fifteen days, being in a hostile environment with minimal amenities, cold showers, early starts, barely any sleep or rest, ten-twelve hour days on the bike, impossible terrain… I think when I come back home after this, I value what I have more.
It's just rich, this experience.
The Dakar is also a dream for me. When I was a kid, I always followed the Paris-Dakar rallies in Africa, glued to the TV, holding my breath. So when the Dakar came to South America, I knew this was my chance. My friend and I built our first enduro bike, it was so bad, so heavy and clumsy, we couldn't find anything here in Peru, but I entered the rally anyway. I went for the malle moto class, and it was a disaster – a badly built, badly prepared bike and my first rally, working on the motorcycle myself, getting barely any rest because everything just kept falling apart. I didn't finish that year. But I never gave up.
What would you say to young people who are watching the Dakar, like you once did, and dream about it?
You need to get into a certain mindset first. For most people, when they think of the Dakar, their first thought is, "it's impossible".
And not just the Dakar, really, many things. "Impossible". And they never even try.
The thing is, everything is possible. And that's how you need to start thinking. Everything is possible, but you have to be very disciplined, you have to train hard, work hard, you have to give it your best, and go for it. Have a clear goal in mind. If one year you dream of the Dakar and the next, the World Cup, you're probably not going to achieve either. Set a laser sharp focus and work for it.
It's not going to happen all at once, and you need to have the patience and the determination to see it through. Day after day, you have to keep showing up.
But everything is possible if you have a clear goal.