Editor's Note: This post is kindly sponsored by Clint and the team from Motorcycle Shippers. Motorcycle Shippers can ship your motorcycle door-to-door around the United States with minimal hassle. If you want to start a ride away from home or ride further without looping back, these folks can help. Perfect for long trails like the Trans American. 
What are the cheapest motorcycle shipping routes around the world?
Setting out on a long motorcycle journey often means that at some point, you'll have to ship your bike across an ocean. So whether you are riding round the world or just want to explore a few different continents beside North America, motorcycle shipping is something you'll need to deal with. It may sound complicated and expensive, but if you choose your shipping agent right, it doesn't have to be. It also greatly depends where you are shipping your bike to. Shipping a motorcycle to South America, for example, can be fairly hassle-free and cost around $1,200 if you are headed for Valparaiso, Chile. If you are aiming at Buenos Aires, Argentina, the price can double and you can expect a long and bothersome customs procedure. Same bike, same continent, more or less the same distance, but the difference can be significant.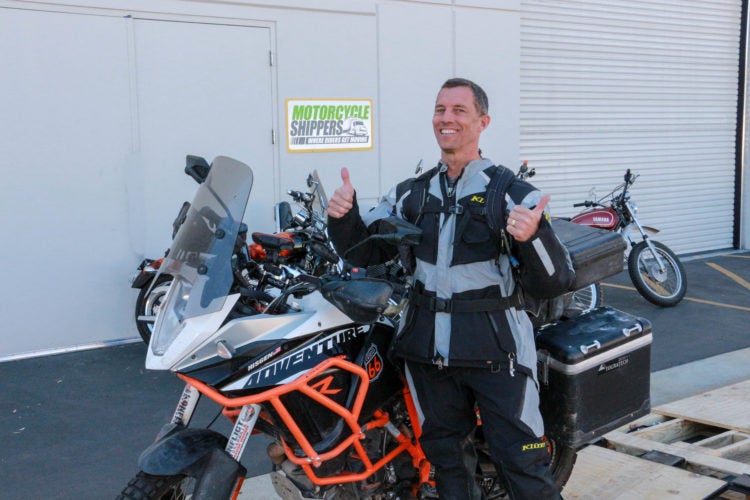 To make the best decision about shipping your motorcycle anywhere in the world, research a few different destinations. Reach out to shipping agents and ask them to give you several quotes. For example, don't just ask for a shipping quote from Los Angeles to Sydney. Ask them to include Melbourne and other ports for comparison. Ideally, if you can be flexible with your departure date, that might allow for better prices, too. To save even more, you can try and buddy up with other riders so you can share a container. This is especially popular when shipping bikes between South America and Europe. Sharing a container with five or six other riders usually brings costs down quite a bit.
When you're researching motorcycle shipping, don't just look up sea freight options. Although normally sea freight is cheaper, air freight can sometimes be a better deal. Air Canada has a "fly your bike" program and offers several excellent deals to ship your motorcycle. Popular destinations include Europe and Turkey, and the cost is about the same as sea freight – but you don't have to wait for a month before your bike arrives.
In terms of paperwork, most shipping companies will do customs clearance for you, but always ask before you commit. Have them list all of the procedures and paperwork required, and see how are they pricing each one. Always read the fine print and make sure you understand exactly what's included and what isn't. Read up on what your destination country requires when you're shipping your motorcycle, too: it may just be a simple customs clearance, but it may involve things like cleaning your bike, quarantine, fumigation and so on. Often, shipping companies also include insurance which may vary from very basic to a premium tier which covers even minimal damage like scratches or dents.
Finally, find people who have recently traveled a similar route if you can and ask for their advice. Get on online forums and social media groups and ask for advice and recommendations. Always check reviews of the company before you commit, and see how responsive they are to all of your queries.
If you're still undecided, simply pick cheaper destinations. Here are the three cheapest motorcycle shipping routes around the world:
US – Australia: $1,200
Shipping your bike to Melbourne, Australia from the West Coast (Long Beach harbor, CA) is one of the cheaper options out there. This is the price for sea freight, which means you will have to wait for your bike for approximately four weeks. Since this is a popular route, cargo ships leave frequently which makes planning easier. Again, check what the shipping company includes in the price (customs clearance, motorcycle cleaning, etc), and make sure you have at least the basic insurance against your motorcycle being lost at sea. Yes, itndoes happen.
Canada – UK: $1,500
The Toronto – London route is one of the most popular and cheapest international shipping options out there. The $1,500 quote is for air freight, which means you can ride to the airport in Toronto, leave the bike with the shipping agent, hop on your flight, then pick up your bike at the airport in London and ride off. Simple, easy, and economical considering that this is air freight.
Chile – Germany: $1,150
Another extremely popular option, the Valparaiso – Germany route is used by hundreds of riders each year. The price quote is for sea freight, so it'll take a while (again, roughly about a month) before you get your bike. However, the price is low, and the customs procedures both on the Chilean and European sides are fairly straightforward and hassle-free.
Darien Gap: $500
If you're thinking of doing the Americas route on your bike, there's one tiny section of land you cannot cross: the Darien Gap. You will need to ship your motorcycle from Panama to Colombia, and depending on whether you choose a sailboat, a container ship, air freight, or a local boat, the price will vary greatly. Air freight is the most expensive, and a container ship or a sailboat might cost around $1,200. Local boat captains charge $500-600 to get your bike across, however, and the journey includes stops at the Caribbean islands as a bonus!
All shipping prices are up-to-date as quoted by several international shippers.