Europe is home to the highest concentration of rally races in the world, with names like Hellas, Serres, Iberian Rally, Breslau, Rally Hispania, and many others having had already made a mark. There's also no shortage of rally training events such as Bosnia Rally or Trans Alen Tejo, and there are several smaller events all over the continent from Portugal and Spain to Romania, the Balkans, Poland, and beyond. This year, although it may arguably be the worst time to start a new event due to COVID-19, Europe is seeing one more rally format-based race in Croatia: the Dinaric Rally entering the stage.
Dinaric Rally will start on the 11th of September in Knin, Croatia, and participants will have three days of riding in the Dinaric Alps, a mountain region still largely undiscovered by adventure riders. The rally will have GPS navigation instead of roadbook, but the stages will be timed, making this event a transitional race between a traditional rally format and an amateur training event. The average distance will range from 230 to 170 kilometers a day, and the bivouac in Knin will remain stationary with riders doing loops in the area.
Dinaric Rally: Mountains to Motorcycles
To find out more about this brand new event and see what the Dinaric Rally is all about, I chatted with Perica Matijevic, the mastermind behind the project. Born in Bosnia and Hercegovina but Croatian – based, Perica's background is in adventure travel and Mountain Rescue Service. "Having grown up in a small village in central Bosnia and Herzegovina, I was always fascinated with nature, adventures, and exploring. After moving to Zagreb, Croatia, I got into rock climbing and mountaineering and traveled as much as I could. I've been to a few climbing expeditions like Mt. Kenya and did rafting, free diving, kayaking, sea kayaking, skydiving, paragliding, canyoning – more or less, I did or at least I have tried anything interesting and exciting that I could. In 2002, I joined the Croatian Mountain Rescue Service, and nine years ago, I started riding motorcycles. Soon, I began riding off-road and have explored the Balkans on two wheels ever since, often helping out other riders and sometimes guiding tours", Perica said.
For him, the idea to organize a cross country rally came naturally. "The Dinaric Alps in Croatia is a stunning and truly undiscovered region, and I just wanted more riders to come and discover it in the best way possible – riding off-road. As the rally grows, I hope to eventually be able to cover all of the Dinaric Alps from Slovenia all the way to Albania. For this first edition, however, I picked a portion of the Dinarides in Croatia where the scenery is spectacular and the riding will be phenomenal. I'm also hoping to aid in the efforts to find and eradicate the remaining landmines from the Balkan war period as well as reforestation of the region – we will plant one tree for each rider who comes to the Dinaric Rally – and the city of Knin has been a great partner in organizing the rally and helping with all of these efforts. Most of all, I'm thrilled to share this beautiful corner of Croatia with riders from all over Europe and the world, and I want it done in the safest way possible".
Rider Safety at the Dinaric Rally
Having ridden in Croatia, Albania, Montenegro, and Bosnia and Herzegovina myself, I can personally attest that this region really is an awe-inspiring place to ride. However, why aim for a rally format instead of just doing an adventure or an off-road riding tour?
"Because of my Mountain Rescue experience, I place a high value on rider safety, and the reality is that you cannot guarantee a high level of safety on an off-road tour, especially if you have a large group of riders. A rally format, on the other hand, can give you that. All competitors will be tracked, there will be assistance available throughout the entire event, and we will have an ambulance tent with a doctor and first aid medical equipment, medical technicians present on the tracks, Search and Rescue Service vehicles with SAR professionals and a medical technician on standby, an off-road vehicle with a doctor on standby, and a Search and Rescue team available for backup to ensure that the competitors are safe throughout each stage.
Safety aside, I think roadbooks are an excellent way to navigate, and while we will not have roadbook navigation this year, we are definitely aiming for roadbook navigation in 2021. I'm following other rally races closely and I see the shift towards electric roadbooks as a more environmentally friendly option, so I think introducing electric roadbook navigation at the Dinaric Rally in 2021 will be perfect. For this edition, it'll be GPS tracks all the way, but I'm hoping that this will be useful for less experienced riders as well as those who are considering doing a rally race like Hellas or Serres but feel intimidated by roadbook", Perica told me.
A weird but wonderful mix between trail riding and rally racing, amateur-friendly and environmentally conscious, promising the wilderness of the Dinaric Alps and the safety of a professionally organized event, the Dinaric Rally has certainly piqued my curiosity, and I'm sure I'll be at that start line in Knin in September. However, the threat of the second wave of coronavirus is still real, too.
"We are monitoring the COVID-19 situation closely and are prepared to make any necessary changes, however, we are confident that Croatia is handling the situation well and we hope the participants will not face any COVID related issues here. I'm prepared to do full refunds if the situation changes for the worse, of course, but I can tell you one thing – even if the event will have to be canceled, there will be at least one person – me – who will go and ride all three stages. I realize that going ahead with the event is a big risk, but I'm confident that we will manage the situation and Dinaric Rally is going to celebrate its first edition this year".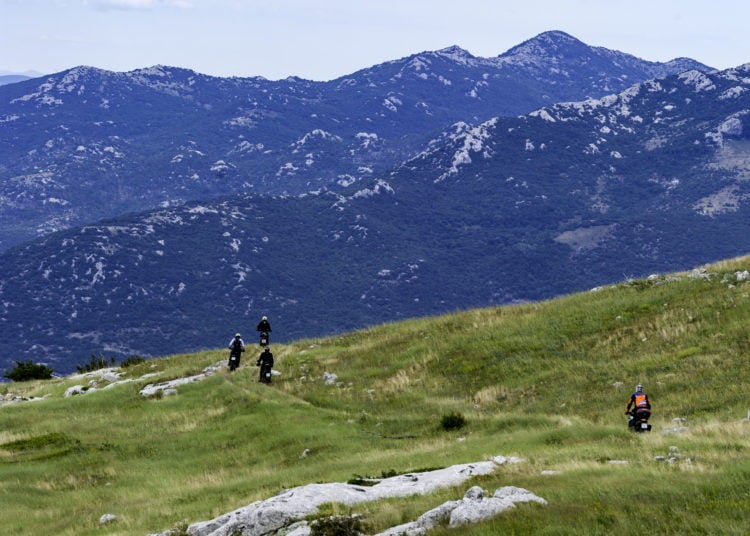 Registration for the Dinaric Rally in Croatia is still open with categories ranging from 250cc to 1200cc including Veteran and Women's classes available, as well as a 2WD and 4wD and Quad classes.
Images: Dinaric Rally, Iva Šverko, Željko Opačić, Marko Erceg