What's a typical Dakar competitor? I don't think that person exists. Every single Dakar pilot, car or bike, male or female, pro, rookie or amateur, privateer or factory, is extraordinary in their on way. Nuts, mostly, in the best way possible; possessing incredible inner strength and extreme drive; possessed; probably holding an extraterrestrial citizenship. But there's not one common factor that would describe them all – not their background, not their nationality, gender, age, or history.
Balys Bardauskas, a Lithuanian malle moto competitor, is also extraordinary in his own way. A teacher from Vilnius in the Dakar's toughest motorcycle class? That alone sounds incredible.
Yet there he was, at the start podium in Lima, excited and already carried away by the Dakar fever. Balys was the first rally rider I met on the Magdalena Beach; although he was busy with registration and scrutineering, he found the time to come say hi and make sure I had the magical bivouac access bracelet for the day.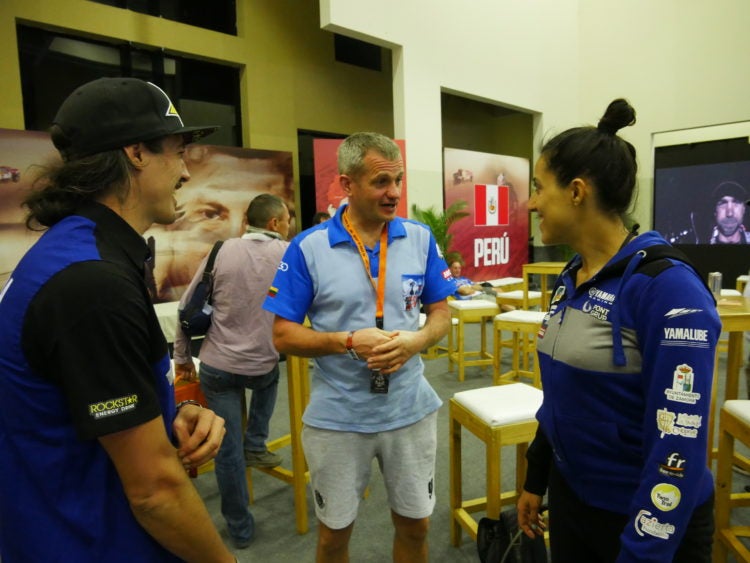 "Welcome! Nice bike", – he said to me that day, as I was standing in the parking lot near the Dakar camp entrance, unsure what to do next. I'd just gotten into Lima from my Chilean border run that day, and, because I had so little time to prepare, I wasn't quite certain what to do: I couldn't go into the bivouac, and the public space of the Dakar fair wasn't open yet. Hot, tired and sweaty, I was just standing there browsing my GPS trying to locate my AirBnB for the day when Balys showed up on his rally bike and welcomed me to the bivouac. "I saw you from the other side of the fence and thought I'd come say hi. Let the Dakar begin!", – he said to me.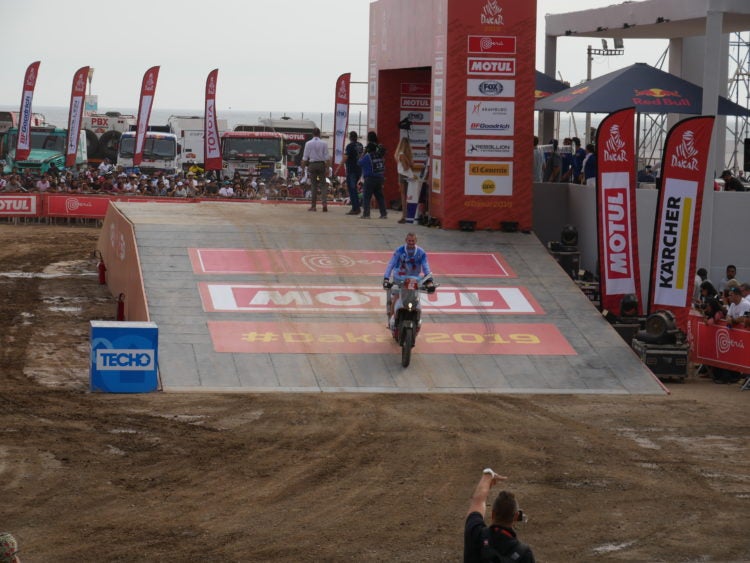 For the next couple of days, I'd reconnect with Balys and his people either in the bivouac or in town. Their Peruvian fixer had disappeared and they needed some help with hotel reservations and SIM cards, so I mostly tagged along helping out whenever needed. Balys went through the registration process, always finding time to chat to other competitors, helping the malle moto rookies with advice and encouragement, and working on his KTM rally replica. He immediately made friends with Jan Vesely, a Czech malle moto rider, and was always cracking jokes.
"I'm doing this for my newborn son. My older son, Perkunas, already has a Dakar medal from last year. This year, I want to get a second medal for my newborn Azuolas. I'm doing this for them, and for all the other young people who are riding and dreaming", – Balys said.
When the Dakar began, I watched Balys do the impossible. In Arequipa, he rode to the start line after just one hour of sleep because he had to change damaged wheels on his bike – but still managed to help Jan who broke his rib and needed a place to stay and a painkiller injection. During the marathon stages, Balys went from cheerful and funny to a complete zombie in two days – but still made sure everyone had lunch, and still joked around.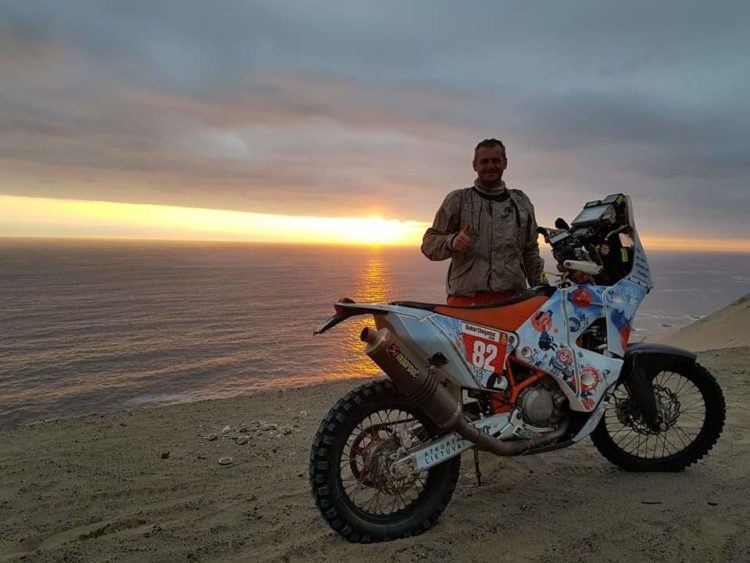 Chasing the Dakar, I rooted for everyone, but I always watched for #82 to cross the finish line. Just one more stage. One more push. Just one more…
And then, on the last day, all hell broke loose. Stage 10 was when Pablo Quintanilla had his bad crash, when Miguel Caetano broke his arm, and when four more riders were injured on that same dune drop-off.
Stage ten was the day when I got a call from Balys' friends. "He had a bad crash. Broke both his wrists. Balys is out", – the words on the phone sounded surreal. He had 90 kilometers to go and he would have finished the Dakar among the top forty riders, probably among the top ten in the malle moto class.
Now, in one split second, it was over.
Balys had broken his right wrist in four places and his left wrist in six. The surgeon at the Lima hospital later said that reconstructing his broken bones was like putting a Lego puzzle back together.
I visited Balys at the Anglo American clinic in Lima after the surgery. He was in pain and on a lot of meds, and I didn't want to tire him, but we managed to have a quick chat about the rally and what happens when the Dakar breaks you.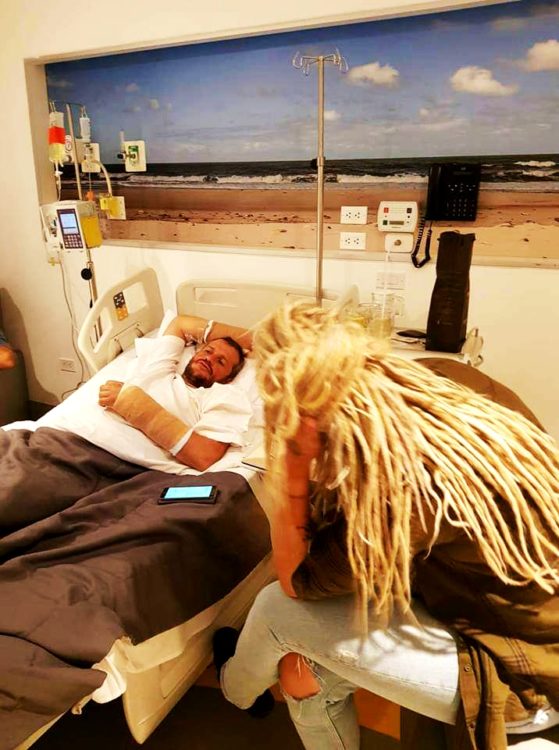 Balys, why did you choose the malle moto class in this Dakar?
I think the Dakar is getting a little more spoiled with each year. So many competitors have these huge support teams, mechanical teams, massage therapists, comfy motor homes, hotels, their own press teams… I wanted to race the original Dakar. The unsupported, lonely Dakar where it's just you and the bike.
How did you prepare in terms of mechanical skills and knowledge?
I'm not new to riding and you just naturally pick some things up as you go along. I couldn't, for example, rebuild an engine, but I can do most things. And over at the malle moto camp, there's a lot of camaraderie, we all help each other out. It's unspoken, you just do it without hesitation or questioning.
At the same time, my bike held really well, I was quite sure I'd fix any issues that would come up. Almost every day, I broke the clutch lever, that was the only problem, but easily fixable.
What is the one factor that will get you across the Dakar finish line?
I'm not sure there's just one. Rather, it's a combination of experience, hard work, strategy, will… and luck.
How do you go on with barely any sleep or rest when you're drowning in fesh-fesh and it's 113 degrees under the scorching desert sun? For me, it's about keeping moving. I had a really low moment during one of the stages, I was stuck in this funnel-shaped hole, the heat was unbearable, but I just thought, okay, okay, just turn the bike around, just make it another ten meters. Now, another twenty meters. And another. And I got out. Just never stop moving, never stop, period.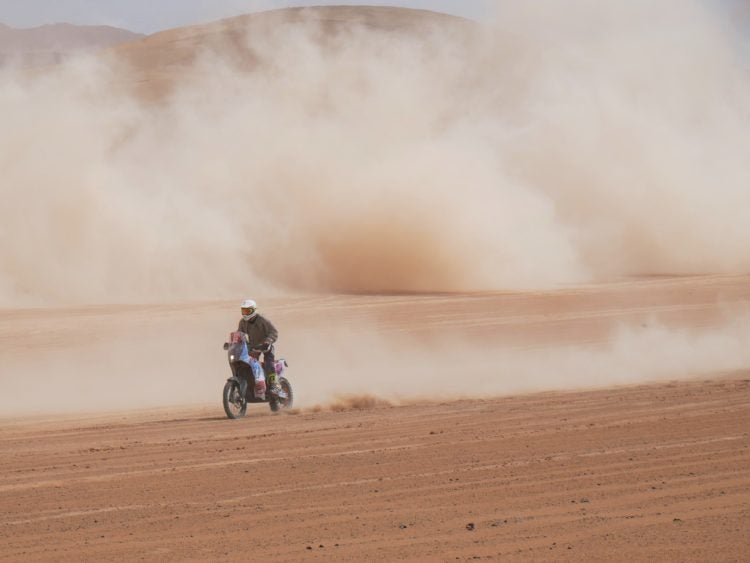 Your mind can end the Dakar for you quicker than your body, so you can never allow yourself to panic. Think in solutions, not fear. Ride another mile even when it seems impossible. Ride another half a mile. Keep moving.
Which stages were the most grueling?
I think the fourth or fifth where visibility was non-existent, there was a lot of fog and the dunes were insanely high. The eighth and ninth stages were also brutal, it was overcast, lots of fog, sharp rocks, deep soft sand and fesh-fesh. That was a lot of hard work.
Before one of the starts, I only had one hour of sleep. Frankly, it wasn't so bad – I have a newborn baby at home so I'm used to lack of sleep!
I thought a lot about my family as I was riding. I kept thinking how they were, and imagining how I'd bring the medal home to Azuolas.
Dakar is a personal challenge for me. This year in the malle moto, it was also a privilege to live and race among the Dakar Spartans.
The Dakar isn't for everyone. You won't see young riders here. You need to mature for the Dakar, in a sense. This isn't a young kid's race.
What happened during that fateful morning of stage 10?
I was feeling great, it was a nice, sunny day, short special stage. I didn't see that drop-off coming, it wasn't marked in the roadbook, I was flat out and it just came up so suddenly, I had no way of saving it. I crashed. When I got up, I immediately realized it was bad because my arms looked weird, the angles were all wrong. I knew they were broken. I got up on that dune to warn other riders, I stood there waving, trying to stop them from making the same mistake. Some saw me and went around it, thankfully. But for some, it was already too late… The helicopter had to come back to that hellhole three times that morning.
Once the other riders passed, an Australian rider stopped to help me. He picked my bike up and I suddenly had this adrenaline rush, so I jumped back on the bike. I thought maybe, somehow, if I just grit my teeth, maybe I'd make it, there were only 90 kilometers left. I only made it a hundred meters or so though. I realized I was about to pass out so I stopped and hit that emergency button.
When the helicopter came, they didn't take me to the medics immediately. They had to fly back to that hole to pick another injured rider up… I think it was number 52, I'm not sure, but his injuries were way worse, he broke his back and neck.
How are you feeling now?
I keep rehashing that crash over and over and over again. Could I have saved it? Could I have avoided it?
This is the Dakar. You're not done until you cross that finish line. One small mistake on the last day can cost you everything. I felt really bad right after the crash, I kept thinking, you fool, you reckless fool, how could you let this happen. Now… I guess in a way, I feel that I conquered this Dakar. There were only 90 kilometers between me and that finish line.
But then, I didn't cross it. So it is what it is.
Right now, I just want to get home. I want to hug my family and be with my wife and sons.
I'd also like to do more for riders in Lithuania, I'd like to work on new motocross tracks and just focus on the young riders. I think we lack unity, we lack a continuous, strong effort to help young people get into motorcycles. Everyone has their own little project, their own little association or federation or whatever other club and they're guarding it for themselves, and that's just not the way to go if we want young people in the sport.
So I want to focus on that now. I'm a teacher, after all.
Is there going to be another Dakar for me?
I don't know at this point.
I'll leave it at "maybe".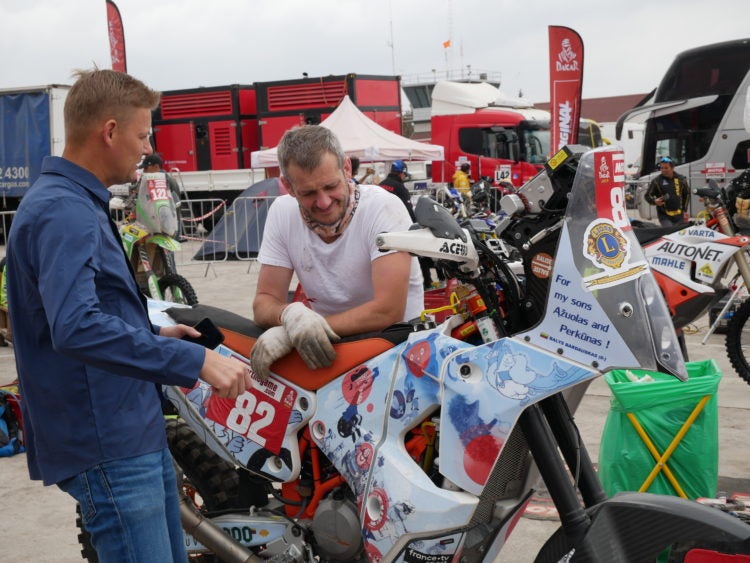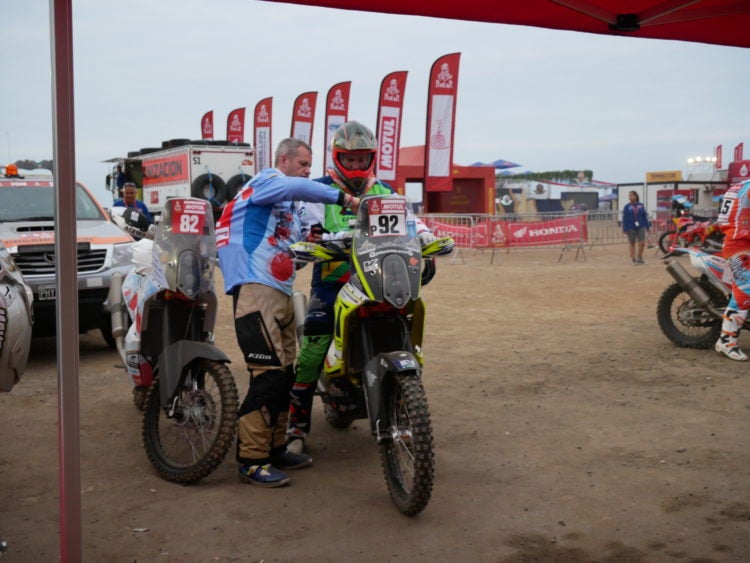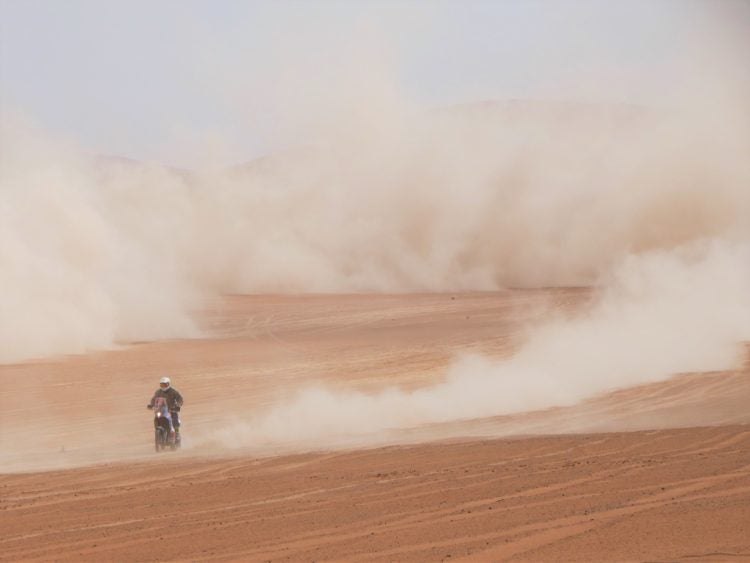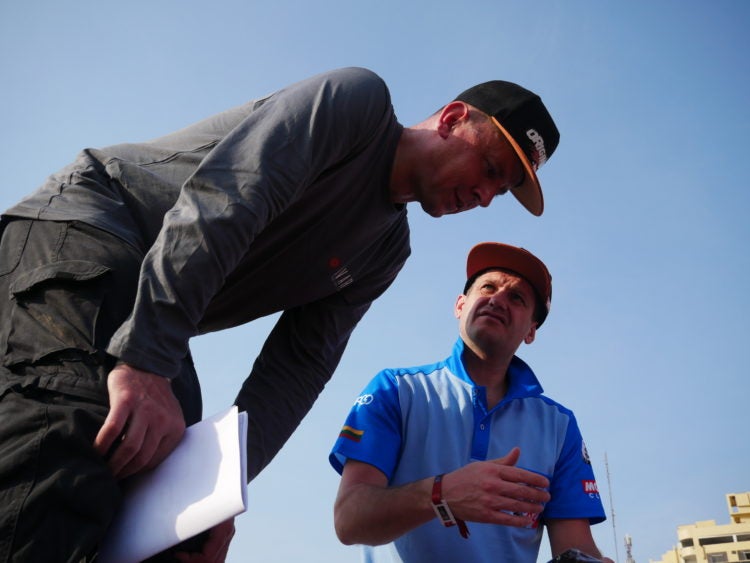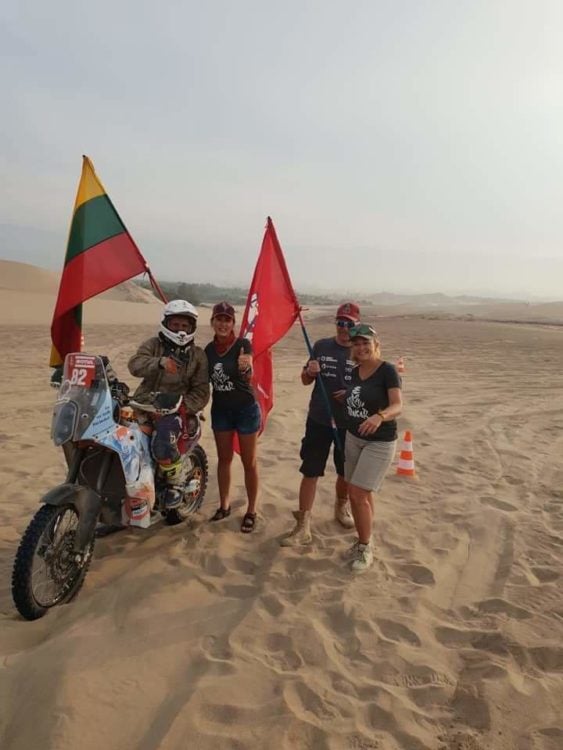 Photos: Egle Gerulaityte, Marija Dubickiene