Last trucks are still coming in as I'm typing this in my tent at 1am at the San Juan de Marcona bivouac. Although I do not have a motorcycle pass to the bivouac, the security guys let me and Sinje, the gal traveling the world on her bike whom I met yesterday in the dunes of Ica, quietly sneak our bikes in and park them right next to the fence. We're camping near the bivouac entrance, so we can see the riders leave for stage 3 tomorrow before 7 AM.
Today, the Dakar got real for riders. Finishing the special stage of over 330 kilometers of sandy dunes, riders looked exhausted – but focused and excited to have made it. The liaison stage, some 250 km on the Panamerican highway, was finished in the dark by many. Riders were still coming in to the bivouac until well after 10PM.
Walking around the bivouac tonight, I got a chance to chat to Carlo Vellutino, a Peruvian KTM rider who is celebrating a decade of Dakar this year.
Carlo has been racing in the Dakar for 9 years, so this, 10th Dakar, is special for him.
According to Carlo, today was tough because bikes started after cars which meant the route was treacherous as the cars destroyed the surface. "On top of that, there were sections of some really fine sand and fesh fesh with stones and rocks hiding underneath which is always tricky. I'm happy about today though. My motivation is to simply finish, I don't really care much about placing", – Carlo said, smiling.
He seemed tired but in high spirits, much like many other riders who finished stage 2 today.
According to the Dakar vet, tomorrow, stage 3 from Marcona to Arequipa, is going to be a very tough challenge. "If I'm not mistaken, we're tackling one of the largest dunes in the world tomorrow, so I'm going with a strategy to ride slower and stay safe. You really need to know how to read the dunes, especially in this area. Often, the one side of a dune is quite hard and then all of a sudden, the other side is completely soft and that trips a lot of riders up. You can tell a lot about what the dunes are like just by the color of the sand. Some of them are constantly moving and changing, like the ones in Tanaka. I'm hoping to just ride my ride and be safe. And then, it's 500 kilometers of liaison on the Panamerican which is boring and exhausting. So tomorrow is definitely going to be a challenge", – Carlo explained as he sorted his gear at the XRaids team tent.
Peruvian riders are greeted with absolute worship in this Dakar: spectators wait in the scorching desert sun for hours and hours on end just to greet their countrymen and women competing in the rally. Peruvian flags and loud cheers are always there whenever Peruvian riders pass a spectator area or the finish line.
I was lucky to watch riders come in at the finish line near Ica today. While waiting for the riders to start coming in, a Portuguese mechanic told me my bike's gear shifter lever was loose – and then fixed it right there on the spot, telling me I now had Dakar warranty.
On the way to San Juan de Marcona, filling up at a gas station, I chatted to an Italian support team; one of their members' phone was stolen, so I gave him my spare. In return, I am invited for Italian prosecco tonight! And the miracles just kept happening: after dropping my helmet on hard ground, I broke the visor, and my goggles are just about done, too. I got rescued by the amazing Andres Escobar who represents Klim for South America and who kindly gave me a pair of brand-new goggles.
The bivouac tonight is alive with roaring engines again, teams of mechanics working round the clock going over the rally machines. Mad Max gypsy camp is buzzing with life. Over at the malle moto area, some riders were still working on their bikes well into the midnight. They have to get up before 6am again, and do over 800 km tomorrow.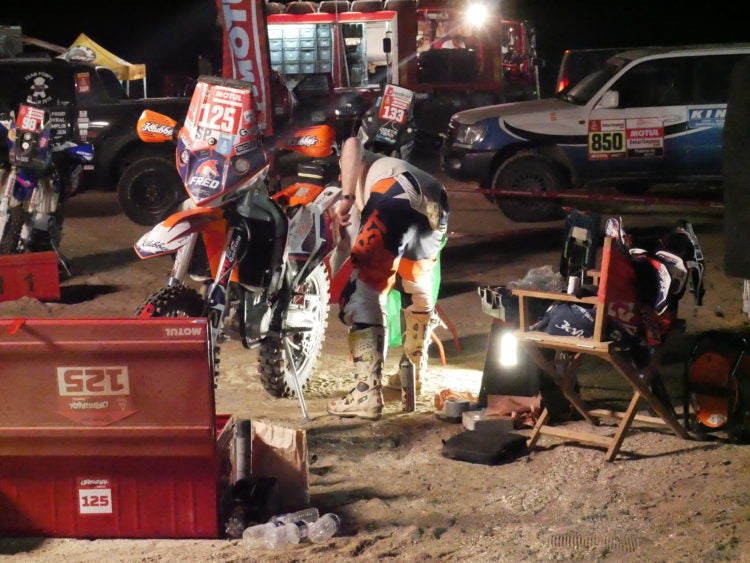 As always, there always are at least 10-15 adventure riders around the bivouac, following the rally and watching as closely as they can. Tonight, Sinje and I chatted to a group of riders from Germany, Colombia, and Argentina, all chasing the rally for a few stages.
Why?
"It's the Dakar".