Riding with the Rally Dakar is something that will change the way I travel, ride, and think – for good. Here's why.
Today, I managed to miss the bivouac because I got some bad info. I was told that because riders are on their own for stage 4, no assistance is allowed, there is no bivouac entrance and I figured I'd just wait for them in Arequipa and catch the stage 5 finish somewhere around Moquegua tomorrow. Bad move – the bivouac is actually open, and I should have been there for the start. I'm rooting for every single rider, and I worry for them too, and keep all my fingers and toes crossed for them and somehow, seeing them leave the bivouac for the day's stage together makes me feel like they are all going to make it to the next bivouac. Now, I've missed that, but I've learned my lesson: never leave the rally.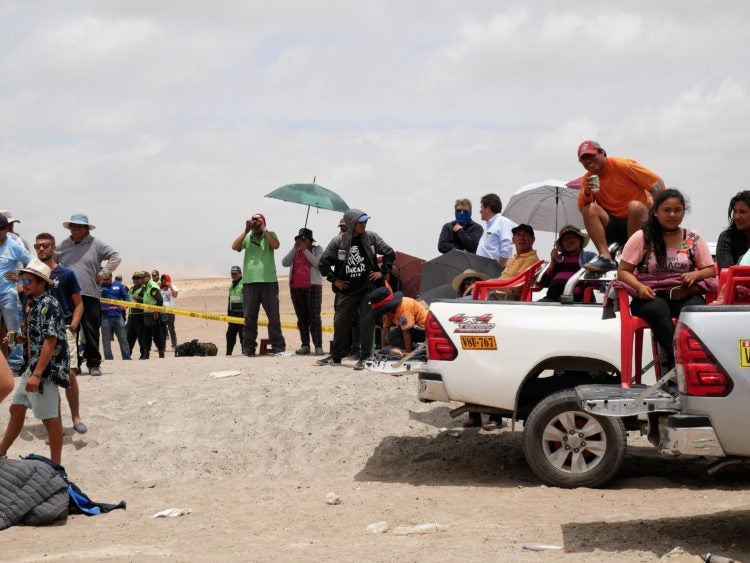 I'm learning a lot more lessons on the chase than just not to trust sources and check everything myself though. I'm learning that so many stories I once believed about myself aren't true. I thought I couldn't navigate but I'm dealing with rally coordinates just fine. I thought I couldn't keep up riding… I'm now chasing the Dakar. That's what the Dakar is all about: the crystal clear realization that nothing is impossible.
The Dakar is about the big things, but it's also about a million small things. Pack up camp, charge camera batteries, oil the chain. Dig bike out of sand. Find sand in coffee, and ignore it. Find sand in boots and socks and eyeballs. Ignore that, too. Calculate hours of sleep. Three should do. Make self eat. Book AirBnB's for the team. Check the Dakar app and the Dakar results live. Wonder if everyone made it. Marvel at Lucy the bike who is running perfectly; perhaps my good old DR fancies itself a bit of a rally beast. Dream of entering an actual rally one day. Be mindful of the big Dakar rigs on the road and pass them carefully; let the smaller, faster Dakar cars pass me. Wave and nod. Share water and WiFi. Put music on when fatigue becomes too much. Dance on the bike to stay awake – amuse other Dakar vehicle drivers – two in one! Cry in helmet a little from exhaustion. Realize how ridiculous my tears are when malle moto riders go off to tackle the fast stage after just one hour of sleep. Admire the Panamerican highway because it isn't a boring paved road any longer, it's the main rally vein now. Admire dunes. Pat Lucy on the tank.
Get up again, pack up again, and go, go, go.