From early morning, spectators have been slowly gathering around the sand track near Ilo. Here, the dunes are especially spectacular – a bright golden sea of sand. A barely visible track stretches out into the distance and disappears over the dunes. This is where the motorcycle and quad riders will appear from, race past, and head out into the desert again.
All along the track, people are setting up tents and umbrellas, climb on the hoods and roofs of their cars and trucks and set up flags. The Peruvian flag with the Dakar logo is the most prevalent. There is also a small French camp, an Argentinean troupe and a Chilean group, flying their flag from a truck. There's also a Lithuanian one draped over a hood of a car.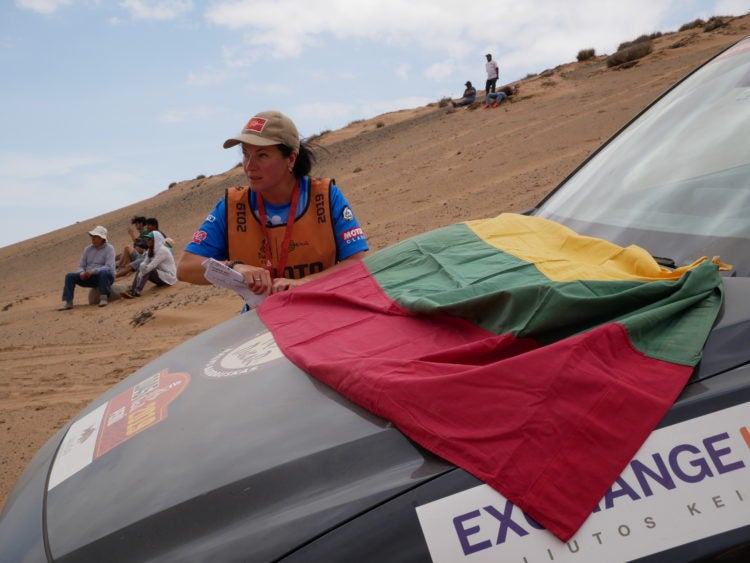 Anticipation is in the air. People chat and laugh as they wait, listening for the helicopter. The arrival of the steel bird announces the first rider.
It's overcast today. Good news for the competitors, as the desert is cooler. Bad news for the photographers.
A police truck races by. "10 minutes before first vehicle – keep away from the track", – the loudspeaker from the truck bellows.
People stand up to get a better view as the first rider crests the dune. #1. Spectators cheer and wave as the rider goes flat out, racing along, oblivious to everything that's going on. Wall of sand arises, then settles.
Marija, a team member of the Balys Bardauskas press team, and I are hoping to get some good shots today. I left Lucy in Arequipa and I'm tagging along with the press today to take some photos in the dunes. We take a few shots, then decide to walk deeper into the desert.
All the top numbers fly by. Ricky Brabec, Sam Sunderland, Toby Price. There goes Laia Sanz. She's flying. She's in her element.
We walk deeper into the dunes. Less spectators here. Less life. The desert looks perfectly still. Another rider tears up the sand, kicking up a trail of dust. I try to capture it with my camera, but it's impossible. It's too out of this world.
Cars begin to race by. Here goes Sebastien Loeb. Then, a few more cars, and suddenly, there's the black truck with the white knight printed in a bold pattern – Benediktas Vanagas, a Lithuanian rally legend and Dakar vet. It's because of him and his team that I have a pass to the bivouac most days. I jump up and wave. I hope they saw me, although I know they did not.
Mid motorcycle numbers start to come in. Marija and I are rooting for #94, Arunas Gelazninkas, who's making Dakar history this year as a rookie, and our own #82, Balys Bardauskas who is rocking it in the malle moto class. I also keep my fingers crossed for Nathan Rafferty, Jan Vesely, Edvin Straver, and Frederic Barlerin. I talk to those guys at the bivouac every night, and I'm extra worried about them. I'm sad for Sara Garcia who is out due to bike failure. I'm still rooting for her boyfriend, Javier Vega. And Wesley Pittens. And Carlo Vellutino. Oh, and everyone, everyone, really.
More and more bikes fly past, flat out. We strain our eyes for Balys, #82. Then, my heart sinks. A helicopter is airlifting a bike out of the area. We can't see the number or the colors of the motorcycle as it dangles helplessly, lifeless, off the helicopter line. We both sit silently for a moment.
Finally, Balys emerges from a cloud of dust. We cheer. Then, Nathan appears. They both made it.
We run to our truck, jump in, and head for Arequipa. It's getting cold. I hope the riders will be OK doing the ride to the Arequipa bivouac in the cold and dark.
Back in Arequipa, I pick up Lucy and head for the AirBnB I booked for the team. Shortly, Marija arrives with Balys and another malle moto rider. Balys is in good spirits; he came in 54th, 8th in the malle moto class. He's chatting and demanding a Cuba Libre. It's certainly a good night to celebrate: tomorrow is a rest day, and today, riders are happy to have made it. At the bivouac, I hear there's even dancing. At our small Arequipa AirBnB, Balys talks about the brutal dunes of Ilo. The rider who came with him is out cold in the other room. He has a broken rib but plans to push on regardless.
"This is the Dakar. You either push or you don't", – Balys said. He talks about today's ride. "There was so much sand. I was always focusing on the bike, trying to preserve it best I can, trying to look after it. I saw so many bikes being burned out today. Yesterday, I saw Sara Garcia struggling… I helped her and I was rooting for her. Such a shame about her bike. But that's the Dakar for you. That's the sand", – Balys said.
The stakes are getting higher and higher for riders now. After the rest day, there will be only four more days of the Dakar. With each day, pressure mounts.
Tomorrow, I'm having a wander at the bivouac, hopefully chatting to riders and taking some good shots. I wonder what the atmosphere at the bivouac will be. Festive? Or solemn? I keep thinking about all the empty paddocks at the malle moto camp. The pad and the toolbox, no motorcycle. Why do they leave them empty? A monument to the fallen?
Riders will be leaving in the afternoon tomorrow, heading for a new camp mid-way to San Juan de Marcona. I'm going to follow. I hope my DR holds. I hope everyone's bikes hold.
Let's make it to Lima in one piece.