Hi, I'm Egle, and I'm going to chase the Rally Dakar 2019 in a couple of weeks. I'm already in Arequipa, Peru, on my Suzuki DR650, and I'm going to do my best to take everyone along.
I first heard about the Dakar when I was making my way to Bolivia from Chile in 2014. I was following the Bolivian Lagunas Route, which is a desolate dirt track running across an otherworldly Andean desert.
I had lost the axle nut on my little motorcycle, but luckily, a tour jeep stopped to help.
While the driver was rummaging through his toolbox to find a nut that would fit, three Polish tourists jumped out and peered curiously at Blinkin, my motorcycle.
Blinkin didn't look like a rally machine – heavily laden with a horrendous plastic top box and a pile of stuff strapped all over it, covered in dust and road grime, my loyal steed appeared much like any other local Bolivian bike.
-Are you racing in the Dakar? – the Polish tourists asked, looking at me and Blinkin with wonder. That year, the race was supposed to go through the salt flats in Bolivia.
-Actually, no, I am a pizza delivery girl. I bring pizza to the racers, – I said, pointing at the top box and expecting the tourists to laugh.
Instead, they nodded. In all seriousness.
I felt stunned. And a little smug, even though it wasn't true. And pretty ridiculous. Me and Blinkin? In the Dakar?.. It seemed amusing.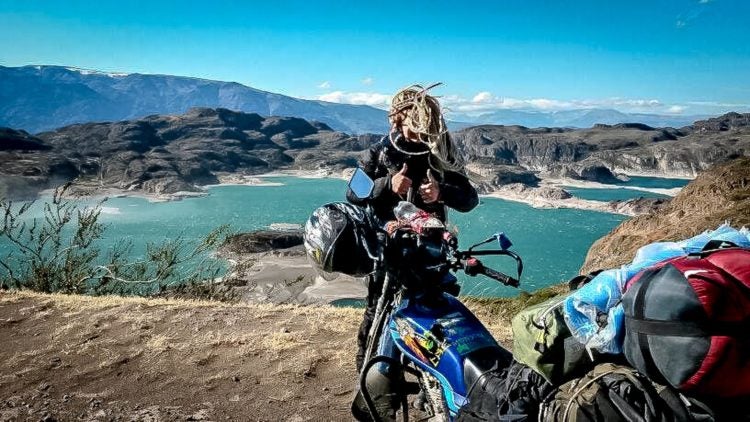 Chasing the Dakar
Throughout the years, I kept an eye on the race. I learned about Laia Sanz, the incredible Spanish rider who I am rooting for to this day. Gabriela Novotna, the Czech gal who I hope will make Dakar history this year. Toby Price, the Australian legend who came from nowhere and took the Dakar by storm.
So when I had my usual look-see at the Rally Dakar page this month and realized that the route will take the competitors through towns and areas that I'm familiar with, I knew universe was trying to tell me something. Pisco, San Juan de Marcona, Lomas, Arequipa – I know these places. I'm here on my bike. Lucy, my trusty Suzuki DR650, and I are going to chase the Rally Dakar!
As I go along, I'll be posting regular updates, articles, interviews and videos right from the scene. Whether I get bivouac access or not, I promise I'll talk to the spectators and competitors, take hundreds of photos, and stream as many videos as I can.
Stay tuned!