Leaving Arica, Chile, this morning, I was feeling a little nervous.
Would the Peruvian border officials let me back into the country after just 36 hours of leaving?
I knew that technically, there shouldn't be any glitches, but I'm weird that way. I don't get upset, panicky, or frustrated when things go wrong. I pre-worry instead, which makes absolutely no sense.
But there I was, rolling out of Arica, pre-worried and sleep deprived (New Years night in Chile and sleep just don't go together). The streets were completely empty save for a lone taxi driver here and there. The ten or so kilometers to the border, and the border itself, seemed deserted.
All went smoothly at the immigrations. I got a quick Chilean exit stamp and a Peruvian 100-day entry stamp, which was great news. Next came the customs. I had to wake the Chilean customs officer up. He was passed out in his little booth, reeking of hangover. There must have been a bit of a party at the border control!
Finally, the Peruvian customs office. As I sat down, I noticed a separate folder labeled "For the Dakar competitors."
"Some quads and minis came through this morning. Argentinean teams. Are you from Argentina, too?" the customs officer asked. For some reason, she wasn't the only one – a few other people asked me whether I was Argentinean today. There's got to be an uptick in blonde Argentine females roaming the continent on Suzuki DR650's.
After some fuss ("why is your title and registration separate documents?"), the Peruvian customs officer issued me the temporary import vehicle document, and I was good to go.
The first few hundred miles were exhilarating – riding along the Pacific, smelling the sea air, watching the waves rise and crash on the wild beaches and rocks was an amazing feeling.
The Peruvian drivers seemed extra careless today – people weaved and swerved more than usual, and at some point, a beer can flew out of a driver's window from a car right in front of me.
I brushed it all off – maybe I was noticing the crazy traffic more now that I've just been to Chile where people used their indicators and stopped for pedestrians.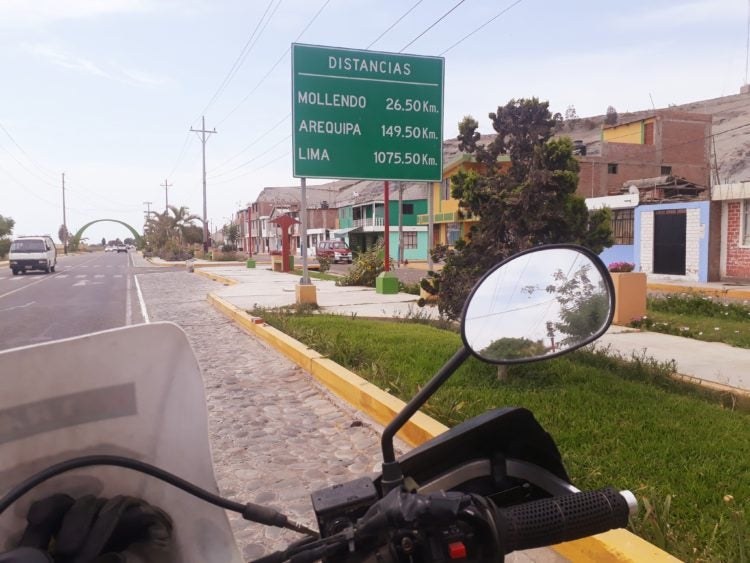 But then, just outside of Ilo, I rode past the most horrific crash I have ever seen. One car was rolled over, laying on its roof on the rocks off the road. Another one was rolled, too, all smashed and crumpled like a harmonica. There were bodies lying on the road, police officers milling around. No ambulance – nobody made it out alive.
Astonishingly, right after that terrible crash scene, I was overtaken by two cars racing each other on blind bends. Perhaps not surprisingly I witnessed yet another accident some eighty miles later, one more rolled car and a van smashed into a rock. This time, luckily, it seemed there were survivors.
The coastal Panamerican highway is beautiful, but January the first clearly isn't the safest day to ride!
However, the golden dunes rolling down into the ocean was a sight to behold, and although it was a long and exhausting day today, I am getting closer and closer to the start of the Dakar.
https://advrider.podbean.com
Stay tuned!