Rain in the desert sounds like a paradox to me. But it's a thing, as I found out myself riding the Camana – Nazca stretch today.
Rolling out of Camana, I expected the same chaos on the road as yesterday. It seemed that the Peruvians had dialed down the partying, though. The Panamerican was much quieter, and luckily, there were no accidents today.
Due to thick fog, visibility wasn't great, and all I got was a few blurry desert shots:
Even with the mist rising from the ocean, it's still a beautiful route running alongside the Pacific, sometimes skirting cliffs, at other times, dipping down into the wild beaches. Little fishermen's villages were the only sign of life all the way to Chala, which has a special place in my heart. In 2013, when I first learned to ride a motorcycle in Nazca, Chala was my first destination on two wheels! It felt funny to come back here after all those years. And on two wheels, still.
Between Chala and Puerto Lomas, there is one tricky area: the Tanaka dunes. Here, the road is constantly covered in moving sand as the strong wind blows it over. It looks like seaweed under water – hundreds of strands of sand twirling and moving across the road.
Heading a little inland, the fog got thicker and thicker until it became rain and my visibility was reduced to this: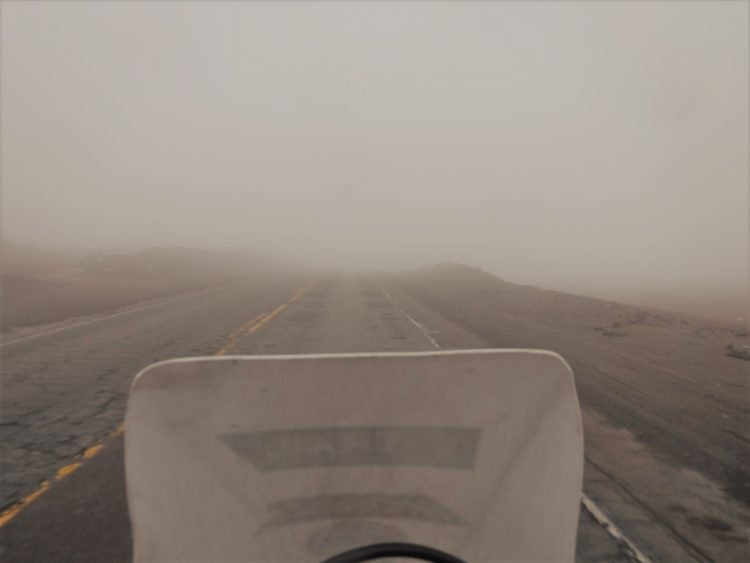 Riding along, I got word that some of the Dakar teams were already arriving to Lima. On January the 4th, the vehicles will be at the Costa Verde de Magdalena beach in Lima for everyone to see, and it looks like I'll make it there to shoot some photos and stream some live videos – or maybe even snatch some autographs.
If you could get an autograph of a Dakar star, who would you ask? Let me know in the comments below and I'll see what I can do!
In the meantime, here is how the Panamerican looked today: