Yesterday was a quiet day for the Dakar competitors, but for me, the excitement had just begun. Thanks to the Lithuanian Malle Moto rider, Balys Bardauskas, I got an invitation pass to the bivouac – and was even allowed to bring my bike in! Needless to say, riding around the bivouac on my DR650 felt surreal. I was so thrilled I didn't even go to my hotel, just headed straight to the Magdalena beach, all my luggage including the Adventure Minion and flip flops still piled on my bike. Judging by the smiles and thumbs up I was probably a silly yet sort of amusing sight there!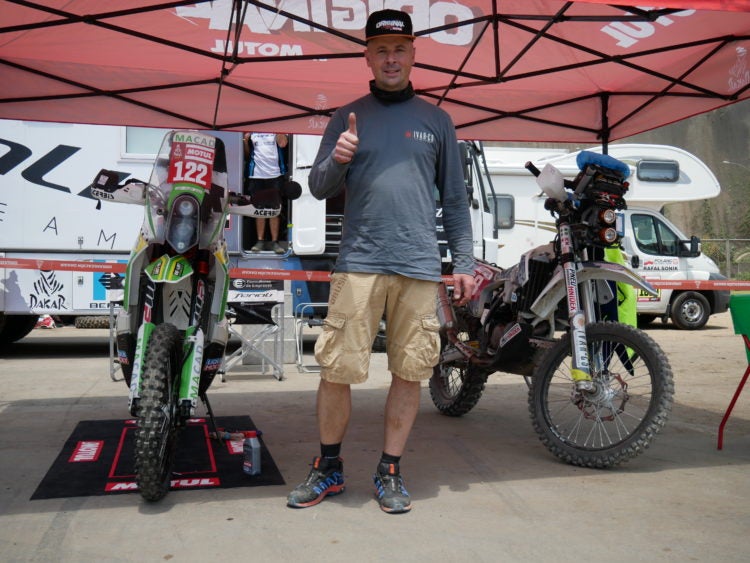 Most riders and drivers were away dealing with paperwork, of which everyone had already had enough. "I'm ready to go now, the registration and certification process is taking way too long and it's putting everyone on edge", – one of the Malle Moto riders told me.
Riding around, walking, and taking photos, I simply tried to talk to as many people as I could. Here's a quick preview of what it's like to ride around the bivouac, and a couple of short interviews with Malle Moto rider Sara Garcia and Dakar first-timer Gee Motzkin:
I found the perfect ice breaker at the bivouac: after meeting Nathan Rafferty (does he have the coolest bike graphics or what??) and borrowing a sharpie pen from him, I asked riders to sign my tank. Instant conversation starter! Nathan told me he too has had enough of waiting and was ready to go. "I was ready two weeks back actually! On the other hand it feels great to be here, on the bike. I've been thinking about the Dakar for so long, and now, finally being here, it's just awesome", – he said.
Sara Garcia, one of the first females to compete in the Malle Moto class, said just living the dream of the Dakar is reward enough. "My first and foremost goal is to finish", – she said.
Chilean rider Patricio Cabrera, on the other hand, said he hoped to place in the top 15 this year. This is his seventh Dakar, and he has been working consistently for years to come this far. "It's hard to say which stages will be the hardest – I think all of them will be tough. Navigation is really complicated, too. But I'm ready!", – he said as he showed me his Kawasaki.
While still in Arequipa, I had interviewed Paul Hurst, a Dakar superfan who has been chasing the rally in his Toyota truck for years. Paul is a part of the volunteer group scouting the desert – and this is what he had to say about the terrain this year:
After hanging out at the bivouac for a while, I headed back into Lima to run some errands for a few riders (ever tried buying a SIM card in Peru? It takes a while!) and get some work done. Today, it's a chill day for everyone before the podium tomorrow.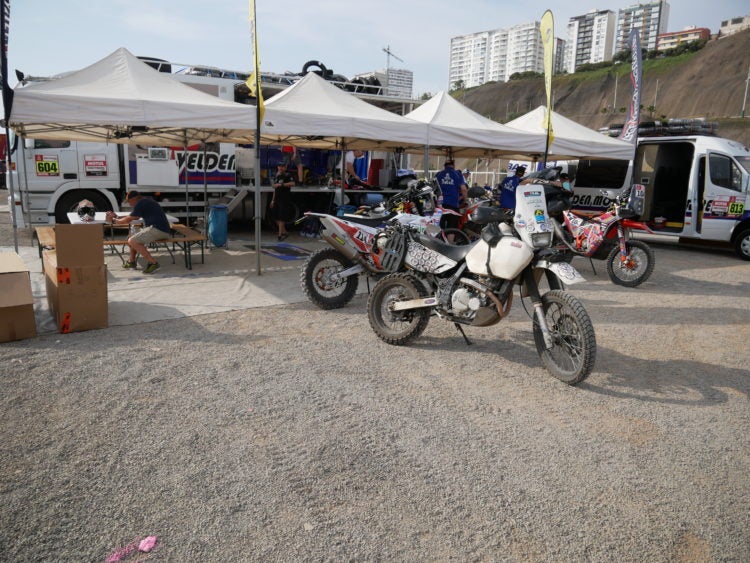 It feels like I'm on some constant high – the intensity is just over the top, and I'm so excited I can barely sleep. I'm also trying to work at the same time and deal with technical glitches – my cheapo laptop is falling apart, so I'm doing most things from my phone – plus film as much as I can and take photos, and talk to everyone, and try not to miss a thing…in other words, it's pure chaos, but it's beyond awesome!
Stay tuned – more coming soon.