I met Edwin Straver, a Dutch Dakar malle moto class competitor, at the Magdalena Beach bivouac in Lima. During those first couple of days just before the start of the rally, while competitors were completing registration and scrutineering and testing their machines out in the dunes, I was hanging out at the bivouac talking to riders – and getting them to sign my tank, as I was still allowed to bring my bike into the camp. Edwin Straver, a mechanic from the Netherlands competing in the Dakar for the second time, was one of the first riders to autograph Lucy's tank for me, and we got to chatting.
Back then, Edwin told me he wasn't a very fast rider, but that he was very consistent. "I'm not going to go flat out much, but I will keep on going. My goal is to simply finish the Dakar", – he said. I remember finding his attitude a little too reserved then. Weren't you supposed to go fast in a race?
But once the Dakar began, I think I finally understood what Edwin meant. I watched riders burn out and withdraw during the early stages; I watched them come back to the bivouac with blown engines and broken bones, exhausted, barely holding it together. Edwin, on the other hand, never lost his cool. He'd come into the bivouac a little late, but he'd quickly and efficiently take care of his bike, do his roadbook, and go to sleep. The next day, he'd do it all over again. Just like he said in Lima, he just kept on going, unphased, unhurried, and in control. On top of that, he always found time for a chat – even during the grueling marathon stages.
So when Edwin won the malle moto class, placing in the top thirty overall, I wasn't surprised. The Dakar is unpredictable, but Edwin's careful, rock solid strategy paid off: he may not be the fastest rider, but his consistency, will and perseverance won him first place among the "originals".
Just before Edwin left for Amsterdam, we sat down in his Lima hotel for a quick interview about what it all meant.
Edwin, how are you feeling right now?
Pretty incredible! I never dreamed of winning the malle moto. I guess I dreamed of placing in the top three in this class, but it wasn't an expectation or a goal, just a dream. And now I'm here… it feels fantastic.
Which Dakar was harder – last year's or this one?
Last year's, for sure. It was my first one, I had so much going on in my head, everything was so new. That's why I wanted to race the Dakar for the second time – to really experience it and live it, not just go through it like a zombie. I actually enjoyed this Dakar! The days were shorter, there was less liaison, so usually, I got to the bivouac pretty early and even had time to do my roadbook – after each briefing, I'd work on it. Last year, I just couldn't do the roadbook, it was a mess.
I only use two colors for my roadbook and do it very minimally, I didn't want to make it too complicated. My navigation isn't great. I can ride much harder than I can navigate, so that's certainly something to work on. I can ride hard and I can be fast, it's not my body that holds me back, it's my mind. I can't navigate as fast as I can ride.
While other riders got worse and worse, you always seemed the same and in good mood. How did you prepare so well?
Again, because my riding was better than my navigation, I didn't use up all of my energy. I only rode as fast as I could navigate, so there was always a reserve left after each stage. I never went to the absolute limit with my body, I never wore myself out completely.
Before the Dakar, I trained a lot. Lots and lots of motocross riding! In one week, I'd go motocross riding twice, do three mountain biking sessions and two gym workouts, mostly resistance training for strength and stamina.
The mental part is important, too. For me, if I know that my body is fit and ready, my mind is fit and ready, too. I know I can do it, and it makes me stronger. I'm also not one to go into panic. Whatever happens, however impossible the situation seems, I don't panic. I stop, breathe, and think, then try to find a solution. Because there always is a solution, for everything.
Some Dakar first-timers have said that this rally was pure hell and that, while they're happy to have done it, they wouldn't do it again. For you, was it worse the first time or now?
The first time was definitely worse because, not having experienced it, I painted this picture in my head, I thought the Dakar was going to be this absolute inferno… but then I went through it, and realized that hell wasn't so bad after all. In fact, it was even fun at times. So now, I try to imagine the absolute worst and when the actual thing turns out to be doable, or easier than I thought, I feel a lot better about it.
 Did you have any low moments during the rally?
Yes. I think during the 7th or 8th stage, there was a lot of fog in the morning, and there was a lot of fesh-fesh. I crashed in the fesh-fesh and didn't have goggles on because of the thick fog, so it was just horrendous because for a few seconds I was literally submerged under the powdery sand, it was like snorkeling in fesh-fesh. That was really bad.
But this is the Dakar, and I never thought I'd quit. The thought of quitting just never enters my mind, I keep on pushing, and pushing, and pushing.
My friend Mark from malle moto crashed and broke his hip and ten ribs. He was looking at the roadbook, missed a dangerous drop-off of a dune and crashed. One small mistake can cost you the Dakar. So as long as I can keep going, I keep going.
Is there much of a luck factor in the Dakar?
You create your own luck. That's why I always ride with so much reserve. On the last stage, the last day – I was so slow I was riding like an elderly person. I wanted to finish, and that's all I could think about. Just finish.
It's always a quick calculation of risk, how fast you can go, and safety and preservation. I always lean towards the safety side. It's very easy to go fast on a straight stretch or nice dunes, but that's when you make mistakes. You ride fast and you get comfortable, so you go even faster… and then miscalculate, hit a stone and go down hard. So whenever I begin riding too fast, I check myself and slow down again.
People would pass me, and I'd let them, I wouldn't chase after them. The minute I left Lima,  I set my focus on Lima again, that's all I could think about. Just get to Lima.
This comes with experience. Ten years ago, I wouldn't have finished the Dakar. When the first rider would have passed me, I'd chase after him, exhaust myself, and start making mistakes. I have a very long history of injuries – I'm missing a finger; my ankle is full of metal… I have broken so many bones. So I know that strategy and consistency, and not blind speed, is what pays off.
Which rallies prepare you for the Dakar most?
I don't have the budget to do many rallies, the Dakar is my only rally but if I had a choice, I think, either the Merzouga Rally or the Morocco Desert Challenge would be great. Maybe the Serras Rally in Greece, too. Merzouga and Morocco Desert Challenge are great for dunes and navigation, and the Serras rally would teach a lot about riding on the fast tracks and rocky trails. Serras is great for your riding skills on stony paths.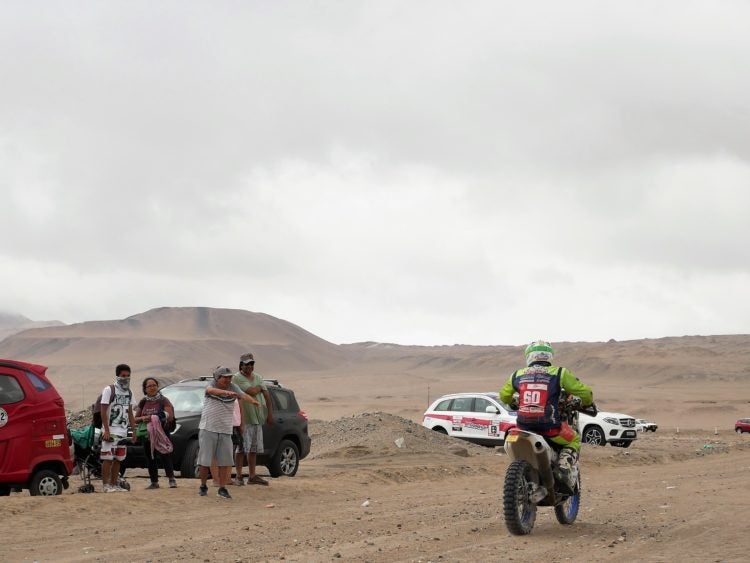 What's next for you?
Well, I have to get back to work first. I'm a mechanic, I have a small company (of which I'm a sole employee) and service cars, trucks, and bikes. I love my work, though, so I'm OK with going back to it.
I'm 47, I'm not the youngest rider anymore, but I'd love to do the Gibraltar Rally next. It's more of an adventure bike rally, you ride from Greece to Spain, you have fixed time, and it just sounds like a lot of fun. I'll be a mechanic for another rider, so we'll go as a team. After that, I hope I can be financially able to do the Serras Rally.
Am I going to be at the Dakar start line in 2020? I'd love to, if all the sponsorships and that side of things come together.
I never want to stop riding. I like finding things that are too difficult to do, and then do them. I took part in a 200-kilometer ice-skating race, for example, and finished it. I also want to cross the Atlantic in a sailboat solo. But that's when I'm old and retired.
Now, I'm still good to ride.