Rally Dakar 2019 is officially over.
I'm still in Lima, and for me, it hasn't ended just yet. The bivouac is gone, all the Dakar vehicles are already en route home, most pilots have left, but I feel like I'm lingering in some in-between zone; still running around town, getting some last-minute interviews before riders leave home. Still have to do some maintenance on Lucy the Bike who has held so well. Still have to clean sand out of my shirts, phone, coffee mug, and shoes, although I don't really want to just yet. Still have to somehow get a dirt bike and head out into the dunes – just one last ride, one last time, one last sunset in the desert.
It felt strange to ride to the podium in Lima two days ago. Same Panamerican highway, same Mad Max caravan moving slowly towards the last bivouac, same quads and bikes rushing to the capital of Peru for their hard earned Dakar medal. And yet, already different.
I caught up with Jan Vesely (malle moto) and Gabriela Novotna (first Dakar finish for her) at a gas station some 60 kilometers just before Lima. People have been making fun of my gas station reports saying I should at least stand in front of a Dakar banner or time control booth or, well, Dakar-something when I'm making videos or sharing, and they probably have a point, but the funny thing is, gas stations were like little oases of sanity, coffee and fuel all throughout the Dakar for everyone. It's in the gas stations that riders caught quick breathers, precious minutes of rest and caffeine; it's where Adrien van Beveren found the energy to smile and pose for photos after a grueling special stage, it's where I chatted to support and technical teams, it's where I met Jan and Gabriela having some energy bars and coffee on podium day.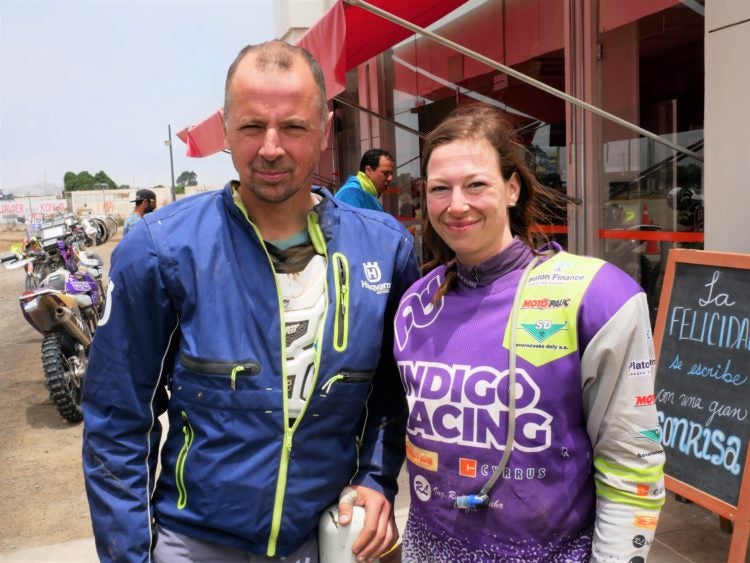 They still had sand on their faces, looking exhausted and drained, and so happy. "It's surreal", – Gabriela said as she stood there blinking in the sun. "I don't think it's sinking in just yet… I need to get on that podium to really believe it", – she told me. She said her mind was already on Dakar 2020. "If the stars align. I didn't finish last year due to a broken collarbone, so convincing sponsors again was hard. This year, I've finished, so hopefully in 2020, I'll get more support. People assume it's easier for me because I'm a female but in reality, it's twice as hard because I have to keep proving myself over and over. I worked hard for this. I'll work even harder for 2020", – Gabriela said as she posed for a few quick selfies with curious locals. She shook my hand and jumped on her bike, taking off for that last stretch to Lima.
I wished the Lithuanian malle moto rider, #82 Balys Bardauskas, was there with her. He had a bad crash just 90km before the special stage finish that day and broke both his wrists. He still tried to ride, but after a few hundred meters, had to give up – his wrists were broken in 4 and 6 places. He had a long surgery in Lima last night.
Edwin Straver, the Dutch malle moto rider, has won the class. I'm so happy for him – his quiet reserve kept him sane and going all throughout the race, and it's a worthy win.
It was a hot and muggy afternoon that day and riding through Lima traffic, I felt like I was melting away, my riding suit and boots completely soaked. But riding down the Circuito de Playas, a coastal Lima artery I now know so well, I was grateful for the traffic slowing me down for some reason.
Finally rolling to a stop at the Magdalena Beach bivouac, where it all began, I headed straight for the malle moto camp, as usual.
But it was already packed up.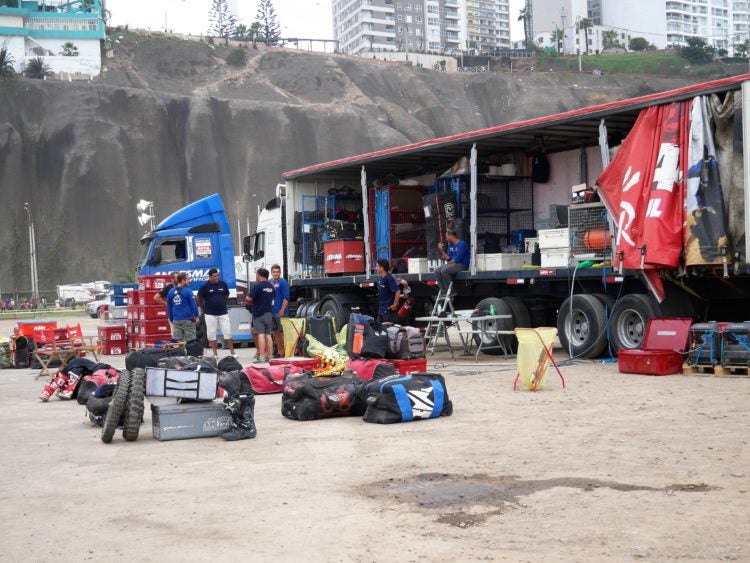 Parking Lucy safely in the garage of my AirBnB, I grabbed a cab back to the podium. Riders were already riding up, one by one, being greeted by a festive mob of locals and supporters. Some finishers were crying, some waved their country flags, some revved their engines, and some received their medal with a curt nod and a reserved smile. Nobody came back from the Dakar the same.
Suddenly, there wasn't much to do any longer. I've taken all the photos and all the videos. Riders were now back at the bivouac zone, greeted by their families and friends. Vehicles were being packed. It was time to go. In the morning, the bivouac would be gone.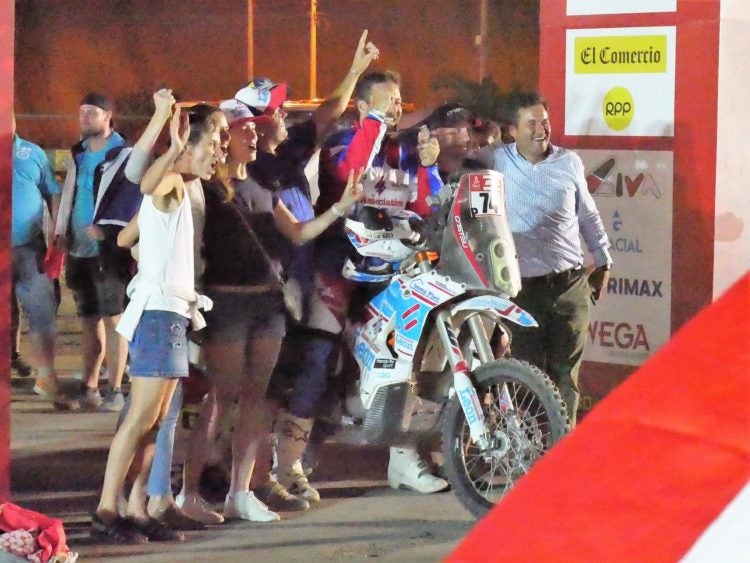 Suddenly, I didn't have to stay up until 2am writing and get up at 4 to see riders out of the bivouac. I didn't have to do crazy distances early in the morning to make it to the first waypoint or the finish line. I didn't have to have my phone charged and on at all times just in case any of the riders or teams required anything done last minute. Nobody needed batteries or energy drinks or spare camelbaks anymore. I didn't have to pack up my tent and bike quickly to keep up with the bivouac caravan. I was dog tired, filthy, and on my fourth RedBull, and I wish I'd needed to keep going.
But the Dakar was over.
My newly found friend Sinje and I went to the Dakar afterparty in Miraflores, but it felt awkward somehow. There we were, just moments ago, camping in the desert, covered in dust, sweat and grime, running on adrenaline and fumes, and pure awe, chasing the Dakar and watching the sun set over the golden Atacama dunes as engines roared and diesel generators ran long into the night and now, in this stuffy Lima nightclub, it all suddenly felt like a distant mirage, and we didn't want the disco lights to take that away just yet. We didn't want to see our riders get tipsy or goofy or struggle to find words now that we were all back in this world of paved streets, vodka shots and nightclub beats.
Yesterday, I interviewed Arunas Gelazninkas, a Lithuanian Dakar rookie who blew the minds of everyone watching and placed 24th. He said his body was beat – he'd tried to clip his nails and couldn't because his hands were so stiff, shaky and painful – but he was in high spirits, already planning the next rallies and possibly, oh, possibly, Dakar 2020.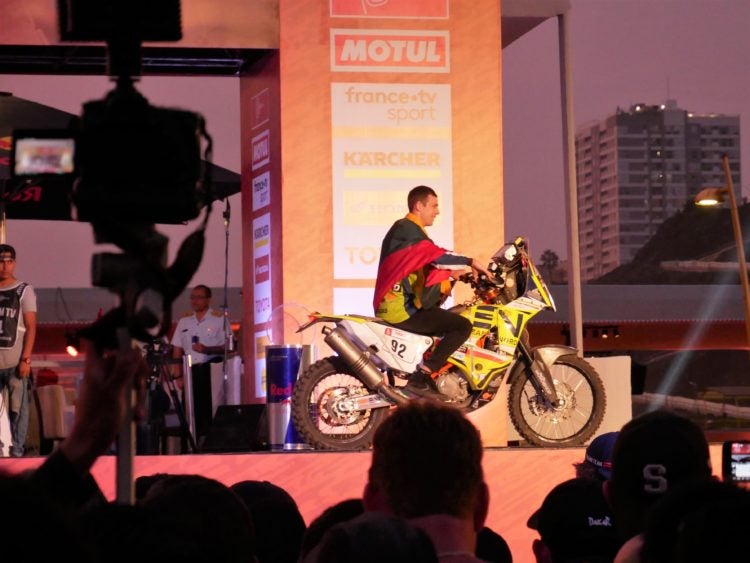 Gee Motzkin met me at a Starbucks for a quick chat about what's it like to chase the Dakar on your own bike one year, then race it the next. Nathan Rafferty said he was glad to have gone through the Dakar hell, but that 2020 will be different for him – and gave me the most fantastic thank you card ever. Edwin Straver, winner of the malle moto class, said he'll do Dakar 2020 if he can pull it off with the sponsors, and that he also hopes to sail across the Atlantic solo one day. "When I get older, that is. Now, I'm still fit enough for motorcycling", – he added.
I kept asking all of them, why. Why did you do the Dakar? Why put yourself through this hell? Why?
"Because nothing else is enough".
And even though I merely chased the Dakar instead of actually racing, I think I know now – I think I know what they mean when they say this.
Today, I'm shopping for some more chocolate and visiting injured riders in the hospital. Tomorrow, I'm interviewing Carlo Vellutino, a Peruvian rider who finished his 10th Dakar. And the day after hasn't quite entered my mind yet. My laptop is done – all that sand finally killed it, so I have to figure out how to replace it. Lucy needs an oil change, chain maintenance, and probably, a spark plug and brake pad clean. I need sleep, although I'm up before 6am now anyway, ready to go.
But go where?
I think I'll just leave that at the words of Benediktas Vanagas, a Lithuanian car pilot who placed 11th this year and who said:
"The Dakar is over.
The Dakar begins".