Dakar 2020 Stage 7, a 195 km liaison and a 546 special, has ended in the tragic death of Portuguese racer and Dakar legend Paulo Goncalves. The rider passed away after a crash, although all the details aren't clear yet. A huge loss for Portugal and the entire world, Goncalves is being mourned by his fellow riders in Wadi Al-Dawasir. As a result, Stage 8 has been canceled for motorcycles and quads.
"The decease of Paulo Gonçalves during today's stage 7 between Riyadh and Wadi Al-Dawasir has left the entire Dakar, especially the bikers, in shock. Paulo, a beloved figure of the rally, was immensely respected by both veterans and less experienced competitors who admired and were inspired by him. After meeting the riders and making a decision together with the entire motorbike family, the organizers have decided to cancel stage 8 for the motorbikes and quads category, which was supposed to take place on a loop course around Wadi Al-Dawasir, in order to give the riders time to mourn their friend.
The entire Dakar family will come together to pay tribute to Paulo at the briefing this evening", the official statement from the rally organizers said.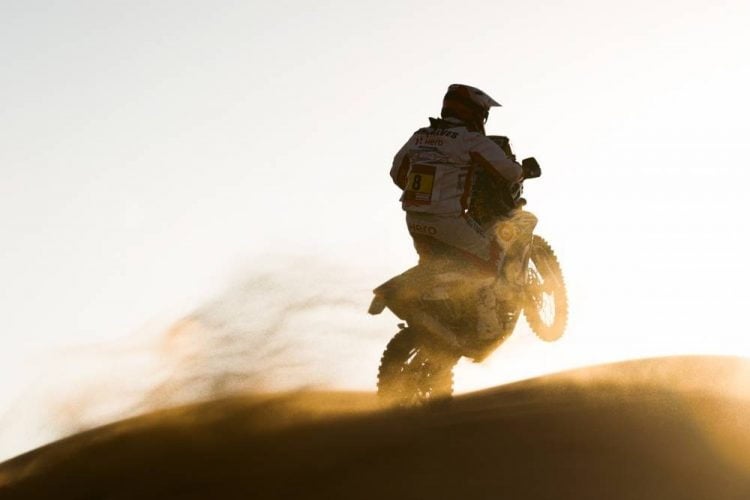 Stage 7 rankings:
| | | | | |
| --- | --- | --- | --- | --- |
| 1 | 7 | | MONSTER ENERGY HONDA TEAM 2020 | 04H 36′ 22" |
| 2 | 12 | | MONSTER ENERGY HONDA TEAM 2020 | 04H 37′ 45" |
| 3 | 2 | | RED BULL KTM FACTORY TEAM | 04H 40′ 39" |
| 4 | 16 | | RED BULL KTM FACTORY TEAM | 04H 41′ 10" |
| 5 | 9 | | MONSTER ENERGY HONDA TEAM 2020 | 04H 41′ 14" |
| 6 | 17 | | MONSTER ENERGY HONDA TEAM 2020 | 04H 42′ 34" |
| 7 | 1 | | RED BULL KTM FACTORY TEAM | 04H 44′ 19" |
| 8 | 5 | | ROCKSTAR ENERGY HUSQVARNA FACTORY RACING | 04H 45′ 06" |
| 9 | 6 | | ROCKSTAR ENERGY HUSQVARNA FACTORY RACING | 04H 45′ 24" |
| 10 | 22 | | MONSTER ENERGY YAMAHA RALLY TEAM | 04H 46′ 21" |
| 11 | 132 | | MOTO RACING GROUP (MRG) | 04H 50′ 51" |
| 12 | 59 | | KLYMCIW RACING | 04H 51′ 26" |
| 13 | 11 | | SHERCO TVS RALLY FACTORY | 04H 51′ 32" |
| 14 | 19 | | SLOVNAFT RALLY TEAM | 04H 53′ 06" |
| 15 | 24 | | SHERCO TVS RALLY FACTORY | 04H 53′ 16" |
| 16 | 18 | | BAS DAKAR KTM RACING TEAM | 04H 53′ 47" |
| 17 | 74 | | FN SPEED TEAM | 04H 53′ 48" |
| 18 | 25 | | LS2 AVENTURA TOUAREG | 04H 54′ 08" |
| 19 | 41 | | SOLARYS RACING | 04H 56′ 57" |
| 20 | 14 | | GAS GAS FACTORY TEAM | 04H 57′ 49" |
Images: ASO