I'm not one to lightly throw around the word "outrage", but in this case, I think the use of the word is justified.  I'll get to why its use is appropriate shortly.
ADVRider.com recently published a story about Nicola Dutto, a rider who also happens to be a paraplegic.  Nicola is a European Baja champion, having taken championships in 2008 and 2009.  In 2010, Nicola suffered a crash during an event and was paralyzed.  Not one to let a challenge overcome him, after a few months of training, Nicola was at it again.  This time in a buggy.
During the competition, a mechanical failure stranded him in a dry riverbed.  It was at that point, he decided 4 wheeled racing wasn't for him.  He was going back to 2 wheels to compete.
Nicola Decides To Ride With Two Wheels
With a specially modified bike, Nicola took to two wheels again.  His first machine was a bike with "training wheels" of sorts and with this bike, he took his first ride on 2 wheels since his crash.  He trained on that bike for a while and decided that he needed something more similar to what he was used to riding.
Ultimately, he modified his bike with a "rollbar" of sorts to protect and hold his legs.  He also installed a specially designed seat that he literally strapped into.  With these modifications, Nicola was able to start training for an event that very few "able-bodied" people could even dream of entering.  Nicola had decided to train for and enter the Dakar Rally.
Entering The Dakar
The Dakar is the most difficult and arduous rally on the planet.  Sometimes, most competitors in a particular class won't even finish.  The rally is held over a series of days called stages (this year's Dakar was 10 days, but it's often 13 days).  During this period, there is one single rest day and the remainder are for racing.
But what is unique about the Dakar is that racing is only part of the trials.  You first have to ride to the starting point which may be more than 100 miles away.  From there, you will begin timed racing over very difficult terrain which can be more than 100 miles.  Once you have completed racing stage, you may have to ride another 100+ miles to get to the bivouac where you can prepare your machine for the next day, eat and get a little rest.
On top of this, racing may not be the most difficult part.  You must train extensively to get to the fitness level required to compete.  You must prepare your machine and ensure that it meets all regulations prior to spending lots of money (tens if not hundreds of thousands of dollars) on things like entry fees, shipping, and a team.  Just getting ready for the Dakar is a challenge that most cannot accomplish.
Decision Made
With his specially modified bike and a team of friends to guide him, Nicola would ride the Dakar.  Three friends who had previously been rivals during the European Bajas offered to help.  "Ghost riders" Julian Villarubia, Pablo Toral and Victor Rivera would participate and compete with Nicola.  One rider would lead and show Nicola the safest lines.  Two other riders would ensure if Nicola fell, he could be uprighted and continue racing.  All these things would help Nicola compete in the Dakar.
With all his ducks in a row, Nicola entered and competed in the Dakar.  He beat all the odds; the cost, the preparation, the training, the logistics, and the racing.  And this is where I think the word outrage comes in.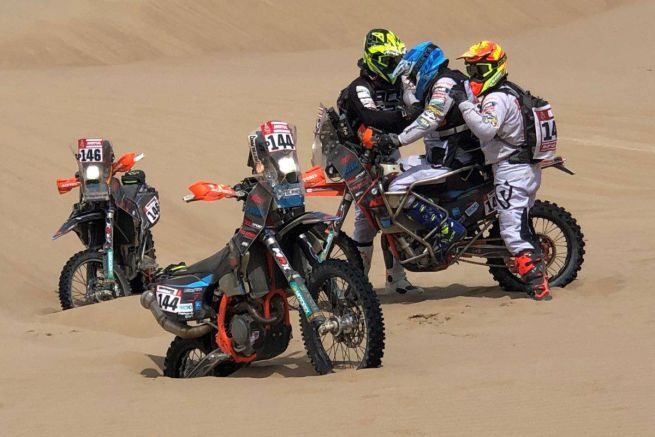 The Outrage Unfolds
Nicola had already successfully completed 3 tortuous stages of the Dakar.  It was during the fourth "marathon" stage where the outrage unfolded.  The day's stage was to be 405 kilometers from Arequipa to Tacna.  Much of the course was in powdery dunes called "fesh-fesh".
It was in the fesh-fesh that ghost rider Julian Villarrubia's bike experienced mechanical problems.  After three hours, some repairs were able to be made to the bike.  But only a few miles later, the bike failed again.  It was at this point that the decision was made to leave Julian and his broken machine and continue to race the Dakar.  Now only two ghost riders remained and the risk of injury and failure increased.
After powering through more dunes and hazards, ghost rider Victor Rivera's bike began to fail.  The team was now very concerned that they may not be able to finish the Dakar.  With determination, they were able to make it to the next checkpoint.  There, they let a Dakar official know that Julian and his bike were still in the desert and would need to be recovered.
Dakar Official Provides Information
In addition, knowing that Victor's bike was failing, they asked the Dakar official if they could travel to the bivouac by highway in exchange for a time penalty.  With only two ghost riders and one on a failing bike, it was clearly safer for them to limp into the bivouac via the highway than to risk getting stuck in the desert.  They had no issue with taking a significant time penalty in exchange for safety.
The Dakar official contacted Dakar headquarters.  He confirmed that the team could travel via the highway with only a time penalty as long as they made each of the remaining checkpoints.  This information was reportedly captured on video by one of Nicola's teammates.  With the official's approval and confirmation, they did as instructed and were able to wearily arrive at the bivouac.

Disqualified For Following Direction
While preparations were underway for the next day's racing, the team was notified by the Dakar's race director Marc Ducroqc they had been disqualified.  The team explained that they had followed the checkpoint official's direction.  But despite this, none other than the Dakar's head Etienne Lavigne confirmed they had been disqualified.
The team was shocked.  They had followed the checkpoint Dakar official's instructions to the letter.  That official had called Dakar headquarters to ensure that they could take the highway.  He had confirmed that taking the highway was acceptable with the imposition of only a time penalty.  But now, they had been advised that they were disqualified and no longer eligible to compete.  They were out of the Dakar.
Hard To Understand
It's difficult to believe that after all their preparation and hard work, following Dakar officials' direction would ultimately result in their exclusion from the Dakar.  If the officials had told the team that they must follow the roadbook or they would be disqualified, that would be a different story.
The team could then have decided to follow the roadbook or withdraw.  If they followed the roadbook and were unable to reach the bivouac at the end of the day, that would be acceptable as well.  They would have failed and disqualification would be appropriate.
But with the team having sought instruction, followed it and arrived safely at the bivouac, disqualifying the team is outrageous and offensive. Period.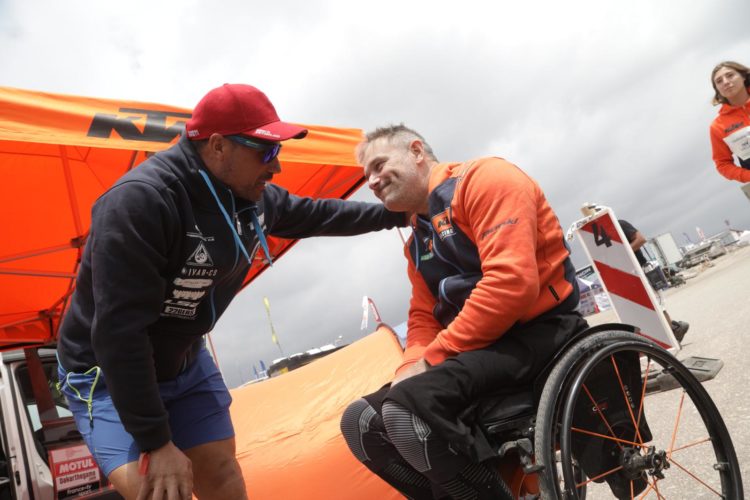 What's next?
Shame on ASO, the Dakar organizer.  You provided instruction and when competitors followed it, you disqualified them.  ASO owes Nicola and his team an apology.  The least they can do is acknowledge their error.
Whether Nicola and the team would consider entering the Dakar again, I don't know.  But if they do decide to give it another try, ASO should let them compete without charge and perhaps refund this year's entry fees.
From my perspective, Nicola and the team are what the original Dakar is all about.  Dedication, competition and the spirit to tame some of the most difficult terrains on the planet.  I really don't care about Etienne Lavigne's decision.  I know that Nicola and his team really know what the Dakar is all about and they have finished the race with honor.
You can hear and see Nicola's thoughts on the team's disqualification in the video provided by his sponsor Vicar: