Dave is probably one of the kings of high-quality visual ride reports penning 41 of them, delve into them here…hence the first question –
Everybody that reads your reports knows you have a love of photography, which came first – bikes or camera?
As a kid growing up in a home with magazines such as National Geographic, I was drawn to beautiful photography and vividly remember the glossy camera ads. I also had a cousin, who was lucky enough to have a Honda minibike. After a few short rides, my parents forbade me from riding it – afraid I'd kill myself. I guess I have always been drawn to both. I bought my first motorcycle in 1997. I began long distance touring and wrote my first Ride Reports in 2006. It was 4 years later when I got a decent camera and started trying to learn to use it.
You love the Southwest and specifically Arizona, but you're not from here…did you come for the riding or photography?
Neither. We moved to Phoenix, Arizona in 1995, before I started either hobby. We had visited a friend for a few days, and fell in love with it. We were young, and the prospect of a better economy for jobs was a huge factor as well.
You've written multiple ride reports, do you have a standout favorite and why?
My report from October, 2016 titled, Wanna Ride the GCBAR with me? would have to be my favorite.  After 2 failed attempts to ride my complete dream route in one trip, I was finally able to get it done.
I was also riding with one of my Ride Report heroes and great friend Larryboy. It was my best work to date where all of the photos, videos, and participation of the readers made the experience worth all the effort to create it. The ride itself was incredible.
Your Grand Canyon route how long did the research take to put that together, and could any size bike ride the route you put together?
Link to the thread GCBAR – Grand Canyon Backcountry Adventure Route – The Complete Route in Mapping & Navigation: The thread includes the GPX files.
I first had the idea to ride around the Grand Canyon in 2009. After that trip, I realized I had barely scratched the surface of all the great tracks in the area. I began studying maps, planning routes, and taking longer trips to explore the area. I publicly released the route information and GPS Tracks for the GCBAR in 2016. To my knowledge, only larryboy and I have ridden all of it in one ride.
I initially intended this route to be big-bike friendly. Most of it is. However; as my skills increased over the years, I included some trails most riders would find really challenging on a big bike. I've tried to include plenty of trail descriptions, photos, and even some videos in my reports to help riders determine which areas they may wish to avoid.
Best time of year to ride the GCBAR, any tips and tricks you'd like to share?
I would only plan to ride the GCBAR from June to Early July, or Late September to Late October. The first week in October is probably the best due to the fall colors. Much of this route is through the aspens.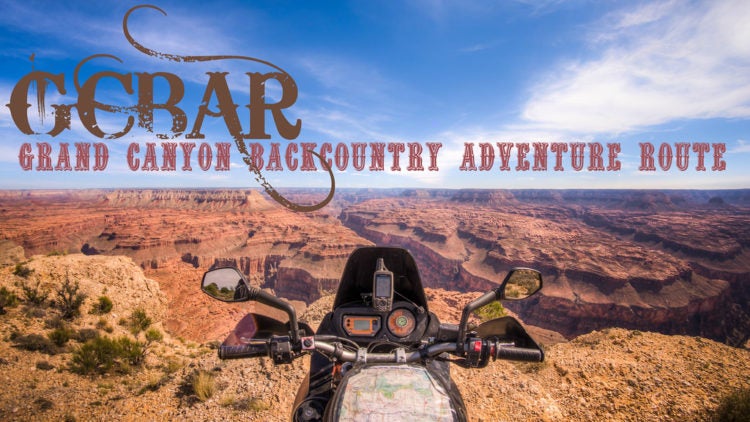 You have a large collection of sunset photos, not always an easy shot to get, can you explain how you do and some tips to get 'that shot'?
I love the color that can be found looking towards the sun at sunrise or sunset. It is difficult to photograph a scene pointed at the sun. Cameras are not able to "see" all the details in a scene with this much difference in light levels. We can look towards the sun and see the colors of the sun and the details in the dark foreground. A camera can only expose for portions of this same scene. Either you can have large portions of the photograph over-exposed to white, or large portions under-exposed to black. To capture scenes like this, I often take bracketed exposures and merge them together later using HDR software. I still love HDR photography, although it's a controversial topic and hated by many.
Are you riding anywhere right now or planning to go next?
No firm plans set for now. I'll probably ride some BDR's this summer, and return to the GCBAR this fall. It's been 3 years since my last ride up there. In another 3.5 years, I'll finally have the free time to travel more. Some of my dream routes, including a ride from Alaska to Argentina will begin.
What is your current bike?
I recently picked up a 2017 KTM 690 Enduro R that I'm currently building into an adventure touring machine. Build thread here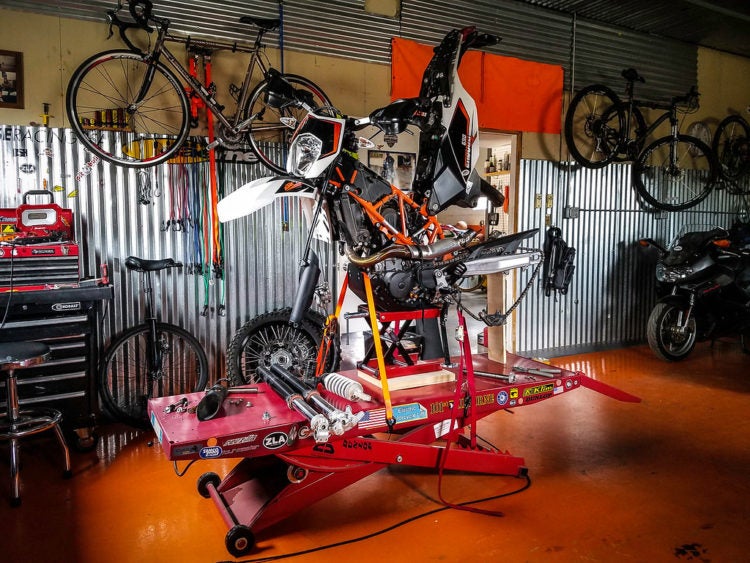 I also own, a 2013 Yamaha Super Tenere, a 2007 KTM 990 Adventure, and a 2002 Aprilia RST1000 Futura.
Do you have a dream bike that isn't your current bike – if you had an unlimited budget?
I would probably build a KIT690 and have Lyndon Poskitt build me a killer motor with that wide-ratio transmission.
Is there one particular road or track that stands out above all the rest?
The trail out to Jumpup Point on the GCBAR is the one I most look forward to riding again. The 8 miles from Jumpup Divide to the end of the road at the point is so fun to ride, and the payoff is one of the most stunning vistas you could ever imagine. Free camping and no one else around for many miles.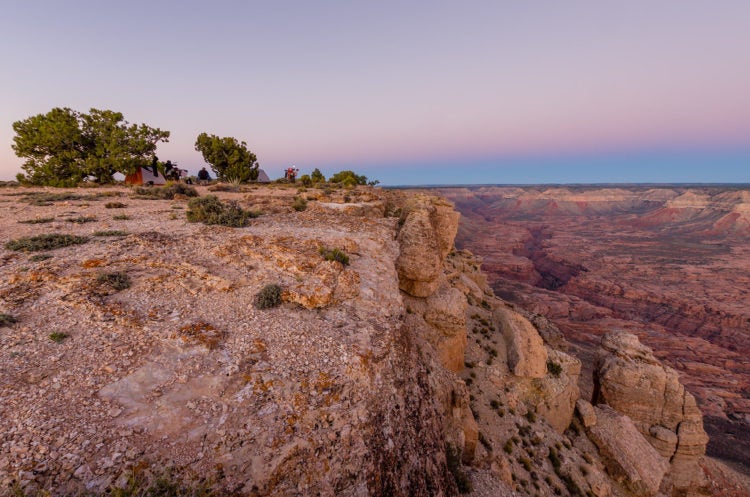 A dream location to ride to that you have yet to visit?
I have a lot of dreams, but recently I have been digging the idea of riding the high Himalayan Passes of India. The dream that will likely be the one I will make happen soon, is a ride from Alaska to Argentina.
Scariest moment on your travels?
That time I tipped over and tumbled back down the hill in John's Canyon in Southern Utah. I was in a dead-end canyon that sees very few visitors. I was alone and injured. I was able to self-extricate, but it later cost me a knee surgery.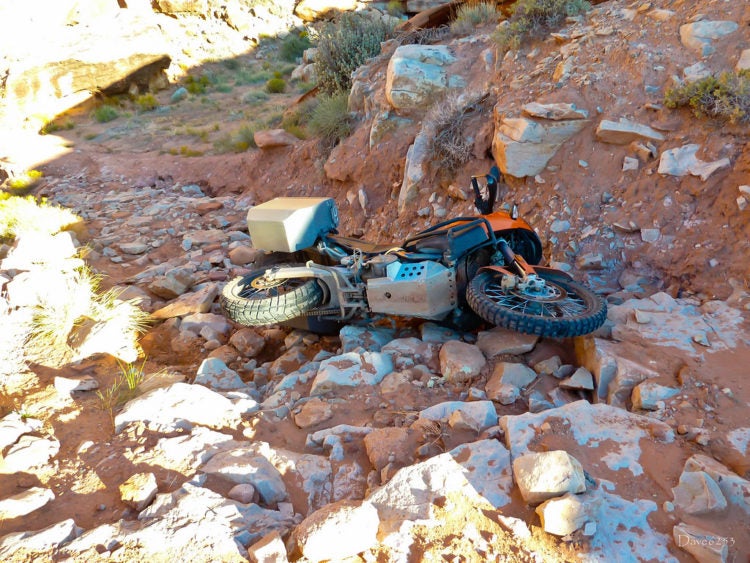 Most memorable day?
Day 11: July 1st, 2012
This morning I awoke in a strange bed and in a foul mood.
I re-orient myself, Oh yeah, we're in Tok, Alaska and walk over to the window.
Shit! It's still raining.
I pick up my phone to check the weather forecast. Nothing hopeful.
I check my iPod. I left it on the charger overnight hoping it would come back to life after it crapped out in the super-soaker thunderstorm.
iPod is DEAD! Apparently, they don't like water.
My expensive "waterproof" "Rain" boots have dried, but I know within 30 minutes of riding my feet will be wet and cold.
I'm not really looking forward to another full day of boring highways with clouds obscuring the scenery.
My ass hurts! Really HURTS! Everyone complains about the stock seat, but it had never bothered me much before.
Now with a passenger, I was unable to scoot around or stand as much. I realize the thing is really an extreme torture device.
I find myself snapping at Helen over everything. I'm irritable (more so than normal).
I apologize and explain my foul mood, then a few minutes later, I snap again.
Are we stupid to just keep riding north in these conditions? If it's cold and wet here, how bad is the mud and snow gonna be if we continue?
Maybe we should just turn tail and head towards warmer climates. Salvage our vacation together. Misery isn't fun. Is it?
We struggle into the layers of rain gear anyway and load up the bike. Now I'm sweating like a pig.
I get pissed again because it's taking way to long to get moving. I'm hot! Let's GO!
We hit the highway and head out of Tok in the damned rain. Nothing but the ROAR of the wind to listen to.
The locals have all been telling us it's the wettest summer they can remember. I'm not sure if I should believe them. Maybe they just tell everyone that so they'll come back for another attempt next summer?
I fully expected it could rain on us the entire trip. I just woke up on the wrong side of a strange bed this morning. I had hoped to get a few pictures of Alaska though.
If I had only known what was in store for us today…
After a bad start, we ended up riding all day and night in great weather, with the most glorious light for photos. While riding directly into the sun at midnight, I pulled over to tell Helen "Happy Anniversary"! We cruised all the way to Prudhoe Bay. We toured the oilfield and dipped our toes in the Arctic Ocean. Then rode to camp. We rode 738 miles – including the Dalton Highway – in 28 hours.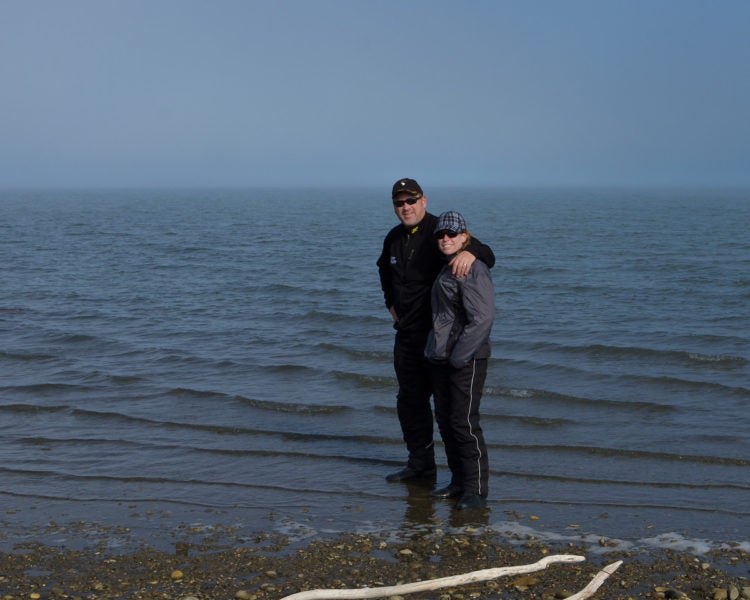 Do you think more people should travel and why?
I can't say it better than Mark Twain. "Travel is fatal to prejudice, bigotry, and narrow-mindedness, and many of our people need it sorely on these accounts. Broad, wholesome, charitable views of men and things cannot be acquired by vegetating in one little corner of the earth all one's lifetime."
Top 3 tips for a new rider?
1. Wear a brain bucket.
2. Don't drink before riding.
3. The internet is rife with advice for new riders. Ignore most of it and go have fun!
What does the word 'adventure' mean to you?
Wandering down some seldom-used remote trail or new road with great expectations of what wonders await you around each bend.
What are your top 5 photographs and why, a little detail about each one?
1. I was enjoying the solitude high in the Southern Arizona mountains last year. I crawled out of the tent shortly before sunrise to see the stars and stare off into Mexico nearby.
2. Riding through the Brooks Range on the Dalton Highway, I was stunned to see this beautiful sight ahead. I stopped the bike here to hug my wife. I thanked her for joining me on this ride, so we could experience this together.
3. Not the best photo, but it was taken at the Toroweap Campground at the Grand Canyon years ago. My son had joined me on this ride and was asleep in the tent. This photo had a turn in the Front Page Photos of this forum – back when that was cool.
4. This photograph was taken handheld with a point-and-shoot back in 2006. It was taken on the Icefields Parkway in Canada on my very first long tour.
5. Larryboy and I were out on the GCBAR in 2016. We woke up at Tatahatso Point with a stiff breeze trying to blow us over the edge to the river thousands of feet below. Look at my tent leaning! Larryboy had not staked his. He was trying to tear it down while holding it with one foot inside. I held the tripod by the feet way overhead and took this one with the self-timer.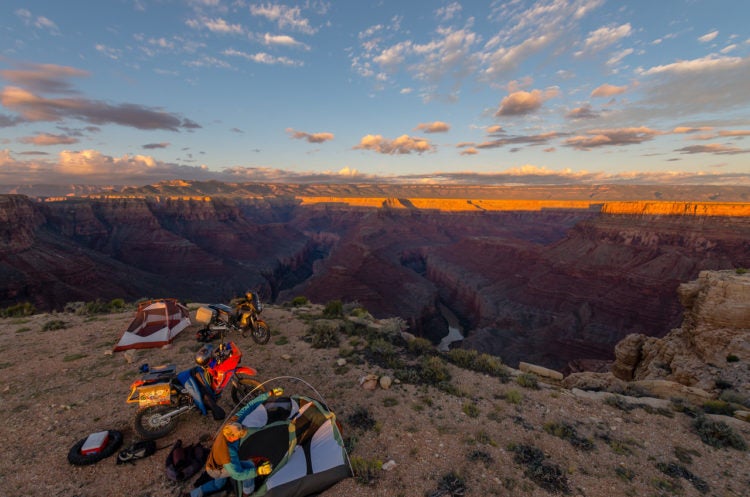 ==================================================================================
For more interviews and a small look into the life of some inmates make sure you check out the Interview Series in the forum that has been running since 2007 – you can find it here