Day 1 of Bosnia Rally kicked off with some single track across green fields and rolling hills, throwing us all right into the deep end of roadbook navigation. While roadbook is fairly straightforward on the tracks, out in the open, it's a bit of a different story, and it soon became an orienteering game of who can find the right direction the fastest.
Add the fact that technically, you're not supposed to go off track for risk of hitting a landmine (Bosnia still has hundreds of active landmines which have not been discovered and destroyed yet), and it's suddenly even more challenging. Stefan Rosner, the organizer of Bosnia Rally, works closely with the local forestry, police, and military forces to ensure the area we're riding through is safe; still, it's something that your mind just refuses to forget.
Once we got going, however, the country opened up in all its unadulterated glory. Forest tracks, steep uphill climbs, rocky riverbeds, fast-flowing tracks, and rocky hill terrain – we had it all during the 270-kilometre stage today, and the landscape just blew our minds. A herd of galloping horses made today even more special, and as we finally rolled back into the bivouac in the evening, we just couldn't wipe the biggest grins off our faces.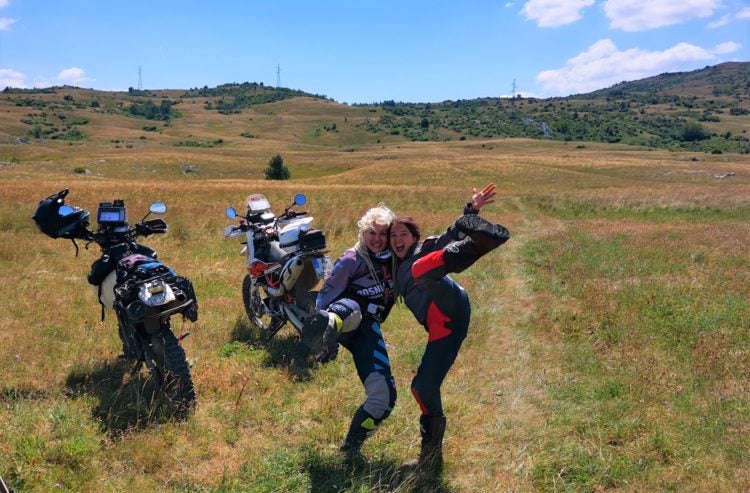 For the first time in my brief rally history, I ended up riding with other people today – and what a difference it made. Somehow, I teamed up with Gabriella (Australia), Nick (Germany) and Lieven (Belgium), and our newly founded Rally Bunnies team made it through the whole route together. It's an awesome feeling to be riding with like-minded souls, and it's certainly helped my speed – having more experienced riders in front does wonders for your technique: you're picking better lines and pushing yourself even further.
I confess: I expected Bosnia Rally to be much easier. After all, it's a rally training event, not a "real" rally. However, Stefan Rosner and his team designed a seriously incredible course that was challenging and technical enough, but also stunningly beautiful for everyone to enjoy.
Tomorrow brings a 395-kilometer stage, and we're ready to go.