After my recent post about biggest RTW myths, readers have requested another article about dealing with borders, visas, and bike shipping. How complicated and difficult is it in reality?
To me personally, border crossings, paperwork, and shipping were never an issue. But then, I've had it easy so far. In Europe, I only had to deal with one initial customs procedure after shipping my bike here from Valparaiso, Chile, and only because it's an US-registered motorcycle (I'll do a separate post about that). In North America, border crossings between US-Canada and US-Mexico were practically effortless; Mexico's customs procedures are fairly straightforward and easy even including the bike deposit. Cuba was slightly different, because we had to get temporary Cuban number plates and licenses for the bikes, but the whole thing took about 5 hours to do and cost around $20, so I don't feel this was an arduous process. Getting a visa for Cuba involved about 15 minutes and about $25 in a Mexican travel agency in Cancun.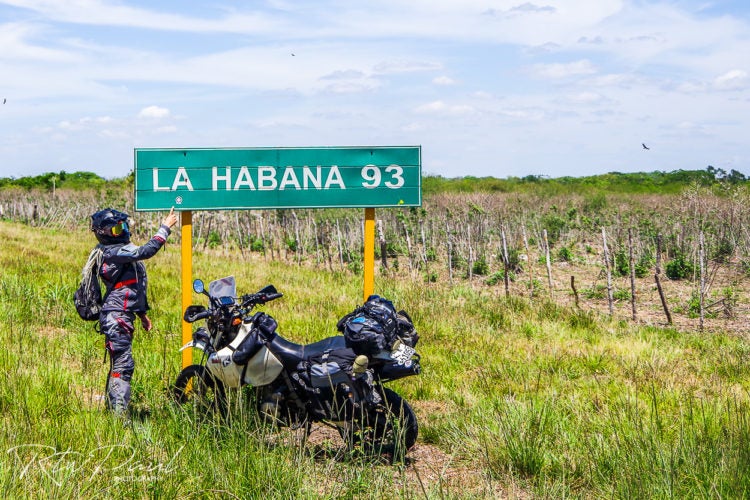 South America is even easier. You show up at the border, get your passport stamp at the immigration office, then head to customs ("aduanas" in Spanish), get your temporary vehicle import paper, and you're good to go. As long as you don't overstay – some countries offer 180 days per year while others only give you 90 – there is no hassle and no stress.
To date, I have crossed over 15 borders in North and South America, the Caribbean, and Europe, not counting the Schengen zone or multiple back-and-forth crossings and border runs in South America, and shipped my bike from South America to Europe. I have never had to pay any bribes, never waited longer than 6 hours, was never ripped off by "fixers" or border officials, and never felt intimidated or otherwise overwhelmed by border crossings – with one exception. In 2013, I was trying to cross the Peruvian-Bolivian border on a Peruvian-registered bike. Because I did zero research beforehand and had no idea about the complexity of Peruvian-Bolivian relations, I was stuck for ten days gathering all the necessary paperwork to be allowed to leave Peru and enter Bolivia. I consider this my own fault (ignorance is no excuse) which is why I'm not counting this instance among my overall border crossing experience. On a US-registered bike, there was never any trouble leaving or entering any country from Canada to Chile.
The one thing that helps the most, and this is very important anywhere in the world in any situation, is being respectful, patient, and grateful. Too often, Westerners show up at borders with an air of superiority, expecting to get everything done in ten minutes because that's how it works in their country. They get angry, annoyed and sometimes downright hysterical when things don't go their way. They show up with demands and expectations, often not speaking a local language, and with little respect to local procedures and culture. The thing is, first and foremost, we should all be grateful that these countries allow us in in the first place. Travel is a privilege, not a right. Understanding where you are, how things work, how people think, and what is accepted as norm is key to smooth border crossings. Getting a ton of document copies from multiple offices and waiting around in sweltering heat for hours might feel unjust to you, but to local officials, this is their reality every single day. They do their best with what they're given, often for ridiculously small pay. If you show up at a border and are respectful, patient, and kind (instead of moaning how hard it is for you to waddle around in your bike gear to collect all the stamps and copies, why not buy every border official an ice cream and see what happens?), 99% of the time, it'll be smooth sailing. And sure, there might be a grumpy individual here and there, deliberately taking as long as they can, or asking for a "visa fee" that you know does not exist. There are bad apples everywhere. Generally, however, the world is much nicer, safer, and kinder than we imagine.
However, as mentioned earlier, I've had it easy so far. The Americas and Europe are hardly the tricky parts of a RTW. What about places like China, Pakistan, Iran, Egypt, Sudan? I turned to other experienced RTW travellers for advice.
XT Adventures: China, Central Asia, Australia & New Zealand
Xenia and Martin, a Swiss couple riding RTW for over two years now, have travelled from Europe to Australia and New Zealand via Central Asia, China, India, and South East Asia. They are currently preparing to ship their bikes to Africa, so I caught up with Xenia to ask her about border crossings and visas so far.
"Martin and I have never paid any bribes as we are strictly against it, and we were never ripped off at any border, although there were a few attempts by officials in Central Asia where they asked for non-existent visa fees or offered us the wrong exchange rate. However, I'm always very well prepared for each border crossing and I know exactly what fees are required, so tricks like that just doesn't work on us. At the same time, they aren't frequent at all, it's certainly not a rule for every border – most are quite easy, efficient, and quick", – Xenia said.
According to her, during the two years on the road, border crossings were not a difficulty. "You do need to be prepared. Find out time zone differences, opening times, be mindful about holidays on either side of the border, and know exactly what paperwork is required. I find embassies useless for this, because their information is either outdated, or it is mostly aimed at travellers who fly into the country as opposed to overlanders with their own vehicles. My best bet, when researching a new border crossing, is Horizons Unlimited, iOverlander, and Facebook Groups. Horizons Unlimited Motorcycle Travelers and Overland Sphere are great. For Central Asia, Caravanistan is a life saver. Talking to other overlanders who have done a particular border recently is the best way to gather information and prepare accordingly", – Xenia explained. She added that it's best to go to a border crossing early in the morning and have a supply of water and snacks in case the waiting lines are long.
"For us, the toughest border crossing was into China. Even with a local guide, it took three days because the system was very new and nobody was very sure of what they were supposed to do. They were very strict about "weapons" and food: they confiscated a small Swiss army knife from our friends, along with my canned tuna. Getting out of China, on the other hand, took 24 hours. Another tough crossing was between Uzbekistan and Turkmenistan because they did extensive luggage searches looking for drones and other prohibited items. Finally, New Zealand and Australia were scary for us because they have very strict rules about bikes being spotlessly clean. If they find even a speck of dirt on your bike, you're looking at paying over $400 to get it cleaned, plus there's quarantine…So, you do need to be careful when shipping to New Zealand and Australia".
Xenia's advice for smooth border crossings is simple: be friendly and polite but firm. Have all your paperwork in order, know exactly what is required at each border, never pay bribes, and don't show frustration. "It all may sound complicated, but it really isn't – it's simply a matter of being organized".
 Egypt and Sudan
Kinga Tanajewska has been riding RTW for three years now, crossing Russia, Mongolia, Central Asia, Europe and Middle East from Australia. She is currently in Sudan, aiming to ride around Africa before heading to the Americas.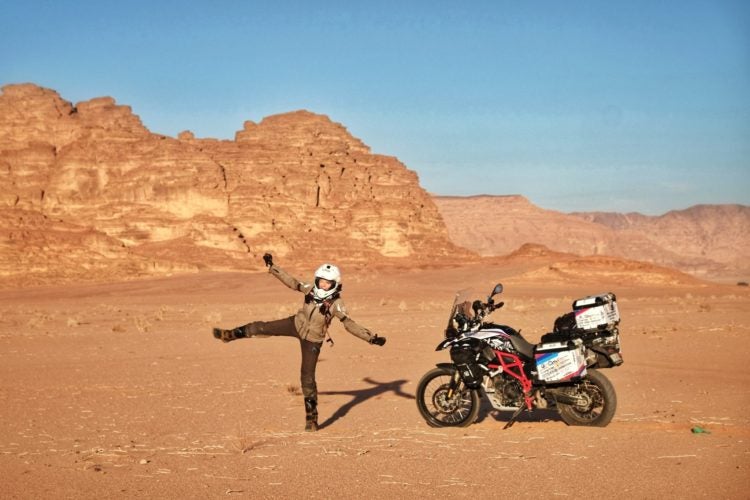 While Xenia and Martin plan everything meticulously, Kinga prefers to improvise. "I'm terrible with research, so I just rely on social media and ask people who have recently travelled the same route. It's worked so far! Mostly I just organize everything as I go along. For Iran, Egypt, and Sudan, for example, you need a carnet de passage, but even that can be obtained while on the road.  I had my carnet when I left Australia, but it was only valid for 1,5 years. I got a new one issued and sent to me in Europe with no problems", – Kinga said.
For her, the toughest border crossing was into Egypt. "It's all pretty chaotic, there are all those requirements and multiple fees for so many different things… I spent ten hours at the border, but I got in. I usually do everything myself, but in Egypt, it pays to have a local fixer because they can really speed up the procedure. My advice for Egypt? Just patience, lots and lots of patience", – Kinga explained.
Iran & Kenya
Asta and Linas of Two Wheeled Adventures have ridden around the world covering the Americas, Asia, Europe, and Africa. According to Asta, dealing with paperwork, visas, and shipping is a learning curve, but it's much easier than it seems.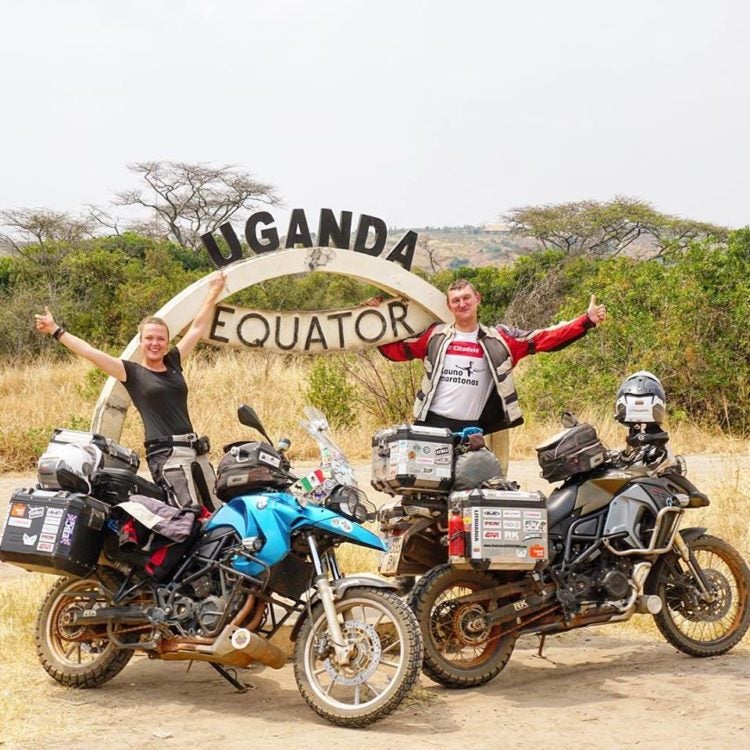 "Everything seems scary and complicated when you think about it sitting on your couch at home. When you're out there doing it, you're doing it, and that's that. You figure things out as you go along. The thing is, the world is actually much nicer and much more civilized than we think when we're at home. For example, we were told that it would be very hard to get our bikes out of the port in Kenya and that the local system was "a total zoo", but when we got there, it actually only took us one day to get our bikes from the container and everything was done very efficiently. The world functions quite well wherever you go, so there's no point to get worked up about bureaucracy before you even leave. You'll figure it out", – Asta said.
For Asta and Linas, Central America was their first challenge, as the border crossings involved getting multiple copies of documents from different offices and lots of waiting around. Shipping their bikes across the Darien was another learning curve, as there were so many options available. But their most daring international shipping feat was getting their bikes from Iran to Kenya, as riding across Saudi Arabia was an impossibility (this was in 2017, when unmarried women were not allowed to enter Saudi Arabia and women were not permitted to drive) and it was already too late to backtrack across Turkey towards Morocco due to weather.
"Initially, we planned to ride South East Asia and India and ship our bikes to Africa from there, but ended up riding Russia, Mongolia, Central Asia, and Iran instead. It all really depends on your goals, but being flexible is a great asset on a RTW trip. The reality is that you simply cannot plan for every eventuality, and the ability to make quick decisions on the spot is what will help you most", – Asta added.
So there you have it: the key to success lies in yourself, not the mood of border officials or different procedures and systems around the world. Be respectful, patient, and prepared; be flexible; talk to other travellers, have all your paperwork in order, don't overstay your welcome, and you'll be just fine.
Featured image: XT Adventures