Adventure doesn't have to be on an 'adventure bike' Nathan showed us that on his postie bike and AntiHero has done the same on his Ducati's.
Both bikes are red and that's where the similarities end, Dennis has penned a few thought-provoking titles in Ride Reports that got inmates attention, but once the reading past the title happened most stayed because they found a very unique character who wrote with passion and has seen more than a few fast roads and countries on the unexpected choice of mount.
How do you prep for a RTW on a pure race bike?
If you're not riding RTW on a race bike but you still want to ride, what do your ride?
How are you long time no hear?
I'm ok. It has been a long time.
The big question, why Ducati?
The first time I ever rode a Harley I grinned like an idiot the whole time. I don't know how anyone who owns one can look so tough on something that's so much fun. If not showing emotion in the face of absolute joy is a test of your manhood, I failed miserably.
The reason I mention Harley is because all bikes are a blast to ride—and you won't understand the character of a bike until you actually ride it. But over time the excitement can diminish; familiarity kills the fun. It has with all the bikes I've owned in the past. But not the Panigale. The thrill never diminishes.
Do you have any involvement with Ducati or have you just always loved the marque?
The ride reports led to quite a few unexpected experiences with Ducati. And they had a plan to keep me riding and writing, but positions changed, employees left and the opportunity to ride for Ducati never materialized.
How did it feel to go from a superbike to a scrambler, did you feel it gave you a different kind of freedom?
Definitely. I nabbed the keys to one of the Scrambler press bikes before the bike was released. I think I put almost 2k miles on it riding from LA to SF (via Death Valley, Route 66 and a few other detours). I love getting out in the dirt, but the Panigale has never exactly been happy there. The Scrambler, needless to say, had a lot more margin for error and, well, I had a lot of fun.
Can you tell us a little about your art and where we can see it, online or in person?
Prints can be found at combustionart.com. I've got another gallery at dmatson.darkfolio.com and post new artwork to Facebook and Instagram. To see the originals you've either got to know me or stumble upon one of the exhibits I randomly get invited to.
I've been painting my whole life, but I began painting motorsports-related pieces a few years ago to help support me on the road. That led to the bright idea of painting every round of the 2016 MotoGP. Took over a year and the experience was so maddening I quit my job to do it full time. Makes no sense, but sometimes you know what you're doing is right even though nothing in your life confirms it.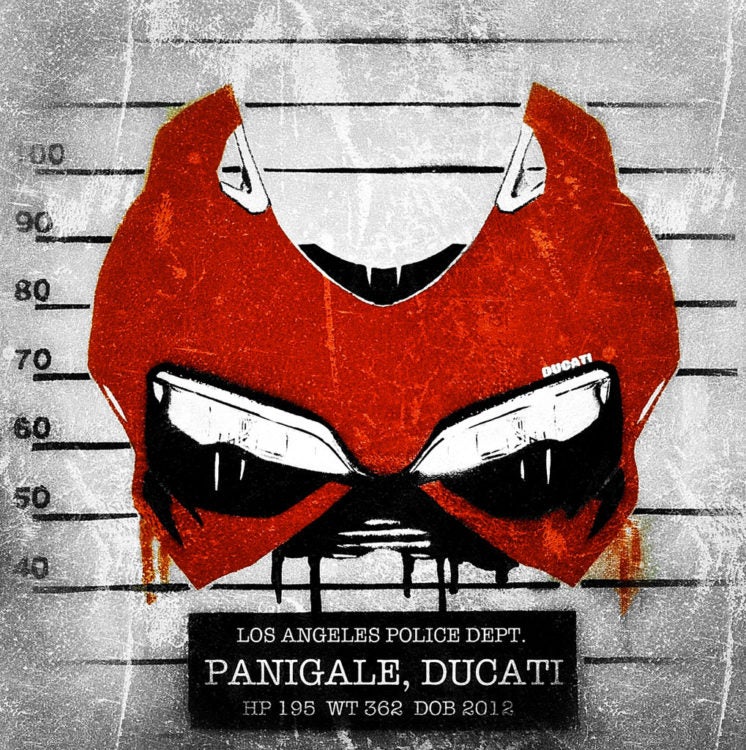 I say "maddening" because Motorcycles are the hardest objects in the world to paint. I've painted everything from Egyptian tomb paintings on a rock to da Vinci sketches (reimagined in horror-film-style) to Van Goghs to X-Men/comic art—and nothing is more complicated than bikes. You've got mechanicals like engine bits, rotors, and calipers, wheels, exhaust, suspension, controls and bodywork (covered with logos and fonts on curved surfaces). Then you add a human form that's leaned over, stretched out and also plastered in logos and text (on folded leather surfaces). It's a merciless subject that really tests your abilities (and resistance to insanity). There's a reason artists stick with painting nature or the human form—the margin for error is tremendous and no one notices if a tree branch is properly lit or if a tendon is two degrees off. But fuck up the perspective on a rear tire or screw up a Yamaha logo and it's immediately apparent to any observer. It's an agonizing process. But the end results are far more elevating than anything I've seen on the walls of the Louve or on the ceiling of the Sistine Chapel.
Are you riding anywhere right now or planning to go next?
I'd be surprised if I have bike insurance and definitely have no health insurance; my new profession has put me well below the income level to afford it.
What is your current bike?
1199S.
Do you have a dream bike that isn't your current bike – if you had an unlimited budget?
Man, that's a tough one. A Britten, a WSBK-spec 916, a 90s YZR500 or a Ducati Supermono, please.
Where is your favorite country to ride and why, and which other two round out your top three and is there one particular road or track that stands out above all the rest?
A particular track is easy: Thunderhill in Northern California. But my favorite country to ride is a tough one. Let me consider this for a second.
Norway is incredible for its other-worldly beauty, but if the drivers don't ruin your day, the police will.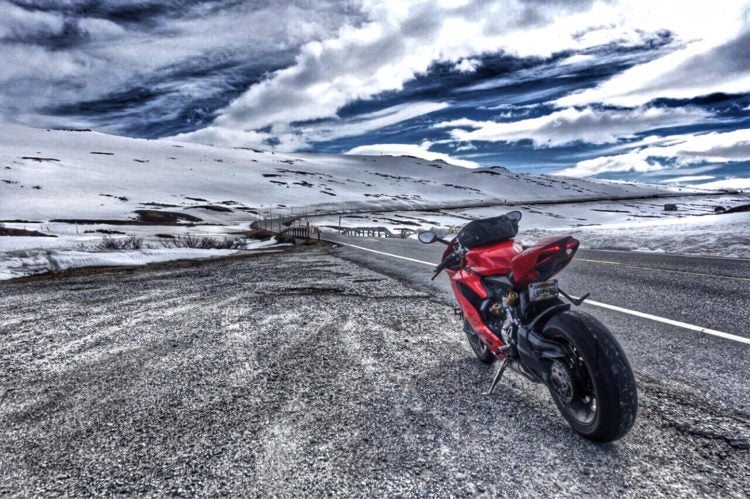 Austria is stunning. Seriously breathtaking, but the Bundespolizei aren't exactly known for leniency and the locals aren't exactly thrilled by bikes in the same way other European countries are.
Spain surprised me with how geographically varied and desolate it can be—and the Spanish absolutely love motorbikes.
Ireland and Scotland are gorgeous but man their roads are slippery.
Czech Republic is incredible.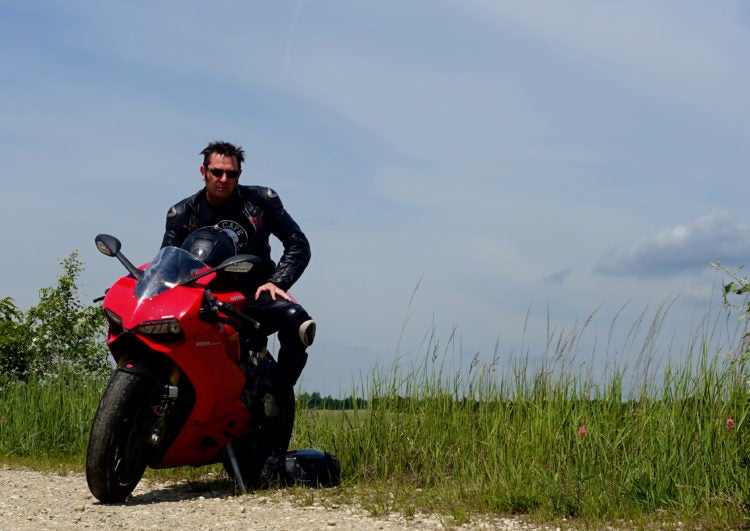 America is hard to beat for its combination of size, beauty and large expanses of nothingness.
So I suppose my top two countries would have to be France and Italy; both are ridiculously beautiful and have incredible roads and competent drivers (who go out way out of their way to make way for motorcycles). Cities like Paris and Rome may appear suicidal on two wheels, but there's an anarchistic order to it all once you get in the mindset.
So yeah—Overall, France and Italy get my vote, with Austria and the US tying for third.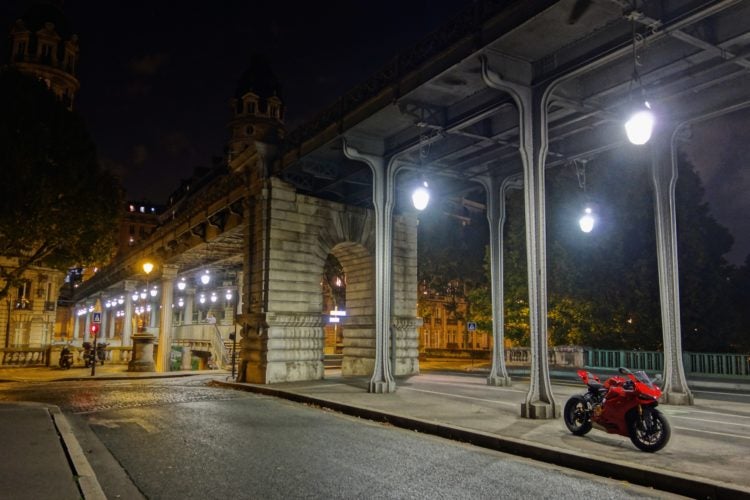 A dream location to ride to that you have yet to visit?
God. So many choices. I feel like I've only scratched the surface of the Earth so far. Even if I rode through the US or Asia again, it'd all be different. But I suppose I'd pick Asia for the change of culture and scenery, or Russia—because it completely scares the shit out of me.
Scariest moment on your travels?
Detroit.
Most memorable day?
The most memorably awful day was riding the Tail of the Dragon through the tail of Hurricane Sandy. The most memorably wonderful day was my first day in Austria. The most memorable day in terms of how it affected me: Death Valley. The most memorable 'this is why you do it' day: stumbling upon the abandoned village of Esco, Spain.
Do you think more people should travel and why?
Definitely. Routine is lethal.
Top 3 tips for a new rider?
Ignore what everyone says. Buy the bike you lust for.
Ride alone until you've mastered the bike and your ego.
Don't get caught.
When you aren't riding what do you do for a job or used to do for a job?
I was in software sales. After Europe, I transitioned to a full-time artist. Ostensibly it's been a disaster. The hours required are inhumane, income ranges from non-existent to unpredictable and the work is grueling, so the fact that I persist must mean this is exactly what I'm supposed to be doing.
What does the word 'adventure' mean to you?
At its core, I think adventure is "curious disobedience"; a willingness to risk everything in the face of a completely unknown or uncertain outcome: to do something dangerous or potentially disastrous without knowing exactly why.
What is your one favorite photo ever from all your travels?
Death Valley.
Any countries you regret going to?
Hell no.
For more interviews and a small look into the life of some inmates make sure you check out the Interview Series in the forum that has been running since 2007 – you can find it here