Having already ridden BMW's F 750 GS (and now reviewed) on a variety of terrain, BMW gave me the chance to ride its more off-road biased sibling, the F 850 GS. I was looking forward to sampling its capabilities and find out how the F 850 GS compared to the F 750 GS and other machines in its segment. The F 850 GS is an all-new machine replacing the F 800 GS. There is little in common with the previous version, so this would be a chance to find out how good the revised machine is.
A Chinese Engine in a German Motorcycle?
As I previously reported, the engine in both the F 750 GS and F 850 GS is being built by Chinese manufacturer Loncin to BMW's specifications. This engine has been available in the F 750 GS and F 850 GS models in Europe for a while now but has only been recently released to North America.
BMW claimed that the later North American arrival was due to a production backlog and some quality control concerns. Recalled in Europe, approximately 1,500 F 850 GSs were affected. The issue was related to engine oil supply and has been resolved. Since the initial recall, there have not been any others on this bike. But anytime a recall affects the very core of a motorcycle, you can understand why some people may be concerned about the long-term quality of the Chinese built engine.
To put things in perspective, there have been thousands of recalls of motorcycles and motorcycle components from many different manufacturers. So does a single recall for an issue that has been remedied force you to throw out the baby with the bathwater and write off the F 850 GS? Only you can decide.
Engine Performance
The F 850 GS engine is entirely new. It now displaces 853 ccs compared to the F 800 GS's 798 ccs. In fact, it is the same parallel-twin 853cc parallel-twin engine found in the F 750 GS. However, the F 850 GS uses an entirely different set of intake and exhaust cams as well as a different ECU. BMW claims the engine now puts out 90 HP at 8,000 RPM with 62 lb-ft of torque at 6,250 RPM. Those figures represent a 5 HP increase and 2 lb-ft of torque increase over the model it replaces. If you are want to compare the F 750 GS to the F 850 GS, the F 850 GS has a 13 HP and 2 lb-ft of torque advantage over the F 750 GS. The 13 HP difference between the two is substantial, but the torque is relatively close.
With a bore of 84mm and a stroke of 77mm, the new engine now uses a 270-degree firing interval with a 90-degree crankpin offset. BMW added twin counterbalancers, and the result is significantly reduced engine vibration and smooth throttle response. When fired up, the engine note has a more throaty and deeper growl.
Chassis and Suspension
A new bridge-type steel shell monocoque frame uses the engine as a stressed member. Gone is the previous tubular steel frame found on the F 800 GS. BMW claims it increases torsional rigidity and also results in more ground clearance since the frame holds the engine higher in the chassis. The new frame increases the ground clearance a significant 1.3 inches over the F 800 GS. Ground clearance aside, the new frame definitely looks sturdier than the frame on the F 800 GS.
An upside-down, non-adjustable front fork uses 43 mm tubes and offers 9.1 inches (230 mm) of travel. The rear suspension uses a progressive damping spring strut, which is adjustable for preload and rebound damping. This new setup results in 8.5 inches (215 mm) of rear-wheel travel.
21″ front and 17″ rear wheels fitted with Brembo brakes provide a wide choice of off-road rubber. Both wheels feature BMW's cross-spoke design, which means that the spokes are located on the outside of the rim, so both tires are tubeless. The bike I rode was shod with Metzeler Karoo 3 tires. Other bikes were equipped with Continental TKC-80 rubber.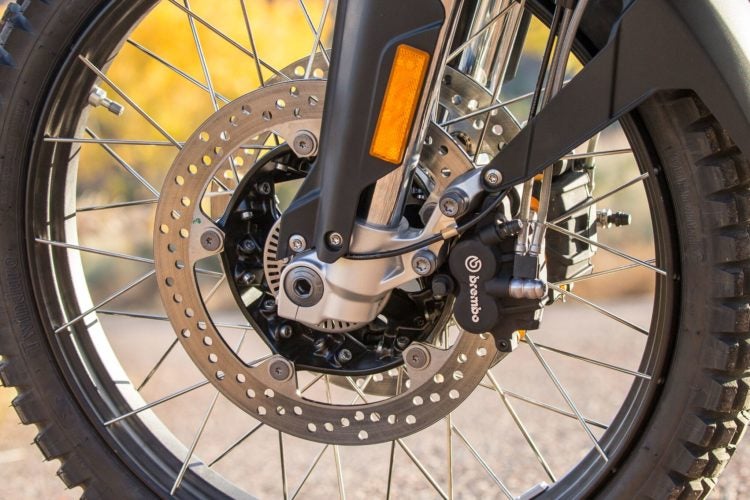 Apparently, BMW has not chosen a final tire supplier, so depending upon when the bike was manufactured, different brands of tires may be installed.
Seat Height and Low Suspension
The BMW F 850 GS is the more off-road oriented of the two BMW middleweight adventure bikes. Hence, ground clearance can be more of a concern. In gaining the ground clearance, manufacturers often end up with seat heights that some riders find uncomfortable.
The BMW F 850 GS could be one of those bikes with a standard seat height of 33.9 inches.  However, BMW seems to have addressed ergonomics for both shorter and taller riders. Using a different seat, taller riders can raise the seat height to a lofty 35 inches. For shorter riders, BMW offers two ways to lower seat height. A low seat is available, and if installed, seat height is reduced to 32.9 inches. If that is not low enough, BMW offers a lowered suspension kit.
Together with the lower seat, seat height can be reduced to 32.1 inches. It is important to note that the lower suspension kit will reduce ground clearance and suspension travel. Front travel will be reduced to 8.3 inches (210 mm), and rear travel is reduced to 7.7 inches (195 mm). You'll have to pick your poison on that one.
BMW says their narrow seat also reduces overall seat height feel. On an F 850 GS with the standard seat and suspension, my 30-inch inseam had me on tiptoes when at a stop.
Fuel
BMW recommends premium fuel for the F 850 GS. Frankly, I don't understand why manufacturers build adventure machines that require premium fuel. Having power is nice, but requiring premium fuel on a bike that is supposed to be able to take you to more remote places just doesn't make sense to me.
A new fuel tank mounted where the more typical fuel tank would be located replaces the F 800 GS's underseat design. BMW claims that the new tank provides a better front to rear load distribution of 49%/51%.
The new fuel tank holds just 4 gallons. At BMW's claimed 57 MPG, full to empty range calculates to 228 miles. I saw 55 MPG on the F 850 GS's display from a mixture of 70% dirt road riding and 30% spirited pavement riding. Ultimately, the range should be reasonably close to BMW's estimate.
Riding Modes and Rider Aids
The significant rise of rider aids makes adding to new bikes almost mandatory. The F 850 GS comes with a plethora of rider aids. Some are standard, and others are optional. Standard is BMW's Anti-Lock Pro braking (ABS) and Dynamic Traction Control (DTC). The rider can disengage both.
There are two standard riding modes: Rain and Road. As you would expect in Rain mode, throttle response is softer than Road mode.
BMW offers up to three optional additional riding modes: Dynamic, Enduro, and Enduro Pro. Dynamic provides optimum engine performance and is meant for pavement operation. Enduro softens response for soft surfaces. Enduro Pro is the most off-road oriented riding mode and is intended for the loosest of surfaces.
In Enduro Pro mode, the default setting has the rear wheel ABS is switched off and engine performance-optimized. However, the Enduro Pro mode can be personalized to suit an individual rider's preferences. This is a nice feature to make the bike perform the way you want it to perform. You don't have to rely on a computer to make decisions for you. The chart below identifies when each mode is appropriate: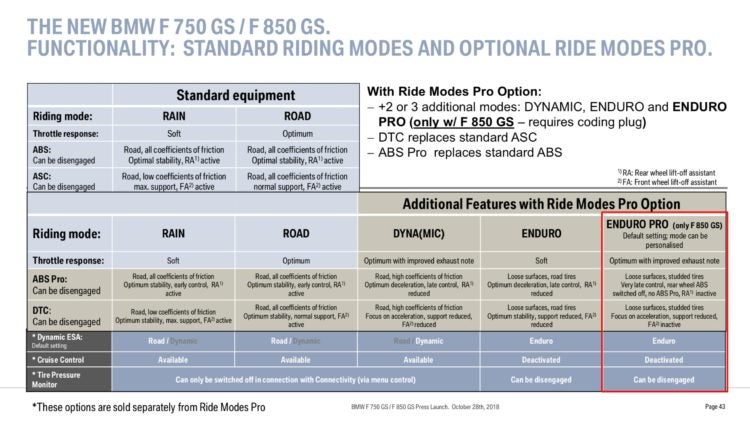 The F 850 GS also has a "gear shift assist." It allows you to shift without using the clutch lever. I didn't use it because I find not using a clutch lever distracting. However, there are times that you may prefer to bang a gear without one. BMW's gear shift assist will let you shift both up and down without the use of that lever on the left side of the handlebars.
Standard and Optional Equipment
BMW's philosophy is to produce and be seen as a premium brand. To them, premium levels of performance, technology, quality, and riding comfort are keystones of their machines. In this regard, BMW has added more standard equipment to the F 850 GS than was on the F 800 GS. The chart below shows the new standard equipment on the F 850 GS.
There are many options to choose from. Some come as a package, and others are available only separately. The chart below summarizes both option packages and individual options. While I like the ability to select different options, I'm not so happy about having to purchase a package of options that I may not want. That said, I understand that BMW likely can't build bikes for each person on request. If they were to do so, the benefits of mass production are lost, and the price would skyrocket to even higher levels.
There are two main option packages available: the Select Package, which is priced at $2,400, and the Premium Package package, which is priced at $3,450. In the above chart, the dark blue boxes indicate the options included in the Select Package. The lighter blue boxes represent all the options of the Select Package as well as the options in the Premium package. Finally, the clear boxes represent individual option items that are not part of any package. Depending on what you want for your machine, pricing can become a bit complicated. We'll talk more about pricing later.
Getting Ready to Ride
Before riding, I did a quick walk around the bike. There were some changes from the F 750 GS that I had ridden the day before. First off, I noted that the bike was shod with knobby tires. I was glad to see this on a bike made to take you off-road. A higher windshield suggested better wind protection on this chilly morning.
Once fired up, you immediately see the same TFT display and fly by wire control capability as on the F 750 GS.
The initial display is clear and easy to read with the standard "vital" information. You can change what is seen on the initial screen if you desire. Multiple other screens can also be adjusted and provide a wide range of information.
You make changes to the display, riding modes, or rider aids by using a ring on the inside of the left grip.
In the Rider's Seat
Jumping onto the rider's perch, I immediately noticed the difference in seat height compared to the F 750 GS. With my 30″ inseam, I was now on tiptoes. The bike did not feel unusually tall or unbalanced, just higher. To fire up the bike, I did not need to put a key in an ignition slot. BMW's smart key can remain in your pocket. If the key goes out of range, the display will provide a warning letting you know the key is missing. If you do lose the key, the bike will continue running until you turn it off. However, once you turn it off, you will need the key to re-start the bike.
Pavement Riding
It was a chilly morning, so it was nice not to have to remove my gloves to get my key out of my pocket. I simply pushed start, and the engine fired up quickly. The F 850 GS is more cold-blooded than its F 750 GS sibling, but after a minute or two, the engine came up to temperature and idled smoothly.
I decided to start on the pavement to get a feel of the bike's pavement handling. Moving along on deserted pavement at spirited speeds, I turned on the optional 3 level grip warmers. They are very effective and almost hot when set on high. I never had cold hands despite the cold temperature and speed.
There are some great twisty sections on the road entering and leaving Gateway, so I used the opportunity to push the bike a bit. The front end felt solid, tracking nicely wherever I pointed it. However, the rear end had a habit of wallowing and weaving. There was no sign of this on straight sections, but once into the curves with the speeds up, the rear felt like it was trying to find its place in line behind the front tire.
Electronic Suspension Adjustment
Using BMWs Electronic Suspension Adjustment (ESA), I changed the rear suspension settings a couple of times. It was easy to change using the display and the buttons on the left-hand grip. This is a nice touch. Unfortunately, I was unable to firm up the rear end feel leaving the rear somewhat less vague but still not stable when pushed hard.
I don't think the F 850 GS's suspension was at fault in this case; I believe the Metzeler Karoo 3 tires are not the best fit for this bike. I spoke with a couple of other riders on Continental TKC-80 tires, and they reported that the rear felt solid when on the pavement.
I ran into a few locals while on the pavement and had the opportunity to test the brakes. Since I was using the Enduro Pro mode, I had the rear ABS switched off.  The brakes worked well with a linear feel and minimal fork dive.
Overall, the F 850 GS was okay on the pavement, I wish I had the opportunity to ride one with different tires fitted, but the F 850 GS's forte' isn't really pavement by design anyway.
Riding in its Element
Having ditched the pavement for dirt and gravel, the F 850 GS felt like it was now in its element. Jumping off Route 171, I took a bridge onto a "washboard" dirt road riding between canyon walls and alongside the Dolores River. 
It was fast easy going, and this time the Karoo 3s seemed up to the task. They gripped well and turned when I wanted them to. Both the front and rear suspension tracked well and did an excellent job of staying in contact with the rippled sometimes loose surface.
It started to rain, and I did not want to be stuck in the sticky Colorado mud alone. So I headed back towards Gateway. Once into town, the rain had stopped, so I decided to go back out and test the bike on the dirt some more.
Once again, I was on dirt roads of varying conditions. Sometimes the going was fast. Other times it was slow with some brief sections of mud. In each instance, the bike provided confident feel both front and rear. Semi-buried rocks, small branches, and mud were dispatched with relative ease, and the front fork and rear shock were up to the job.
The combination of BMW's Dynamic Traction Control (DTC) and the knobby tires made ascents and switchbacks much easier than on the F 750 GS. Gone was the often spinning rear tire and weaving back end that I experienced with the other machine. The rear could still spin up, but it was controlled, and the rear stayed in line with the front. Using the Enduro Pro mode, rear ABS was off, and it was also nice to be able to lock the rear tire to pivot.
Wandering somewhat aimlessly allowed me to sample a bit of Colorado's sticky mud. After passing through a gated but open area, I hit a few brief sections.  It was in these sections that the bike's weight made itself known. At lower speeds in the slop, the F 850s weight became apparent. At 503 pounds (229 kg) curb weight, it's not a lightweight machine. It takes a little muscle to move it through challenging terrain. In my case, the F 850 GS was better able to handle the mud than I was and stayed upright until I had come nearly to a stop where I ungracefully dropped the bike onto its side.
The rain resumed and having already sampled the Colorado mud decided to head for the barn to end the test.
Pricing
Pricing of the F 850 GS depends on the color selected and how well equipped you want the bike. As a previously shown chart above depicts, BMW has increased the level of standard equipment on the GS 850 GS. That helps add value to the base price machine, which is priced at $13,195.
However, there are many options to choose from, and if you choose them, your final price will escalate accordingly. For example, if you want a color other than red, white, or dark green (Pollux Metallic Matte) paint add $275. If you choose to add one of the option packages, you'll pay $2,400 for the Select Package or $3,450 for the Premium package. Note that if you choose the low suspension, the premium package price drops to $3,250, presumably because the low suspension option deletes BMW's Dynamic ESA).
All Up Price
With a base price of $13,195, a fully optioned F 850 GS will cost you $16,920. There are no two ways about it, that's a lot of money for a middleweight ADV bike. Adding other accessories like a lower seat, bash plate, crash bars, panniers, top box, and different tires, you can end up spending north of $18,000.
If you want a base level bike, you may be in for a wait. BMW says the vast majority of buyers will purchase their bikes complete with option packages. Because of this, dealers may not order many, and you may end up waiting for such a bike to be manufactured and delivered to your dealer.
Summary
The F 850 GS is a capable machine. It will take you to out of the way places, and you will enjoy the ride. With a different set of tires, it would likely be very good on the pavement. However, it's on the dirt where the bike shines. The combination of linear power and a good suspension makes the F 850 GS a capable and enjoyable mount.
With the unveiling of new middleweight bikes from KTM and Yamaha, the BMW F 850 GS is squarely in the sights of other manufacturers. When we get a chance to ride those bikes, we'll be able to say how the BMW stacks up against the competition.