A question that comes up a lot for long-distance travel is motorcycle security, and what the best solution/s are?
Obviously padlocks, and some kind of chain fixed to the bike and preferably a permanent object is great. Having the lock not be able to touch the ground is even better so there is no way for the would-be thief to be able to smash your lock with ease.
Alarms are good but can occasionally work against you, if local kids find out your bike has an alarm then a great game is to knock your bike and watch the gringo come running…and see how many times they can make it happen.
More than anything a simple cover on the bike might be your best security option and a great deterrent for the would-be thief, it is the literal cloak of invisibility.
The phrase – out of sight, out of mind, is very true here. If you fully cover the bike or partially cover it this can really add a level of security that has to be seen to be believed.
A large adventure bike, if you are riding anything above a 125cc in a third world country your bike is considered large, is an attraction.
Passers-by and not necessarily thieves will be intrigued and when you stop for the day having a crowd gather around is not unusual at all.
Throw a simple bike cover over your machine and you have just eliminated the visual interest.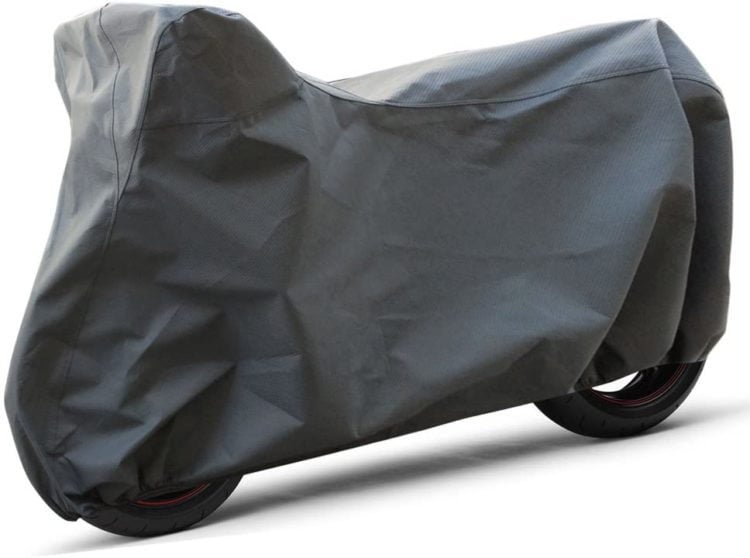 Bike covers are cheap and worth finding a space in your luggage for, and available in lots of brick and mortar stores and online places like Amazon and eBay.
If a full-sized cover is just too big for you to carry, and you'd just like to cover the front of your bike. The area that in a lot of cases may have expensive electronics, and of course all of those interesting switches and dials to play with, or maybe if you do some sort of rally racing this could keep your handlebar area virtually free of dust/ rain/ dirt until the race begins
A company called Precip Moto, has you 'covered' here with a mini cover to do just that, with a carry case with Molle grade webbing to attach it to your bike when you are riding
Do you cover your bike?