Editor's Note: This post is kindly sponsored by Clint and the team from Motorcycle Shippers. Motorcycle Shippers can ship your motorcycle door-to-door around the United States with minimal hassle. If you want to start a ride away from home or ride further without looping back, these folks can help. Perfect for long trails like the Trans American. 
Riding a motorcycle is a great way to get around, but there may be times when your bike can't take you where you want to go.  On your journey, you may find that you or your bike just don't have the time or capability to traverse the terrain ahead.  My wife and riding partner Kim and I have been riding bikes for many years and we've covered many thousands of miles on them.
But there have been occasions where we've found ourselves using other means of transport to get our machines to where we wanted to go.  Bikes aren't great at crossing large bodies of water or traveling several thousand miles in a day.  Limited time can also make other means of transport preferable.
As a result, we have found ourselves in airports, cargo facilities, docks, train stations and the like.  Each location became part of our journey and frankly, sometimes they can even be fun.
A couple of years ago, we decided we wanted to ride in Europe for a few months.  It would have been extremely expensive if we had rented bikes there, so we decided we would take our own bikes and ship them by air.
The air option, although not cheap, was still far cheaper than renting bikes for the few months we would be there.  Additionally, we'd have our own bikes and could store some of our less important belongings in the bikes' panniers and top boxes during shipment.
Planes
To get to Europe, we left our home in Vermont, USA and headed to Montreal, Canada.  Crossing the border was a piece of cake.  We handed the border guard our passports and after a quick conversation, he was back in the guard building.  A couple of minutes later, he emerged with our passports and said, "I have good news!  We're not looking for you."
With that, we were off to Montreal and the cargo agent.  We found the agent easily and we arrived with low fuel, so all that was left to do was to disconnect and tape the battery terminals and the bikes were ready for shipment.  At our destination airport, we once again found the cargo agent and aA little paperwork later, the bikes were ready to roll.
First stop after the agent was a petrol station to fill up the bikes' tanks and we were off on our tour of Europe.  After riding in the UK for a while, we decided to head to "the continent".
Trains
This meant we could opt for either a boat or a train. We could have sent the bikes by air again but considering how cheap the other methods were, it was not a difficult decision.  We had never been on a train with the bikes so we opted to take the Eurotunnel.
Right.  Again, it was a pretty simple experience.  We paid our fees and we were off.  It was a short ride to the loading area which was right beside the train.
These trains generally run right on schedule and it is literally a ride on/ride off experience.  Once you get the signal, you just ride into the compartment.
Once on board, I went to look for tie downs.  But none were to be found.  I chatted with the other bike riders and they said that there weren't any.  I was about to say we really needed tie downs but was told that the train was so smooth that none were necessary.  And they were right.  It was the smoothest train I'd ever been on.
Ships
We rode around western and eastern Europe and then decided that we would like to check out Scandinavia.  So this time, we would be taking a ferry.  Using the Direct Ferries website, we found a ferry running from Tallinn, Estonia to Helsinki, Finland.
Ships are not nearly as stable as the train we had taken, so this time we needed tie downs.  We traveled on the same vessel as the bikes, so no containers were necessary for these shorter trips.
It's funny, but once on a boat or ship, people seem to become especially friendly and curious.  We've been chatted up many times about our travels and have made several friendships as a result.
Bikes are generally stored in a single area and often at one or the other end of the vessel.  This ferry supplied us with tie downs for the 3.5-hour trip.  Often there will be food available in the passenger lounge.
Once again it is a ride on/ride off affair.  3.5 hours later we were docked and riding in Scandinavia.
Overnight ferries
Overnight ferries often even have more conveniences.  Food and places to sleep (berths in a shared room or cabins) are usual.  But some overnight ferries are more like cruise ships than ferries.  Such is the case with the ferry from Rotterdam, the Netherlands to Hull, England.
This ferry was pure luxury.  The ramp onto the ship was as wide as a regular road with pavement for nearly its entire length.
Once aboard, we were shown to an area made specifically for motorcycles.  It was a large space with a floor painted with high grip paint.  That was especially welcome since it was raining when we boarded and the deck paint on most ferries is very slippery when wet.
Good quality tie downs were available right next to the bikes so we didn't have to go looking for them or use our own.  Hooks were located on the floor for easy attachment of the tie downs.  It was the best tie down station I had ever seen.
There was even entertainment, although not on the bike deck.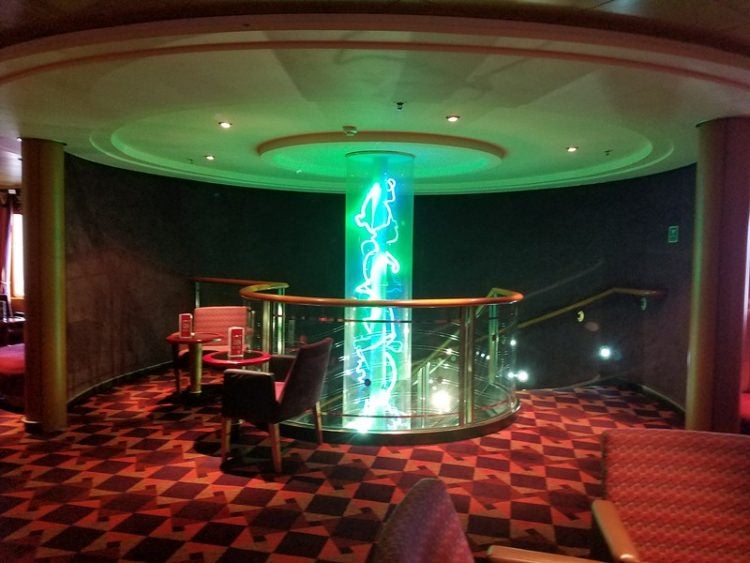 Boats
Speaking of tie downs, there may be shipboard instances where there aren't any available.  This is generally because the trip is short, likely only minutes.  You are expected to sit/stand by your bike and ensure it does not fall over.  Frankly, we always carry a set of tie downs just in case.
We've been on many ferries like this and it generally is very pleasant.  However, in poor weather, it can be somewhat difficult.
This particular trip was a bit interesting with a wet deck, rain, and water splashing over the rail as we crossed.
Do it!
Regardless of the potential difficulties of getting your bike to a place that is not accessible solely by road, it's all part of the journey.  You'll learn some things you didn't know, gain new experiences and meet new people.
So don't let a perception of difficulty stop you from doing what you love – riding your bike.  If you'd like to read the stories of our other trips, check out the ADVRider.com forum Epic Ride Reports section and search for Ride2ADV.
There you'll find our Europe trip.  If you want offroad, check out our ride reports on the Trans Labrador Highway, two ride reports in Iceland (Report 1 & Report 2), part of the TAT and South America.