Personally speaking, every single country I have ever visited I have always seen one or more motorcycles with DoubleTake Mirrors. That is a testament to great design, product performance, and stellar customer service
Where did this ingenious design come from? Ned Suesse, aka inmate and Dakar racer Neduro
Tell us about Doubletake Mirrors, what were your humble beginnings?
Doubletake Mirrors was born when my passion for riding met my frustration with bad mirrors. One night I had an otherwise minor crash and the OEM mirrors broke both master cylinders on my KTM 950, and I thought "there has to be a better way".
My goal was to protect the bike (and myself), and be able to tell a Crown Victoria with a lightbar from a Camry with a ski rack. I thought the mirror needed a ball joint instead of a hinge, since the forces in a crash are never straight in, and that led me to the idea of using RAM for the base, so that it could fold and also move when it needed to. It works pretty well- it solved a problem I had, and I hope it solves a problem you have.
Beyond that, we are a true by-inmates-for-inmates story. One inmate helped me design the original mold, and another one did the machine work (and still does all of our mold services). Another was our first employee, and even today, all three of us that work here ride adventure bikes and love travel. Last year, Earl raced the Norra 1000 (and finished 8th overall!), and Katie did a 6000-mile loop through Mexico on her F650GS.
How long have you been in business?
I filed for a patent in 2009, and started selling in 2010. Ten years have flown by- every year has had challenges and opportunities and 2020 appears to be no different.
We really appreciate the support we have gotten during the pandemic from riders who want to support a small business. We are lucky because we manufacture everything in the US, and so does RAM, so our supply chain can hopefully keep moving during the pandemic and in the aftermath as trade around the world inevitably changes.
Why do you make parts for motorcycles, what inspired the passion?
I see two ways to answer this question, and I'll try both.
First, it starts with the pure joy we have all felt when we let the clutch out and felt the freedom and grace and balance that is riding a motorcycle. That was true when I was a little kid stealing rides on a friend's XR 75, and it's still true today. Every single time.
With that in mind, our mission is serving people who share our passion with products they can trust. The fact that we make mirrors is just the idea that stuck. We like the people who ride motorcycles, we like the adventures they take, and we like making something that helps our customers do the crazy things they want to do.
The other way to answer the question is a little less direct. There is a common message I see today about "following your passion". I am uncomfortable with how that message is presented in mass media, like everyone who likes to eat should open a restaurant. I'm passionate about riding motorcycles, and that led me to this idea, but what I enjoy in my work is organizing and problem-solving.
I didn't set out to learn about injection molding and fulfillment and websites, but those are the tools that feature in my daily work, and allow Doubletake to make something that solves a problem. Just like a trip where some roads aren't as much fun as others, but are necessary to connect through, I find joy even in the parts I don't like for the places they lead.
Bringing that back around to your question, the answer to "why" is that we get fulfillment from making a product people can trust for a use we love. All the aspects that underly that are just "what" and "how".
Can you give us a basic shop tour?

Our new shop feels like paradise to us! Last July, I bought a piece of dirt, and spent the fall and winter putting up a warehouse in Salida, CO. We just moved in this month.
Here's the production area, where we assemble glass into housings and prepare shipments to make their way out into the world. We are so thrilled to be somewhere with good light and clean surfaces.
A few years after the race, I got my Dakar bike back from a sponsor, and I didn't know what to do with it until I built a bathroom with a ceiling in a warehouse. Now I have reserved and secure parking for the old warhorse.
We have a container to store inventory, and an upstairs with desks so we can pretend to be adults.
Salida has 300+ days of sunshine a year, so most days, we have the door open and music playing.
What was your first product, and do you still make it/ sell it or something like it?

My first product was a DVD imaginatively titled "Dualsport Riding Techniques". Since no one has a DVD player anymore, it is not still for sale, but I thought it was pretty good.
My partner in that business and I got countless messages from people who had gone on a trip they might not otherwise have attempted, and their excitement positively glowed out of their messages. We loved that- nothing could be more rewarding, and that is really the same mission we still have even if the product is totally different.
As for mirrors, the first mirror was the "Enduro" model, and yes, it is still for sale.
How do you test your products before offering them for sale, any unique methods?

This is the fun part, because it involves riding motorcycles! We put a ton of miles on our products, trying them in every situation we can conceive of, to see if we can find a better way.
Beyond that, there is a lot of tape on my shop floor from testing the field of view in different configurations, and a few funny stories, like the time we hit the mirror with a baseball bat because we couldn't stand the thought of dropping the bike to test durability. The mirror survived just fine, by the way.
Where do you get your inspiration, your thoughts, and ideas, do you accept suggestions from customers/ friends?

We love suggestions! You can get us at ride@advmirror.com.
As for inspiration, thoughts, and ideas, something inside me always is looking at things asking how they could be better. On a personal level, that is both a blessing and a curse. In motorcycle mirrors, I feel I started in a target-rich environment for improvement.
Do you have a product in your line that you feel is genius, but the public doesn't buy too many of but you feel they should, could you highlight that?

Truthfully, I've been surprised at how long it took for the Trail mirror to catch on. I wanted to make something absolutely minimal, as simple and unobtrusive as possible, that still hits the mark of being useful. The trail mirror is that, and it is starting to sell better, but for a long time, I was mystified by how few people chose it.
I'm sure the general buying public just thinks plastic is plastic, can you explain why what you use is a lot different than normal?

It's funny how once you know a little about a subject, you start to see how often the subject comes up and how much there is to learn.
We use a glass filled nylon resin that is similar to what a Glock handgun is made from, it is seriously tough stuff. Now I can't help seeing what choices other manufacturers make for material, nothing like walking through a hardware store and trying to see what choices other manufacturers make.
From day one, we have had a lifetime warranty on the body of the mirror, and I'm amazed at how rarely we are taken up on that promise. Our warranty policy is – send us a picture and a story and we'll send you a mirror, and we don't get very many.
Has the development of new technology changed the way you can produce your products?
Not as much as you might think. Of course, we use CAD/CAM to design our parts, and 3D printing to test models, but beyond that, our products are pretty old school.
How many countries are Doubletake Mirrors in?
The best part of my day is when I see a Doubletake on a bike, whether that is at a diner here in town or on Instagram somewhere across the globe.
We have dealers in about 30 countries, and routinely ship to many more. Recently, we started with a new shipping service (called Mail Innovations, which uses UPS to get packages into foreign postal systems) that is more affordable than international postal mail, in an attempt to make the mirrors easier to get around the world.
Unfortunately, we made that change just in time for worldwide freight services to get shuffled due to the Coronavirus, so time will tell how it works. We also have a new expedited UPS service which is reliable and quick, although expensive.
How long did it take from the original idea, to design, to prototype, to the final product on the shelf?

The truth is, it takes a lot longer than it seems like it should- 6 months or more. When you make something with molding, you only get one shot at getting the design right, so you have to think through lots of aspects that aren't immediately apparent or else changes get expensive!
Generally, the idea is quick- whether it is a cocktail napkin or a page in a journal, the idea and basic design spill out in a day. Following that, there is getting the design in 3D, making a prototype (shout out to my buddy and fellow inmate Chris at Motominded, who can do those things pretty darn quickly!), and then testing the prototype and trying to imagine how to make it better. That is the part that takes the longest – eventually, you decide it is as good as it will get, and proceed.
In our case, the parts are molded, which takes time to make the mold, and once that is done, we have parts in hand within a few days. We work with people we know who are local, which is a big advantage for quicker turnaround, and having experts we can consult with, close at hand.
Can you describe the fitment of the mirrors, their designs, and which you would recommend for makes/ models of bikes and certain styles of riding?

We have 4 primary mirror designs, and they all have their specialty.
Starting with the newest, the Scrambler, which is a round reflector on a short stem. This mirror folds really well, is super stable, and has the classic look of a round mirror. I like it on minimal dual-sports and scrambler bikes.
Next is the Adventure, which has a coffin shape lens that has the widest field of view. This is my pick on Adventure bikes and where I am not planning to fold the mirror down as much, but still want protection against damage.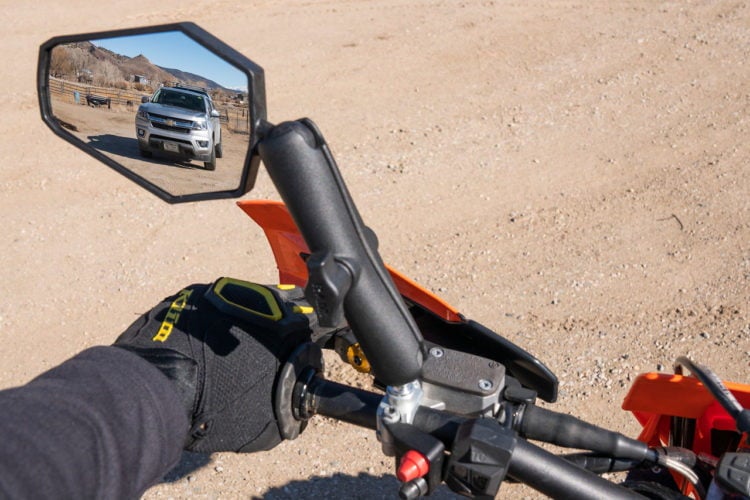 The Enduro mirror, our original offering, is excellent on trail bikes that see the road some. The longer stem means the mirror will move a little more, but the benefit is that it gives a great field of view and then folds behind the headlight when you are offroad.
Finally, there is the Trail, which is our smallest offering. As the name implies, I made this for bikes that are all about off-road, and I think it works much better than you would expect from such a small reflector.
Do you have any new products coming out for 2020?

We sure do! We just released the Scrambler Mirror, and I'm in love with it. The round shape means that it folds down easily and tucks away perfectly, and the short stem means it stays rock solid when deployed.
Do ADVrider and its inmates play a big part in your business, do you offer any kind of incentive or discount for inmates? (what is your user name and main vendor thread link)

ADVrider has been a huge part of our business, and will continue to be. After all, it is ground zero for people all over the world who love riding, like we do!
We don't typically do sales or discounts, we try to make a good product at a fair price every day, but we'll make an exception for anyone who reads this far. Use the code "ADV_June2020" until the end of June for 10% off.
Website – www.doubletakemirror.com
Facebook: Doubletake Mirror
Instagram: doubletakemirror   or #doubletakemirrors