A surprising new entry came from the famous Italian brand. Known mostly for its elegant and stylish machines, Ducati shocked the adventure rider's world with one of the most progressive and sexiest bikes of the show: the Desert X.
Based on the Scrambler 1100cc v-twin engine, this bike has been redesigned completely to accommodate long travels and rough terrains, which is certainly unconventional for this brand.
Aside from the several custom build bikes, that have been showcased around the world by privates and custom builders, Ducati has never really placed its foot in this realm officially, until now. This clearly could mark a new direction for the Borgo Panigale machine maker, which definitely left visitors to their booth pretty excited.
Inspired by the old Dakar bike that Cagiva used back in the 90s, this machine is pretty much an antagonist for any adventure bike on the market right now. Equipped with a 30L fuel tank, and delivering 85hp, this machine could certainly bring something new to the adventure bikes spectrum.
From not being even present in this realm, with the exception of the enormous 1260 Multistrada Enduro, Ducati stepped ahead of everybody with this project bike, which seems built to be ready for a Dakar race.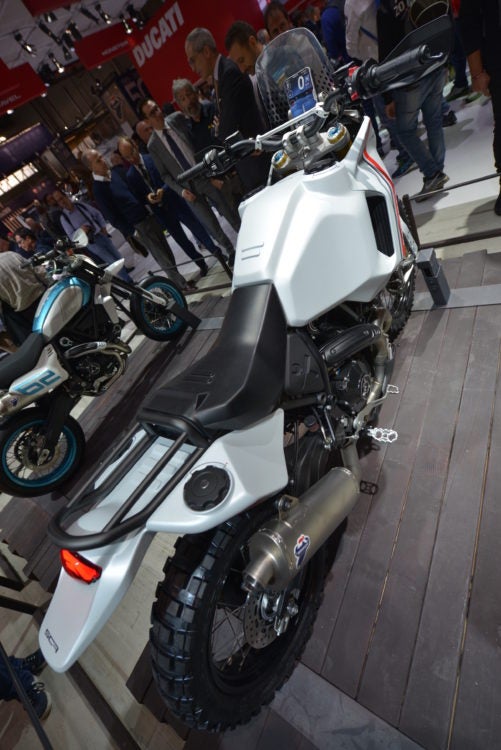 It is clearly still a prototype, but the hint is clear. The Adventure market is growing exponentially; it's a fact that more and more people are getting interested in these all terrains machines, and Ducati wanted to bring something more offroad to it.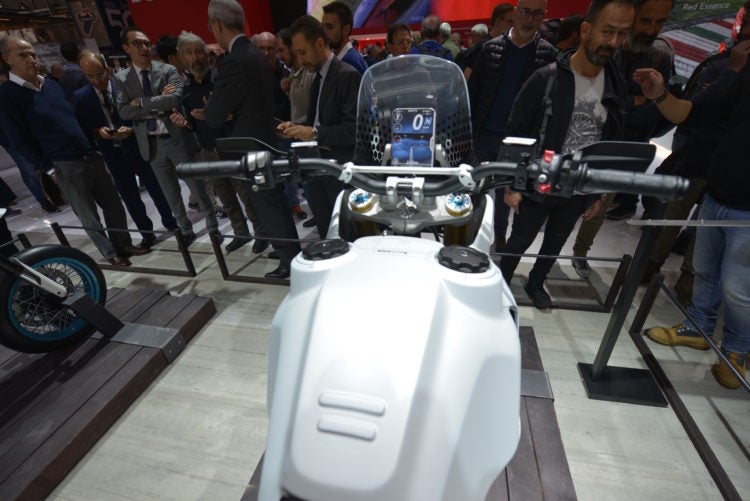 Its weight is unknown but, if I had to guess, I would probably say a 190 kg dry, considering that the scrambler weights about that much.
This Ducati was definitely one of the two surprises for the adventure world, at this year's EICMA (the other being the Husky 901 Norden).