I purposely didn't call this a review because I think a full review would include ACTUAL mileage of a tire for it to be complete. So, let's call this, my observations…
Firstly what is it, Dunlop states about the Trailmax Mission
A true Adventure tire, offering premium performance in a wide range of terrain. After more than two years in development, the Mission delivers knobby-like performance off-road, has impressive grip on the street, plus great ride quality and stability everywhere it goes.
and lists its features as –
An aggressive tred pattern yields traction in hard terrain.

Built-in rugged tread blocks feature Staggered Step design, a step-down feature to provide rigidity in the contact patch to enhance stability and handling.

Wrap-around lugs on the tire's edge to protect the tire from sharp rocks and provides additional off-road traction.

New compounds developed to deliver the perfect balance between road and off-road performance with focus on delivering class leading mileage performance.

Deep grooves excel in wet weather conditions and offer biting edges for off-road performance.

Fits popular large and small displacement machines including the Honda Africa Twin, Suzuki V-Strom, BMW GS models, KTM 1290/1290S, 790R/790S, Yamaha Tenere and Triumph 800/1200 models.
I put these on my 2012 Yamaha Super Tenere a couple of weeks ago. I'm currently in Phoenix, weather has been reasonably warm so I put both tires outside, in around 70-80 degrees to 'soften' them up a little for me to install in the garage, I'm sure many of you would do the same.
The front tire went on easily and would probably say 2/10 for difficulty, the rear a little tougher to mount 6/10
I did a static balance and found them to be almost true and needing very minor weight to correctly balance
The ride, as these are 50/50 tires you expect them to be a little noisy on paved roads especially when Dunlop describes them to have knobby like grip, they weren't. I found them reasonably silent.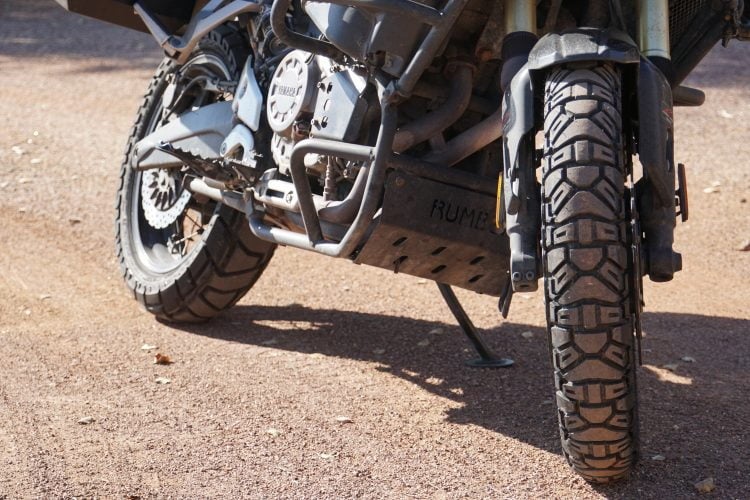 I rode the tires around 1000 miles of warm dry weather, a few days below freezing, torrential rain, mild graded dirt, and sandy tracks and found them good in all of them.
Maximum lifespan on this tire, I can't comment but maybe an inmate can fill in that missing detail?
On pavement, they actually feel more like a road tire and I would say the grip is more road-biased, like 70/30 rather than the stated 50/50. Cornering in cold wet or dry conditions was confidence-inspiring and I felt no minor slip like I have when riding with other companies equivalents
The dirt sections were dry and not overly technical, the grip was good on a big heavy bike and confidence wasn't lost in any of the situations I found myself in, even riding into corners at speed, the grip was there when I wanted it.
All in all another great tire from a great company to give us ADVriders selection for long-distance adventure riding
Tire sizes cover most of the popular fitments
There are a few more details in Zac's review from IMS
images – rtwPaul
screenshot – Dunlop