Ever considered riding Cuba? It's better than you can imagine!
Riding Cuba wasn't ever on my radar. Although it sounded exotic and intriguing, I never thought you could do much riding – especially off-road – on the Caribbean islands.
But when my partner Paul and I began planning our Americas ride, Cuba came up more than a few times. Paul has ridden there before, and when we began looking into the Darien Gap crossings, we found a sailboat route that would take us from Mexico to Cuba, Jamaica, Providencia, Panama and finally deposit us and our bikes in the port of Cartagena, Colombia.
It seemed like a great way to get to South America. Besides, I always wanted to try the high life of a Caribbean pirate, so Paul and I jumped at the opportunity.
Cuba was a completely blank space in my head. Sure, I'd heard of the Castro regime, the rum and the cigars, Hemingway and music – but realistically, I had no clue what to expect.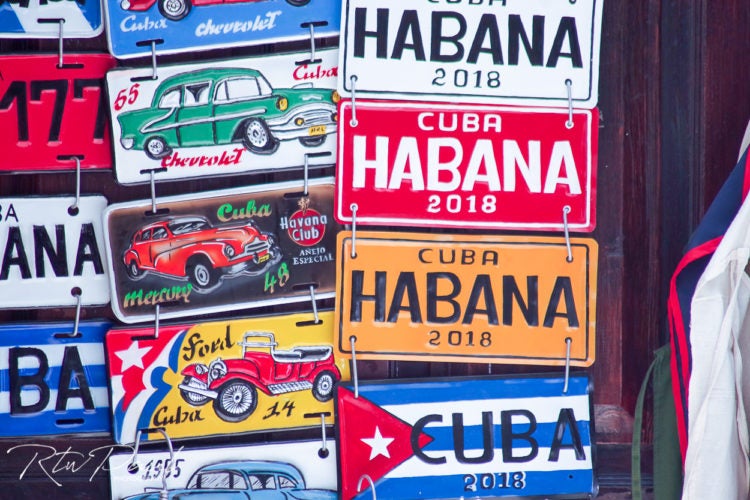 Riding Cuba: Time Travel
As soon as our rickety sailboat glided into the port of Cienfuegos in Cuba, everything felt eerily familiar. "Bienvenidos a Cuba Socialista", screamed an ugly black graffiti on a drab concrete wall. The port officials were friendly and polite, the marina hosted a few elegant French, American and German sailing boats, and it all looked normal on the surface.
But as soon as we rolled into Cienfuegos, I felt like I'd traveled back in time – back into Soviet Lithuania of the 80's, only with palm trees and better music.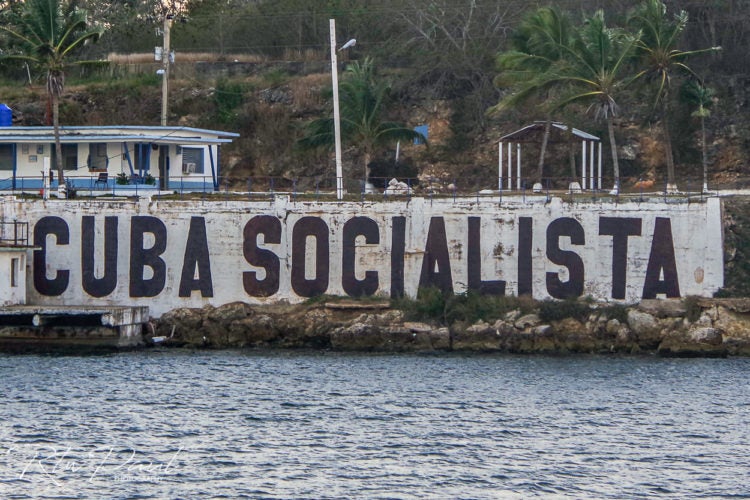 Streets were almost empty save for a few Oldsmobiles, Chevy Bel Airs and Soviet Ladas and Moskviches. The shops were few and far between, with half-empty shelves sporting only the bare essentials. There were no billboard ads or any other advertising anywhere, except for the faces of Fidel Castro, Ernesto Che Guevara and Camilo Cienfuegos, heroes of the Cuban revolution, painted everywhere with slogans like "I am Fidel", "To Victory, Always" and "Socialism or Death".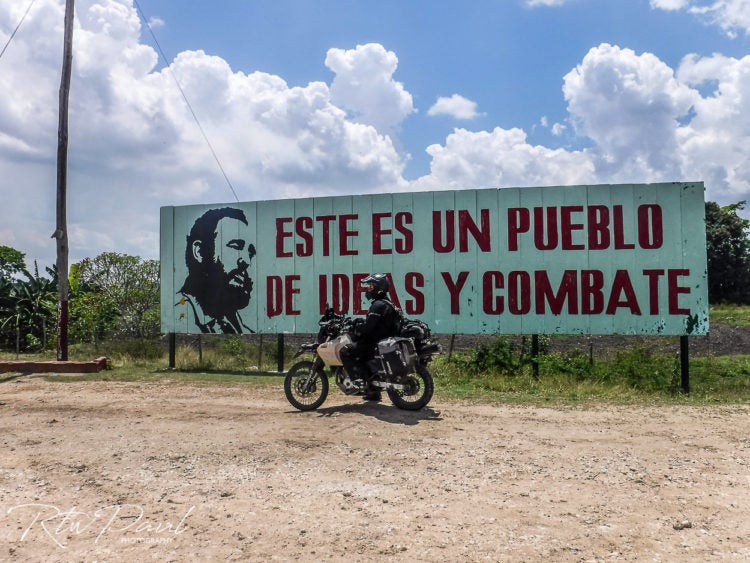 Much like the Lithuania of my childhood, Cuba seemed cut off from the rest of the world, entangled in a strange narrative of double-think and lost under a totalitarian regime. People publicly said things they didn't mean and privately dreamed of things they couldn't do or get in reality. Life was basic and opportunities were limited – but underneath it all, there was hope, courage, and curiosity.
What you need to know entering Cuba: if you are importing your own motorcycle, you'll need to get a Cuban driver's license and a Cuban license plate for your bike. This process is done at the local transport police (Sort of a Cuban DMV) office, takes several hours and costs about $25. You'll have to return the plate and license when you're leaving.
Getting Off the Road
Most roads in Cuba are in a state of disrepair: potholes, washouts and crumbling pavement make for a bumpy ride, so we soon turned off the road. Dirt tracks are plentiful in Cuba, zigzagging across farm fields, sugar cane and tobacco plantations and the jungle. Riding off-road is entirely legal here: more often than not, a dirt road is the only route connecting villages or even towns.
Although riding dirt is unlimited in Cuba, be careful: these tracks are used by the locals every day, so watch your speed – there might be an ox cart, a rider on a horse or a mule buggy around the corner!
Life in rural Cuba has its own pace and rhythm. Make sure to stop and talk to the locals as often as you can – they're very curious and love talking to foreigners, especially on motorcycles! A small 150cc Jawa motorcycle in Cuba costs over $6,000, and this is a country where the average monthly salary is $30, so bigger bikes always pique people's interest. And if you let them sit on your bike and twist the throttle, you'll win them over instantly!
Bring cash: Cuba has two official currencies, the Cuban peso, or the CUP, and the convertible peso, known as the CUC. Cuban peso (CUP) is what the locals use, and one US dollar is worth 25 local pesos. The CUC is meant for tourists. One US dollar is worth one CUC.  In most touristy destinations like Havana, Varadero, and Santiago, expect to pay tourist prices in CUC but have some CUP for more remote towns and villages.
People and Accommodation
Cubans are incredibly hospitable, kind and welcoming. During many conversations with locals in Trinidad, Vinales, Havana and lots of tiny nameless villages along the route,  I was taken aback how similar Cubans were… to Lithuanians. A lot of Cubans told me they had friends or relatives in Latvia, Bulgaria or Czech Republic – former Soviet states had intimate economic and cultural ties with Cuba – and a lot of them asked me how long did it take Lithuania to catch up with the West after regaining independence. The same dark, bitter humor, the same longing for the world, the same curiosity – for me, Cuba felt like a surreal but so familiar deja vu.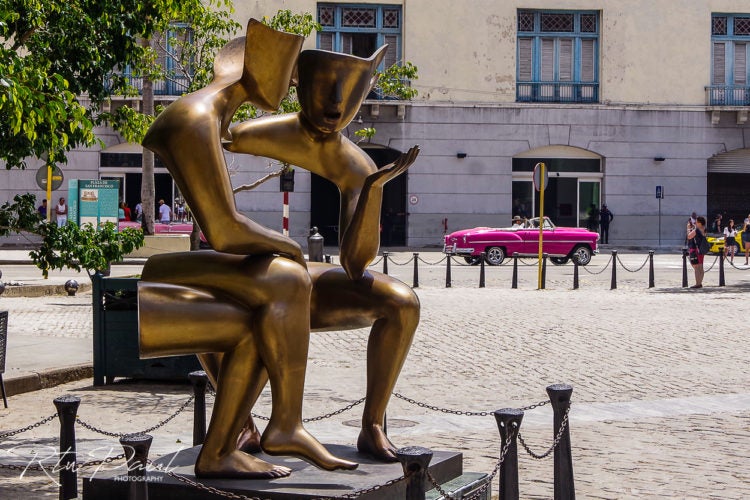 Stay local: Accommodation-wise, we mostly stayed at casas particulares, local homestays designed especially for foreign tourists. Most casas are family homes renting out rooms or portions of the house to travelers. Usually, the cost per night, including breakfast, is anywhere from $25 to $40, depending on location.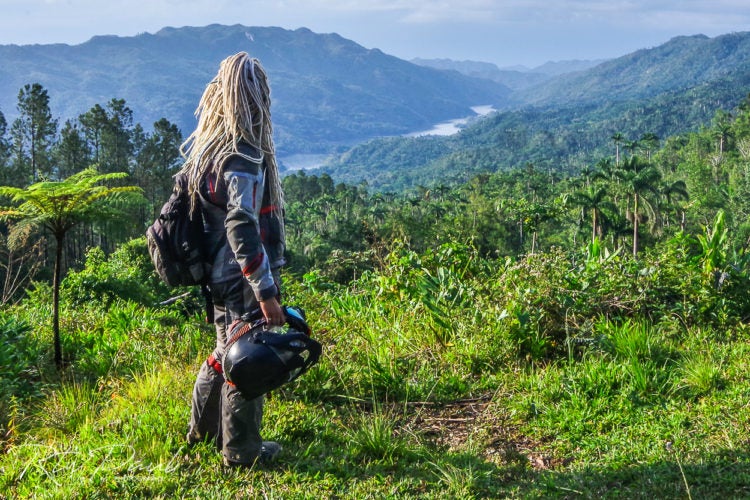 Have questions about riding in Cuba? Let me know in the comments below!
Photos: @rtwPaul