When Triumph shipped at least three huge truckloads of Tiger 900s to Morocco for waves of Moto journalists to test — accompanied by Hollywood stuntmen and pro riders — they had my attention.
What must it be like to ride with the man who stunt doubled for Bond, Jason Bourne, Laura Croft, and Indiana Jones? I was about to find out.
Triumph claims the 900 is not the 800 upgraded; it's all new. I thoroughly fact-checked that by riding three insane days with Spurgeon Dunbar from Revzilla and Steve Kamrad from ADV Pulse, both of whom owned and raced 800 Tigers. They confirmed it: the 900 is a new bike that's lighter (by up to 5kg), with more power, a lower center of gravity, and higher ground clearance. Those achievements would seem to be in conflict with each other, but they're true.
The first difference is the engine. Triumph changed the firing pattern of the triple to be asymmetric, so it sounds like — and has the low end torque of — a twin.
We pushed the bikes hard through advanced off-road terrain. One pro rider suggested I select higher gears than normal to stay in the low end of the torque curve, smoothing out my unintended throttle blips when hanging on in crazy terrain. It worked. I never stalled the engine even at low speeds in second. No herky-jerky chain snatching either. It has loads of power.
Steve thought the 900 was less prone to spinning the rear wheel on climbs than his 800 was. He surmised it had to do with the new engine's firing pattern. I guessed it might have been to do with the lower tire pressure on the 900 than he runs on his 800 (26.8). Whatever it may have been, everyone loved the engine.
There are two models, each with options. The GT has 19 & 17-inch cast wheels, a lower seat, and feels like a sport tourer. The Rally has 21 & 17-inch cross-spoked wheels, a higher seat, crash bars, and an off-road pro mode that loses the ABS and traction control.
You can tell the two models are different from each other from the first bump you hit and turn you enter. For the on-road days, we had both models with street tires and got to compare them. Everyone said the GT and Rally felt like different motorcycles. The Rally had softer suspension with more travel, a higher center of gravity, higher seat height, and didn't feel as flickable in the sharp corners.
For the off-road day, we all got Rallys fitted with Pirelli Scorpion Rally tires inflated to 22 PSI. The low tire pressure surprised some of the more aggressive riders, who feared flats and bent rims. Indeed we did see a few flats.
Honestly, I feared the off-road day because riding off road on bikes larger than a Husky 701 has never been for me. Dirt roads, fine, but I have never ridden a bigger multi-cylindered bike on single track, super rocky trails with deep soft sand.
The blood drained out of my body when I heard they assigned me to the smaller advanced group. I pleaded to trade for the beginner group because these beginners would be advanced anywhere else. Denied. First stop: soft sand and the beach. Damn.
The pro who led our ride simply told me to "stand with knees bent, weight back, steady throttle, steer with your feet and you'll be fine." I did and was fine all day. It was amazing. The weight at 475 lbs wet never felt too heavy. I never dropped the bike as it snaked through the deep grooves. We stood all day except to duck tree limbs, a few of which had goats on them.
I chose off-road mode because it seemed to offer the right amount of traction control. You can spin the back wheel enough to drift through the turns and throw some stuff out the back like you're a badass, but not enough to get in trouble. The other guys in my group went off road pro and put up some serious rooster tails, but Steve also went down. He said that technically, it wasn't a fall because he rode it to the ground. Eh?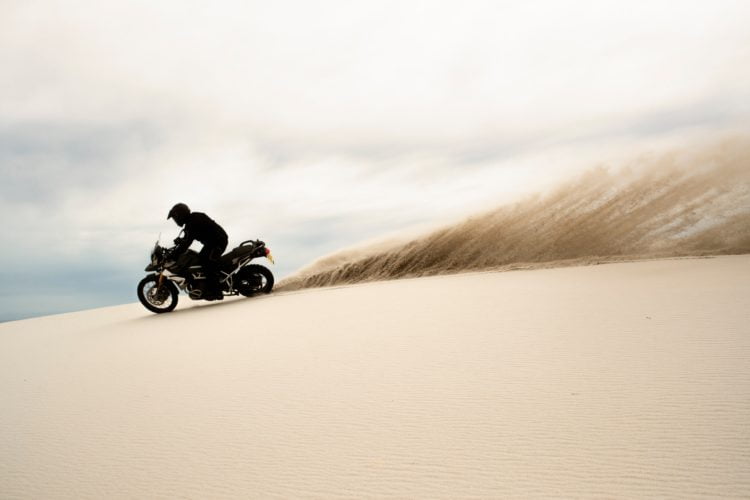 I know, most Adventure bike riders do 85% pavement and 15% dirt road. The GT models are perfect for that. We did a big road day mostly on mediocre-quality asphalt with twisties and hills, and I was comfortable all day at speeds up to 180 km/hour.
Steve and Spurgeon, both heavy riders, tried to bottom the suspension via jumping and failed. Lee Morrison, the famed stunt rider, told me that the jump they did in the James Bond No Time To Die trailer was 90 feet with a flat landing. I didn't get a chance to try that.
The somewhat complicated thing is between the two models, there are 5 configurations for purchase. For example, the base Tiger 900 has a 5" TFT display and 2 riding modes. the Tiger GT has 7" TFT instruments and four riding modes. The GT Pro (which we rode) has the quick shifting option and 5 riding modes, among other things. Here's the story just for the suspension:
Triumph has a configurator on their site where you can sort it out.
I'd want a higher windscreen for my 6'4" frame if I were to go on an extended ride on the slab. The engine was smooth until 6,000 RPM, when it got a little buzzy. It has great power from way down low in the rev curve, unlike the 800, which needed 5,000 RPM to wake up. It has larger diameter Brembo brakes than the 800. No complaints. The seat height is adjustable. I thought the clutchless shift assist would be lame but I got used to it quickly off road and used it all afternoon off road. Very smooth. The 7-inch TFT controls are gorgeous and crystal clear in the brightest light. Heated grips, heated seat, cruise control…
They claim 65+ accessories in their catalog plus a couple of kits like the Expedition kit that includes luggage, upper protection bars, fog lights, etc.
This was the biggest product launch in Triumph's history. I had wondered why they pulled out all the stops for this bike, but I think they realized that they have a very special bike on their hands.
Would I buy one? Yes, the Rally Pro. But I would have to test ride a Scrambler 1200 first because it looks so badass.