Nate Allen, an American adventure rider from Oklahoma, has been on the road for several years now covering North and South America and Europe. I've been following him on social media a while before we finally connected this spring when Coronavirus hit, leaving me stuck in Lithuania while Nate was waiting the pandemic out in Istanbul, Turkey. Always full of positive vibes and cheeky humor, Nate has stayed in Turkey riding his 2007 BMW X-Challenge on as many off-road trails as he could find, documenting his travels with amazing photography and stories from the road.
"When I left Oklahoma all those years ago, I figured I could get from Oklahoma City to Ushuaia in a year. But when I crossed into Mexico and had my mind blown by how amazing this country was, I ended up spending six months just exploring Mexico… Needless to say, it took a while to get to Argentina and back, but ever since, I've been traveling really slowly and just taking everything in. I'm in no rush to get anywhere in particular in any particular time frame, and I love getting way off the beaten path, hanging out with the locals, and really getting to know the place", Nate told me.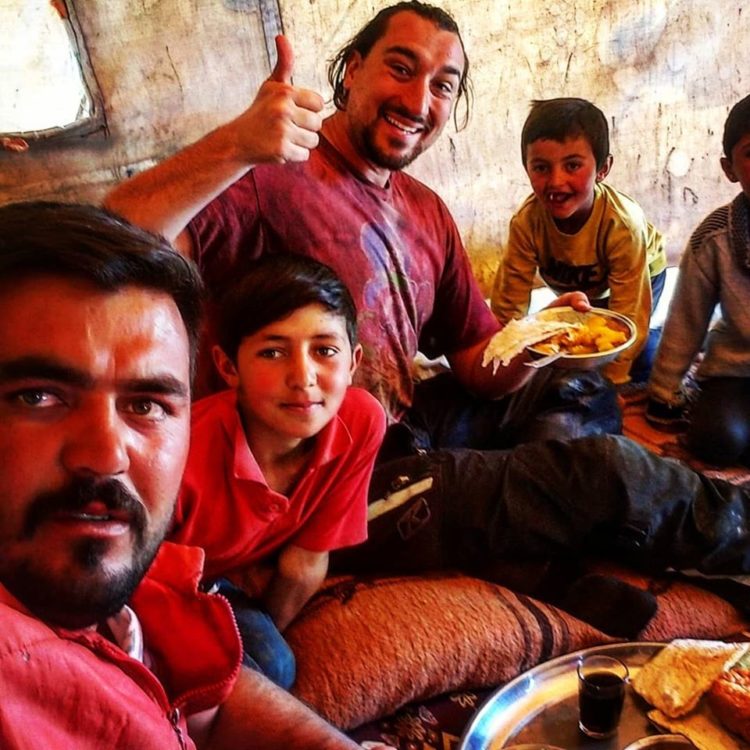 After shipping his bike from Veracruz, Mexico, to Belgium, Nate spent a year riding Europe mostly following the Trans European Trail. "For me, Eastern Europe was the best part, especially Ukraine where some of my family still has roots. The freedom to ride off-road, the people, the craziness – Eastern Europe, for me, was amazing. After leaving Greece and Bulgaria, I crossed into Turkey with a plan to ride to Georgia and eventually hit the Stans, but then, the zombie apocalypse started, so I'm still in Turkey right now", Nate said.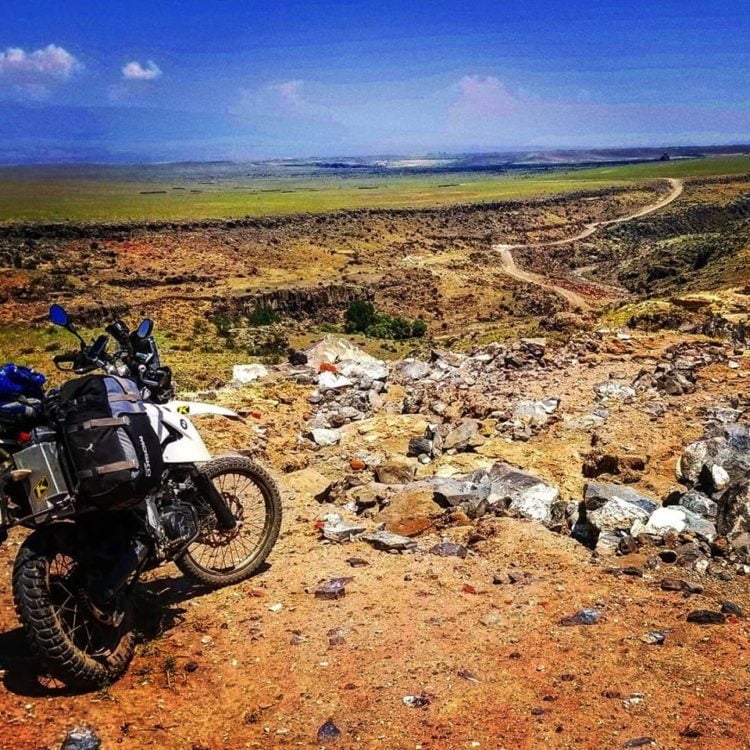 Finding the Hidden Gems
For Nate, traveling isn't about bucket list places or record-breaking mileage, but rather the journey itself as well as getting immersed in the local ways of life and discovering places few travelers ever get to see.
"I don't have a clear agenda. As I ride along, I listen to people's recommendations and I just keep discovering all these incredible places you'd never even expect to find in Turkey. When I travel, my goal is not to rush and get through a country in seven days, I really take my time riding the backroads, the small dirt trails, visiting little villages, ancient ruins, caves, watering holes – I research some of the places online, but mostly I simply take in my surroundings as I'm riding and whenever I notice something interesting, I just go for it. When you don't have a real destination, just the general idea, you can end up in all sorts of unexpected places. In Turkey, it's legal to ride off-road just about anywhere, and it just feels like a giant off-road motorcycle playground. The motorcycle culture is pretty robust here, too – I ended up riding together with some locals a few times – and in general, Turkish people are absolutely incredible. They're so friendly and hospitable it's like they're too nice!".
Rich Dad, Poor Dad
An aircraft engineer by profession, Nate says financing your journeys doesn't mean you need to have a million-dollar bank account. "I keep track of my spending, and I average about $950 a month. That includes everything from fuel and accommodation to bike shipping, a hospital visit, spare parts, and so on. It's absolutely possible to travel cheaply, you just need to have your priorities straight and keep track.
I don't work when I travel, but when I get home to work, I do 70-90-hour weeks and really put my back into it to save every penny so I can then enjoy the life on the road. I also have some property I rent out; if you haven't read the Rich Dad, Poor Dad by Robert Kiyosaki yet, I highly recommend you do so and figure out your finances so you can live the life you want to live. It comes down to personal choices and a lot of people use money as an excuse not to go traveling. I think Benjamin Franklin said it best: you can either have security or you can have freedom. I would rather have 100% freedom and 0% security, but it's up to every single individual out there to find out where they are on this scale and where they want to be. There's a million ways to make money, save, and invest – these days it's easier than ever, so it's simply about making a choice. If you want to go and ride your bike around the world but you're hesitating, just ask yourself if this is the place you want to be next year, and the next. If you are, if you're truly, genuinely happy with what you're doing, that's great, but if you aren't and you feel stuck, well, there's only one way to get unstuck, and don't let fear stop you. To me, the scariest thing is seeing people working jobs they hate so they can buy things they don't need to impress people they don't care about, and I'm just insanely happy I don't need to live like this. But in the end, it's a personal choice".
Stuck In No Man's Land
At the time of this interview, Nate was staying in a small town of Hopa at the Black Sea near the Georgian border. After the lockdown in Istanbul ended, some restrictions in Turkey remain, such as the requirement to wear a face mask when entering grocery stores. "Other than that, though, you've got complete freedom of movement within the country and most places are open. It actually feels like a great time to be traveling as there are no more tourist crowds anywhere. Even Cappadocia, easily the most touristy hotspot in Turkey, is virtually abandoned right now.  Life is going back to normal to a degree, and I'm free to explore on or off the road. Locals are very friendly and they're happy to see a traveller on the road; I don't know how long the pandemic is going to last, and there's so much misinformation and confusion out there. Besides, overlanding solo isn't the same as flying on crowded planes or joining mass tourist hordes. For now, I'm just trying to figure out how to get my bike back, and then I'll carry on to Georgia", Nate said.
Just a few days ago, as he was trying to cross the Georgian border, Nate found out he wasn't allowed in because of new COVID-19 rules. "I'd overstayed my Turkish visa a little, and while that's not an issue, the bike is a different story. Trying to ride back to Turkey, I was told I couldn't import the bike back, so at the moment, it's stuck in no man's land between Turkey in Georgia. With the help of local Turkish riders and some friends on the Georgian side, I hope I'll get it back. If not, I'll just head to Romania or Bulgaria and build a bike I've been thinking about a lot using a WR450 frame and an MT07 engine", Nate said.
While having a bike stuck between two countries isn't exactly a fun situation, Nate stays positive and hopes he can resolve the situation soon. "Look, in the end, all we can control is our thoughts and not much else. Being upset, angry, or frustrated isn't going to change the reality, and it's just not productive. Right now, I'm in this beautiful little town watching dolphins frolic in the Black Sea and having beers with some friends, and the bike situation sucks, sure, but I'm figuring it out. Worst case scenario, I'll get a new bike, although I'm pretty confident I can get the X-Challenge released. If I get into Georgia, I'll stay there a while riding, maybe take up paragliding, then fly to Indonesia or Cambodia for the winter. One way or another, it'll all be alright.
I have a destination, and it's Oklahoma City. Whatever happens now, next year, I'm hoping to hit the Stans and Mongolia, winter somewhere warm again, come back to Mongolia and keep riding East into Russia and Alaska, and make it back home. I don't have a deadline, and I'm in no rush. Let's see what happens".
See what happens by following Nate's Instagram page here.