The bike was virtually done, but looked a little bland, some may like it but I wanted something a little more in your face…I now enter the world of finding custom graphics!
Easy right? Instagram has loads of companies that do graphics and pimp themselves daily, I must have messaged half a dozen via DM's (direct messages) not a single one responded.
So I tried emails, I have an email tracker, I see that the email is opened no response, at this point, I'm wondering how these companies, or are they guys in their garages stay in business? Maybe I contacted the wrong ones, or ones that just want to sell a kit so my bike can look like everyone else's.
Next tactic, ask other riders who I know have graphics, I was kind of expecting the response, but it was funny to hear…to paraphrase
"Unreliable, unresponsive, starving artist syndrome, bunch of flakes…"
Next tactic, get a referral to physically walk into a shop and speak to a guy face to face. I did this, told him my basic idea, what the bike is, included it has an Acerbis tank, "will this be a problem as its not stock?" I'm told no, a week goes by and nothing, I call, no answer, I email, he responds with,
– "We have an outline for a tank, not sure what size or from what bike, do you think it'll work?"
– "er, no, I'm guessing not unless its the exact same tank!"
– "oh, if all tanks aren't the same then it'll be $450 to trace it, will that work?"
At this point, communications broke down!
A couple of days passed and I'm still looking and in my inbox are the answers to an interview I was preparing for RMATV, and they talk about custom graphics, I had no idea they did custom work with their in house company Attack Graphics.
From here on out its 100% props to RMATV and Attack Graphics, and rightly so.
I emailed got a response in less than an hour, sent over my basic idea. They didn't have my Acerbis tank outline template on file…but they went and grabbed one off the shelf.  In two days they sent me a basic idea so we could talk a few times to finalize the design.
Less than a week later with a bunch of back and forth with emails and calls, I got what I wanted, a few days later the graphics arrived.
The fit and finish were perfect, the gas tank graphic is vented as requested to reduce peeling and was a perfect fit. Difficult to see in the photo but it is there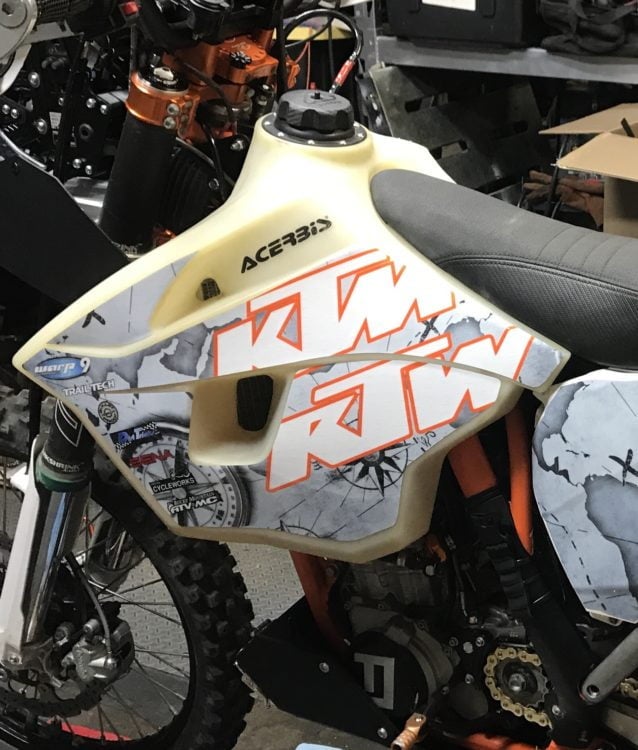 Rocky Mountain ATV and Attack Graphics, you knocked this one out of the park, thank you.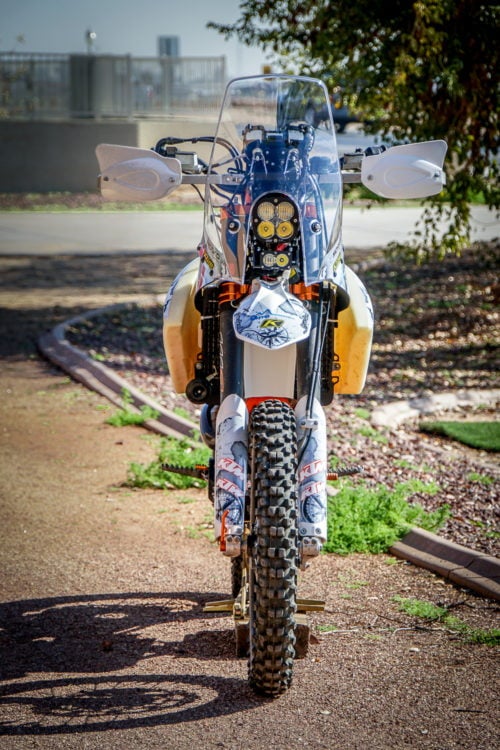 If full-on custom graphics aren't what you are looking for they stock a massive selection of off the shelf ones too for a crazy amount of bikes, or maybe they will give you ideas for a design of your own