Editor's Note: This is our third post in s series about Adventure Riding in Ecuador. This series was kindly sponsored by Court and his team at Ecuador Freedom Bike Rental in Quito. Ecuador Freedom offers Bike and 4×4 Rentals, Self-Guided Tours of Ecuador and all-inclusive Guided Tours.  Egle will be guiding a Special Woman's Tour of the Ecuadorian Andes with Ecuador Freedom later this year. 
Most adventure riders travel through Ecuador on the Pan American Highway, the legendary route stretching through the Americas. In Ecuador, that's Route 35. Generally, it's an interesting road running along the spine of the Ecuadorian Andes, but there's a lot more to this country than just the Pan American road. If you'd like to explore a little more, here are some of the best Pacific, Andean, and Amazonian locations in Ecuador.
The Pacific Coast
The coast of Ecuador isn't as spectacular as the Peruvian coast where the ocean meets giant sand dunes or the wild Patagonian coastline. However, the Pacific Coast in Ecuador has something else: peace and quiet. Route 15, also known as Ruta del Sol (Route of the Sun), meanders along the ocean and passes small, sleepy beach towns along the way. Riding Route 15, you'll find excellent seafood places, quiet little hotels and empty beaches not yet overrun by tourists. There are several towns on Ecuador's Pacific Coast that are especially worthy of a visit:
Puerto Lopez
This is a small, typical Ecuadorian town with white sand beaches and some beach restaurants and bars scattered along the oceanfront. However, between June and September, Puerto Lopez receives a wave of wonderful visitors: humpback whales. During the high season, whales mate and frolic in the water just thirty minutes off the coast, and for $15, a boat will take you out to sea to watch them. Dolphins, orcas and sea turtles can be seen all year round. For an additional $20-25, you can take a boat tour to Isla de la Plata, locally known as the "poor man's Galapagos". Isla de La Plata offers wildlife and snorkeling tours.
Montañita
Montañita, a small beach town a little further south on Route 15, is Ecuador's surfing capital. Packed full of hostels, little hotels, campsites, and beach bars, this town is all about young backpackers and partying 24/7. It's like a smaller, more rustic version of Playa del Carmen in Mexico: people come here to surf, drink, and party, then repeat. The beaches of Montañita are spectacular, even if you're not into surfing.
Guayaquil
Guayaquil is a large port city in Southern Ecuador, and most of the time it's incredibly hot and humid. It is a very colorful town, and its central park, Parque Seminario, is a major attraction to both locals and visitors because it's full of curious and friendly iguanas. Guayaquil's Malecon, a large oceanfront boardwalk, is one of the city's favorite hangout spots, and its beautifully colored Las Peñas neighborhood is ideal for photography.
The Ecuadorian Andes
The Andes form the longest continental mountain range in the world and the highest mountain range outside Asia. In Ecuador, the Andes are dotted with active and inactive volcanoes. The peak of Chimborazo, the highest volcano in Ecuador, is the farthest point from the Earth's core because it sits right atop the equatorial bulge. Riding in the Ecuadorian Andes is a breath-taking experience because you can get very close to the volcanoes and crater lakes, and traverse the high otherworldly plateaus.
There is plenty of road and off-road riding, especially around capital Quito and the famous Avenida de los Volcanes – the Volcano Avenue, a 200-kilometer route offering views of Ecuador's nine most prominent volcanoes.
Quito
Quito is one of the highest capital cities in the world, sitting at more than 9,000 feet above sea level. The city boasts one of the largest and best-preserved historic centers in South America, but at the same time it has a modern, chilled out vibe. Quito makes for a great base to explore the Ecuadorian Andes on your bike.
Chimborazo Volcano
The snow-capped peak of the mighty Chimborazo, a 20,000-feet high volcano, is an iconic sight in the Ecuadorian Andes. This lonely mountain is surrounded by the high plateau inhabited by indigenous local communities and wild vicuñas and llamas. Chimborazo is a must-see when traveling Ecuador, and there are several off-road routes around it if you're feeling adventurous.
Cuenca
Cuenca is a beautiful colonial town right on the Pan American Highway, boasting a stunning Old Town and plenty of excellent restaurants and bars. Cuenca is perfect for finishing up the Andean tour and relaxing for a few days before heading south towards Peru. There are plenty of hiking opportunities nearby, including a three-day hike to the Amazon rainforest. The nearby Cajas National park is an amazing oasis of highland wilderness.
The Amazon
Ecuador has the easiest access to the Amazon rainforest in all of South America. Unlike Colombia, Peru or Bolivia, you do not need to travel on planes or river barges for days just to get to the Amazon. Some of the Amazon tours can be accessed a short distance from the capital Quito, like River Napo tours or trips to the Cuyabeno Wildlife Preserve. River and hiking tours are among the most popular ways to enjoy the Ecuadorian Amazon.
Baños
If you'd like to ride your bike as close to the jungle as you can, Baños is Ecuador's gateway into the Amazon rainforest. A small town situated at the foot of Tungurahua, an active volcano, Baños is located in the highlands, but the rainforest is just a bike or boat's ride away.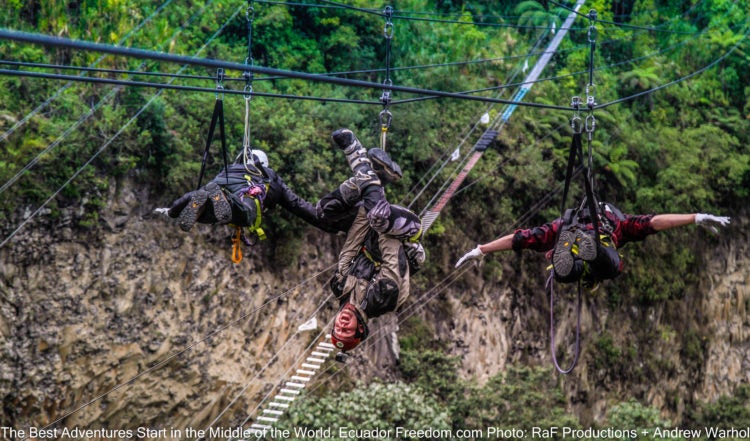 Fairytale-like waterfalls (see featured image at the top of this page), ziplining, river rafting, and hiking the Tungurahua volcano trails near Baños make for perfect adventures.
For more tips on riding Ecuador, check out this post.
Images: Ecuador Freedom Bike Rental, Featured Image: Pexels