This is the 6th post in a series focused on riding in Colombia. A special Thanks to Colombia Moto Adventures for sponsoring this post and making it possible to bring you South American adventure content.  Jeff Cremer, an award-winning wildlife photographer, and his team provide motorcycle rentals in Medellín and Colombia motorcycle tours.
As Colombia gains popularity among adventure riders, more and more companies are offering both guided and self-guided motorcycle tours in the country. Which one should you pick? That's a very individual choice, so we put together a list of differences between guided and self-guided motorcycle touring in Colombia to help you make up your mind.
1. Cost in money
This one is a no-brainer: a self-guided tour, even if you're renting the bike, will cost you less because your ride will be your own responsibility. You'll ride at your own pace, plan your own route (although most companies will provide you with a recommended route or at least some key pointers), deal with unexpected adventures yourself, and stay where and when you like.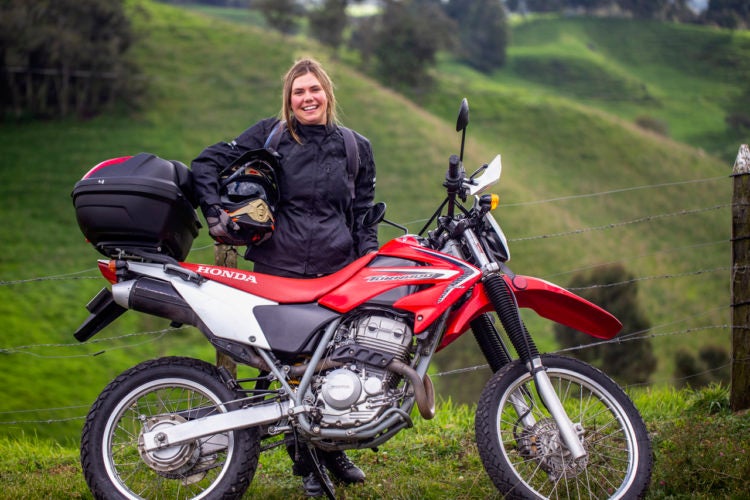 A guided tour will cost more because you will have a guide and, in most cases, a chase truck plus mechanical service for anything unexpected. Some motorcycle tour companies even carry a spare bike in the chase truck, just in case. With a guided tour, all you'll need to do is get on your bike and ride.
2. Cost in time
When you calculate the time spent planning a trip vs the time it takes to book a guided tour, the latter always wins. Going on a guided motorcycle tour means you do not need to worry about the bike, the route, the accommodation or the activities off the bike. Everything will be meticulously planned and prepared for you. Fly in, enjoy the ride and the scenery, and fly back when you're done. With a self-guided trip, you will have to invest significantly more time in researching, planning, and prepping.
Here are some useful pointers, apps and other tips for motorcycle tour planning.
3.Company
On a self-guided tour, you're flying solo – unless, of course, you're able to talk a friend or friends into coming with you. On a guided tour, you'll be enjoying the company of like-minded souls who are there for exactly the same reasons you are: they love adventure riding and they want to see Colombia. Sharing the adventure and making friends always add to the experience, but if you're a lone wolf, a self-guided tour may be a better option for you.
4. Safety
If you're joining a guided tour, you'll be safer and the tour guide will anticipate or solve any issues that may arise. Your bike will be in top condition, serviced by a professional, and you'll have a chase truck carrying spare tubes and anything else you may need on the road. You are always going to receive help in a timely manner if you are with a professional guide, as opposed to when you're riding solo.
On the other hand, Colombia is a safe and peaceful country, so as long as you're sticking to well-traveled routes, have insurance and can speak a little Spanish, you'll be just fine.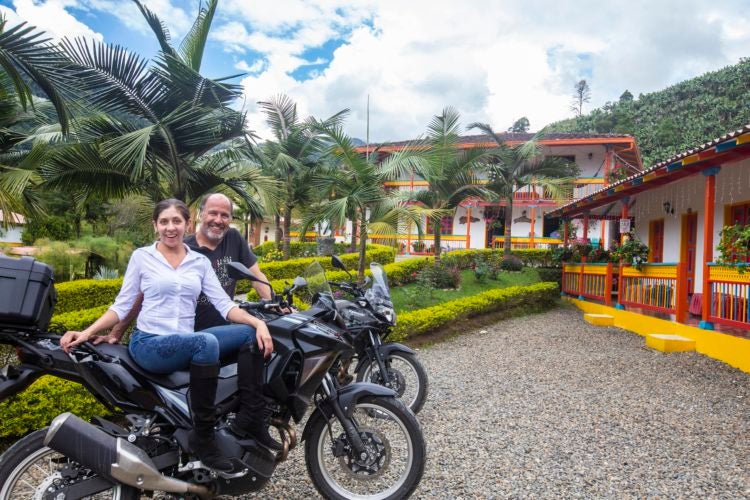 5. Local knowledge
Motorcycle tour guides usually live and ride (a lot!) in the area you are traveling through, so their local knowledge will be unparalleled. In addition to knowing the best routes, they will also take you to that place that has the best ribs, the pub with the best beer, and out on the most rewarding jungle tour or hiking trail.
On the other hand, riding solo means you will be discovering everything on your own – and for some, this is the best part of the trip.
6. Riding luggage-free
One more bonus when you're riding with a guided tour is that you'll carry very little luggage because your stuff will travel in a chase truck. If your tour is mainly off-road, not having to lug all your earthly possessions around on the bike can be a fantastic feeling.
7. Language
If you speak Spanish, Colombia will feel like home (but with better riding). If you don't, people will still be friendly and you'll have a great time, but having an experienced guide who speaks the local language is awesome when you're on the road.
Whether you're going on a guided tour or riding solo, learning a few basic words and phrases in Spanish is a good idea. Locals appreciate it when travelers make an effort to learn to say at least "hello" and "thank you"!
Ultimately, whether you choose a guided or a self-guided tour is your call. Some companies offer a variety of tours: you can rent a bike from their fleet and go off on your own; you can rent a bike and get a folder of their recommended routes for your GPS; or you can join a guided tour on your own motorcycle. Colombia has plenty of options for both guided and self-guided tours, and if you're traveling on your own wheels, most will be more than happy to share their favorite routes and tell you about all the cool stuff you need to see on the way.