Hellas Rally Day 2 began cheerfully: perfect weather, morning starts, and two decent special stages promised a challenging but equally awesome day. As the last rider to come in, I was the last one out, but this time, the start was at 10.40 am, and life felt good. I knew this meant I would be late to come back to the bivouac, and there were some last minute roadbook changes, but I was hoping for an interesting ride.
Turns and Twists
Steep corners are my nemesis, and on a constant uphill/downhill, the turns and twists slowed me down even more. Add lots of roadbook information and forest shadows concealing holes, rocks, and ruts, and I was riding at a tortoise pace.
Still, I'd made my peace with it already, and I was going to take a German rider's advice not to touch the clutch on corners and see how that would go. I was happily inching my way forward until, past kilometer forty, the roadbook sent me on the main road.
Change of Course
A rally organizer pick up truck was parked on the intersection, and two rally staff motioned me to stop. "You need to wait here till we get a call from the organizers", they told me. Across the road, an Irish rider with a broken knee and broken bike was waiting for assistance. Suddenly, the day seemed a little less sunny.
I wasn't sure why I was stopped and told to wait. I was sure I hadn't messed up the roadbook and was still on track. Minutes passed by; I chatted to the injured Irish rider and his support team from Nomadas Adventure, who had so kindly helped me install the navigation tower on the scrutineering day. A few riders flew by, but they weren't stopped. I kept asking rally staff what was going on, but they weren't sure. Finally, another rider arrived and told us the stage was canceled for Rally Lite. "We're supposed to just head back to the bivouac now, following the main road. Guess the race is done for today…".
Confused, I asked rally staff to call the bivouac again, but with not much luck. The rest of the Nomadas Adventure team arrived and picked up the injured rider and his bike. "You should come with us, let's just head back", they offered, but I was still hoping I'd hear some news.
It wasn't meant to be. After a few more minutes of confusion, I decided to simply follow the rider who'd announced the cancellation of the stage back to the bivouac.
Riding back, I couldn't help but shake a bad feeling. Was there some horrific accident? Landslide? Angry farmers closing a route? The only way to find out was to get to the bivouac. I wondered, too, whether I simply got disqualified for not making time, or whether something happened to one of the Lite class riders.
Despite feeling glum and confused, I couldn't help but admire the scenery we were riding through. We were at some altitude now, almost at the snow level in the mountains, and the land just opened up down below revealing lush green valleys and snow-capped mountain peaks in the distance. It was chilly, but with the sun beating down, it was a beautiful ride.
Back at the bivouac, we learned there was a sudden change of course. The first special stage was a loop, and the first riders who started at 7 am were already coming back, whereas us Lite riders were only finishing up that first loop. To avoid the risk of mass head-on collisions between the returning rally riders and us, the organization decided to simply send us home. And just like that, the stage that was supposed to be over 250km today became just fifty kilometers, and I was back at the bivouac before 2 pm.
I understand unexpected things happen at a rally, and the decision to cancel our stage to avoid head-on crashes made sense. Still, I feel like I'm cheating now – even if I do finish the rally, Hellas Day 2 will forever be incomplete.
On the other hand, I still get to start the next day, whereas for some other riders who got injured or whose bikes broke, it's even worse. This is not the Dakar, but every day, it feels like it's all or nothing. Maybe that's why it feels so weird to have a canceled stage, because it's neither all nor nothing – it's just something, and I feel like a fraud.
The great news is that the bike is still holding up well. Nomadas Adventure helped me tighten up the spokes and I cable tied them together; my front sprocket seal is blown, but I might just make it through like this. New brake pads arrive tonight, and I might even be able to source some spokes.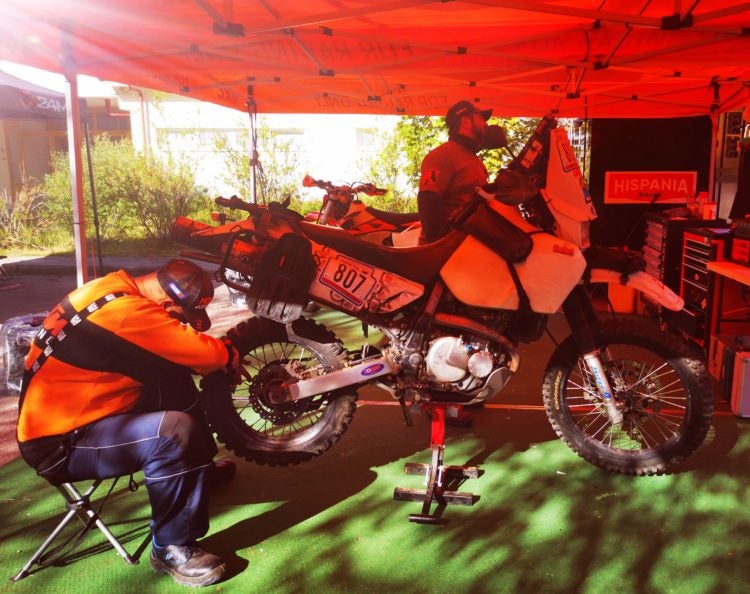 All in all, today was strange, but I'm riding to that start line tomorrow, and right now, that's all that matters.