Hellas Rally Day 4 is the longest so far: rally riders are doing 450km special stage, and the rankings aren't up yet because people are still coming into the bivouac near midnight. Over eighty riders have withdrawn already, and the crowd at the start line is getting thinner and thinner each morning. I passed three broken down bikes during the first part of special stage 1 today, and frankly, I'm amazed my DR is still going strong.
Terrain
For me, today was the best day so far. 156km of special stage and 145km of liaison done,  and I feel over the moon because although I'm still the last in my class, I finished the stage, I'm still here, and the bike is still alive. The terrain today was technical with loose rocks, deep ruts, melting snow and mud, and as always, steep hairpin turns and forest tracks. A few rocky sections towards the end proved tough, and my wrists are killing me right now, but all that riding in Colorado must have done something good after all!
Bike
Every time I hit a big hole, jump off, or a deep puddle, the forks produced a weird and heartbreaking yelp, and I winced as if  I got the hit, not the bike. Still, somehow, Lucy is still alive and kicking. Towards the end of the special stage, I got hopelessly stuck in a muddy, swampy stream going uphill(of course, in the photo, it looks perfectly flat) and got a little worried that the clutch was done. Luckily, a few lost rally riders just happened by, we fished the bike out of the mud, and after a few reluctant splutters, Lucy started – and the clutch was just fine. About ten minutes later, we had to fish a Husky out of another gully along the way, and spent another fifteen minutes or so trying to get our roadbook bearings. All that mud and all those rocks cost Lucy a left mirror and a broken luggage rack (which, yeah, I should have just taken off, but simply forgot), but other than that, it's good to go.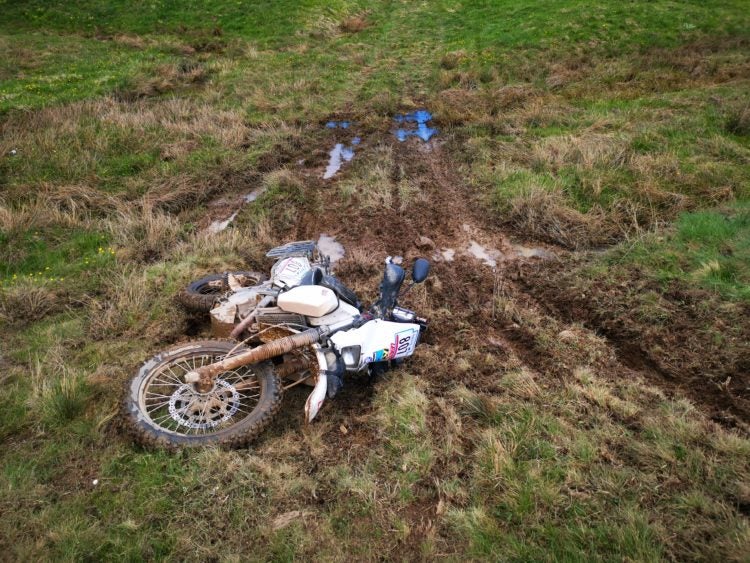 Head
Doing a multi-day enduro rally is a mental rollercoaster, and going at it alone, it can get hard to control. I'm finally beginning to realize what all those Dakar riders meant when they said it was a mental game; Hellas Rally Raid is no Dakar, but it's tough enough to seriously challenge even the experienced riders with factory motorcycles. Me, I'm just putting one foot in front of another, and after a great day today, I'm hoping we all make it through.
Here's some highlights from yesterday: