Hellas Rally Day 5 was supposed to be a technical but short stage, and after finishing a full stage yesterday, I was feeling hopeful. More riders are out, and after today, Italians Leonardo Tonelli and Matteo Cura along with Czech rider Milan Engel are still in the top three, with Chris Birch placing fourth and Edoardo Cavicci coming in fifth.
Me, I have placed myself firmly in the last position amassing more time penalties, and at this point, there's no getting out of all that time lost. I am eight hours behind the last guy in Hellas Lite class, and with only two more days to go, I'm not getting ahead. Since I'm aiming for a finish, I've long stopped worrying about places – it's mere survival now.
Rocks and sprains
Today kicked off with a few river crossings, fast streams filled with baby head boulders. I thought of Colorado again and made it through, but a few dozen kilometers later, went down hard on a steep rocky downhill. The bike ended up in a deep ditch and it took me a while to drag it back out, but the worst part was my hand. I hit it on a rock at a weird angle when I fell, and it was now swollen and painful, which made pulling the clutch a little tricky. I figured I'd be OK once I got onto flatter terrain, but after another twenty kilometers or so, I crashed again. It had been raining all morning, and since all the riders and SSVs were in front, a nice forest track had turned into a mangled, rutted mud river. For a miserable mile, my hand throbbing, I just kept falling over in those axle deep ruts, and at one point, I sat down in the mud staring at the fallen bike and wondering what the hell I was even doing here. This rally is clearly kicking my butt – but then, that's kind of the point.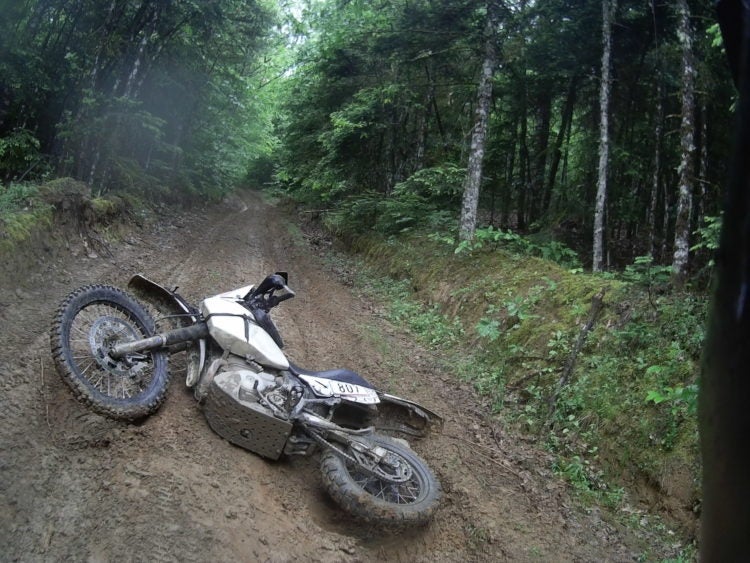 Playing that YouTube video montage where Samuel Jackson says "m*therf*cker" in different movies in my head, I dragged Lucy out of the mud again and sort of wobbled along for some ten kilometers more trying to figure out a good angle to pull the clutch in without touching my thumb on the handlebar. The going was miserably slow, and sure enough, I didn't make my stage time.
Back at the bivouac, the medics checked out my hand – it's not broken, just sprained.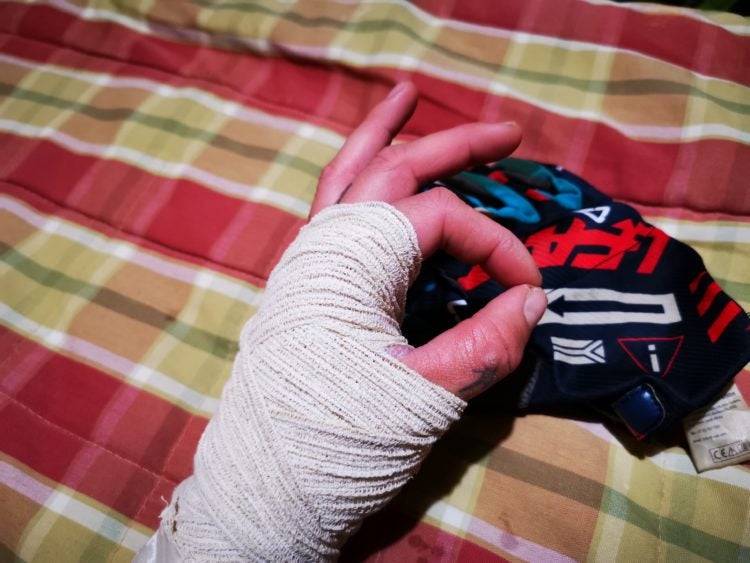 I got some elastic wrap and some painkillers, asked a friendly Greek rider to help me straighten bent handlebars, and went to today's briefing. Tomorrow's special stage is taking us to the highest altitude yet going over the mountain peaks, but the organizers said the weather is looking better and there shouldn't be any more mud, just rocks and lots of steep sections. Hellas Lite special stage is 120 kilometers tomorrow, and once again, I'm ready to go.
Here are some highlights from my lucky Day 4:
Featured image: my rally angels, Enduro Greece team, is helping me take the broken luggage rack off