After yesterday's mud and hand sprain fiasco, I woke up feeling doomed today. The hand still hurt like hell, and the stage was said to be technical with plenty of mountain tracks, steep rocky climbs, hairpins, and rocks. On the other hand, for Hellas Lite, it was going to be short – 136km special and another 100 or so liaison – so I decided to just go for it and hope for the best. At least, it wasn't raining, but for morale, I watched that Samuel Jackson video again. Before the start, I met one of the rally photographers who showed me some images from yesterday; I asked him to photoshop a wheelie or two on the photos of me, but he said it was a hopeless case.
Wheelies or not, I limped to the start line and took off after the rest of the Lite crew. Suddenly, the hand pain was gone, despite getting stuck in mud again:
The tracks soon began climbing, and after forty or so kilometers, I crested a mountain peak. I'd already talked about how incredible the scenery in Greece was, but today's stage was the most beautiful yet. All that panorama came with a cost – going down steep rocky hairpins shot pain across my wrist and hand, but little by little, I got down the mountain and across another pass again.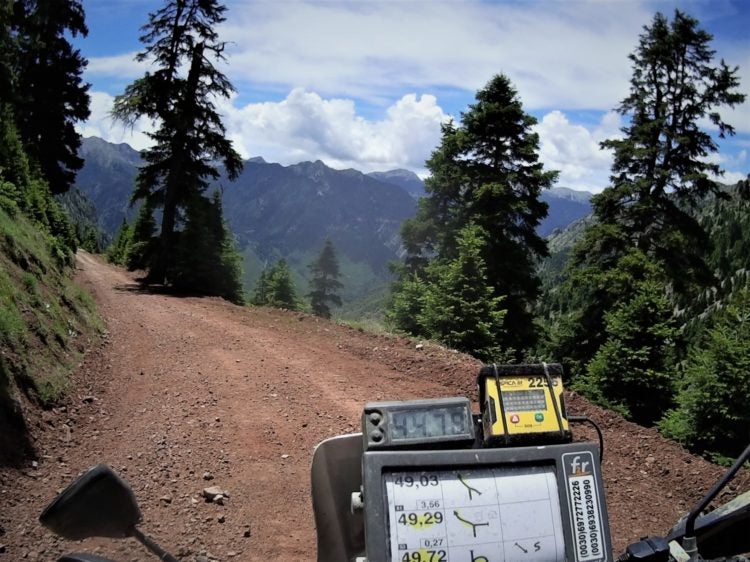 I made my time this time and came in twenty minutes earlier than my allotted four hours, but the rally organizers had decided to move on and I had to abandon special stage 2. Still, with a stage 1 finish, I felt over the moon.
Back at the bivouac, the briefing for the last day tomorrow was short: 97-kilometer special stage and a finish party at the bivouac in the evening. An awesome surprise was rally organizers giving David Harris, a rider from the UK, a thank you and a free entry for next year's Hellas Rally. "Throughout the rally, David helped multiple riders and lost time because of it, but he never once came into our office asking to erase his time penalties", rally organizer Meletis Stamatis explained.
As the rally draws near the end, the camaraderie feels stronger than ever. In a way, I'm already feeling the rally blues and despite me and my bike being all banged up, I'm almost wishing there was another week of the rally left.
Still, it's not over till it's over. Tomorrow is the last day of the rally, and let's see if we can all make it to that finish line.
Highlights from yesterday: