It's hard to describe what it feels like to cross the Hellas Rally finish line, even if you're in Hellas Lite class, and even if you're coming in last. It's surreal, exhausting, emotional, weird, and exhilarating all at the same time. It's also a relief, a sadness that the rally is over, and the suspicion that the rally bug has bitten hard. It's humbling, too: although I did the three-day non-compete Transalentejo Rally a month ago, I never thought the DR650 and I could actually finish Hellas. I figured we'd complete four or five stages, tops, and then we'd have to withdraw, either because Lucy would be trashed beyond repair, or because I just wouldn't be able to keep going. I had no support or sponsors, and going at it alone with my very limited mechanical skills was a mad idea.
Yet, here we are.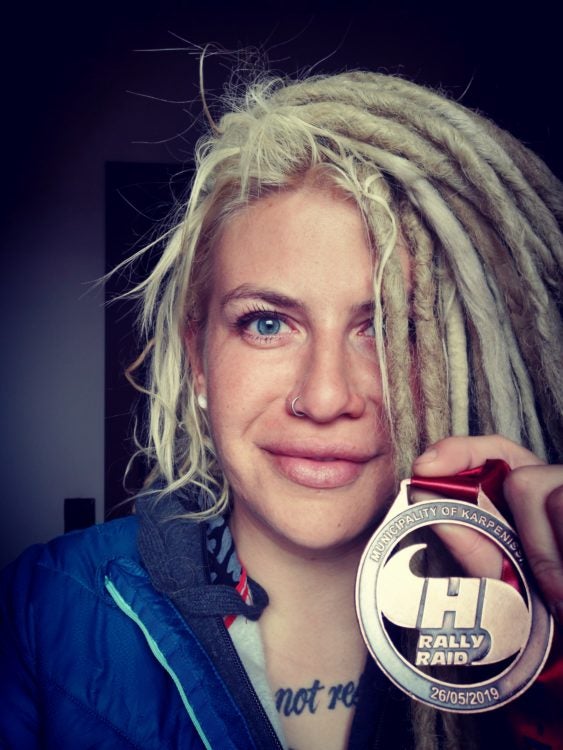 Day six took the race to the highest altitude yet, over a steep, rocky mountain pass where the riding was hard, but the views were more than spectacular.
I was slow, again, and it was tough going because of my sprained hand, but little by little, Lucy and I made our way back to the bivouac. Day six proved tricky for many riders, with more bikes failing and fatigue setting in hard.
Day 7 was the most demanding of them all. Not because of the length of the special stage – a mere 100km – or the terrain, although we had steep rocky climbs, snowy mountain passes, and steep hills, but because this was the last stage. For me, it felt like all or nothing; a defining last ride. I was as nervous as on the first day, and many other riders confessed they were feeling the jitters too.
I was so nervous I forgot to re-set my Ico and had to stop and adjust it mid-way to the start line, while another rider followed an old GPS track and went completely the wrong way. Out on the tracks, I met a wild-eyed rider who felt totally lost although he's been doing just fine with navigation on all the previous days. Past kilometer thirty, I got stuck on a steep hill littered with loose rocks – Lucy just didn't have enough power to get up that incline, but luckily, another rider and a pilot of a broken down SSV helped me to walk it up.
After the monster hill, the track continued across the mountains, and snow was once again a welcome sight – it meant the air would be a little cooler, and the tracks became a little easier.
I dropped the bike a few times more and bent the rear brake pedal which made riding down steep hills a bit more interesting, but little by little, I got past kilometer 40, 70, and finally, kilometer 97 – the finish line. From there, it was an easy 20km ride back to the bivouac where I handed my time card in for the last time and got the Hellas Rally finisher's medal. I placed last in my class, but suddenly, that didn't matter any longer. Lucy and I were in one piece – and over that finish line.
During the closing ceremony, I caught myself cheering for every single rider, not just the winners. My friend Ionut "Jon" Florea won third in his class on his KTM 690, Stephanie Rowe, my personal hero, finished third in her class, and among Lite champions was Manuel Garcia, that same Spanish rider who always had a kind word for me.
I always thought rally people were all professionals or semi-professionals, the super skilled, super talented riders who fly along the tracks like some winged dirt demons and wheelie across rocky river crossings. But the reality is, so many rally riders are just everyday people: adventure riders and travelers, rally first-timers, privateers, and malle moto madmen and women. Sure, the top fifteen or so riders are insanely skilled and they race in multi-day enduro rallies every year, but for the most part, Hellas Rally and Rally Lite riders were simply adventurers taking it to the next level. They were from all walks of life, from all over the world, and with different bikes and skill levels. Some finished, some withdrew, some placed higher than anyone – including themselves – expected, and some, like me, came in at the very end. But we all lived the seven-day craziness that is Hellas Rally, and almost everyone, when saying their goodbyes, added, "see you next year".
A multi-day cross country roadbook navigation rally on an amateur level is adventure riding on steroids. But it's also more than that. It's a test of endurance, it's a mental game, it's an emotional rollercoaster, a risk, and a mad hope. And somehow, after everything's said and done, and the bivouac is being taken down, the mechanical teams are packing up and it's time to go, and you ride away for the last time, it feels like you're riding away as a better version of yourself.
I'm eternally grateful to Hellas Rally organizer Meletis Stamatis and all the wonderful rally staff who worked tirelessly to keep us all safe, Tim Hewitt aka Dirt Bike Jesus for lending me his roadbook navigation holder, Andrew Houlihan for offering to help install said holder, the Enduro Greece and Nomadas Adventure teams for helping me keep Lucy alive, Jon and Ana of Into the World for all the moral support, beers, and a wonderful post-rally breakfast, Manuel Garcia for all the pep talks, Hellas Rally Lite riders for keeping high spirits throughout the rally, and all the awesome rally people who made it feel like home.
If you're intrigued about roadbook navigation rallies and would like to enter one yourself, Hellas Rally has the perfect setting for it. You can enter the Rally or Rally Lite class, ride a 250cc or an adventure bike, and challenge yourself while riding some of the most spectacular tracks in Europe.