Slipping under the radar a little at EICMA this year were two Honda concepts that look so fully developed that they may be ready to go to market.
Both are based on the entry-level CBR125R sportbike, a machine that isn't for sale in the United States. That's probably a hint about the future of the two concepts.
One concept is a "naked street-focused machine," the CBR125M. Clean, angular lines, high ground clearance, supermoto in appearance–it's squarely aimed at the urban market.
The tiny LED headlight is an unusual style statement.
The other concept is the one that got our attention. It's the CBR125X, a mini-adventure bike. Like the platform it's based on, it's aimed at young and/or first-time buyers. Honda says it hopes it's a multipurpose bike that can introduce them into riding as a lifestyle.
The reason neither is of these machines is likely to be sold in the United States is the engine, of course. The 125 cc single-cylinder lump is limited to just 15 hp by Euro 4 regulations. That's simply not enough for the wide-open roads here. Buyers demand more power.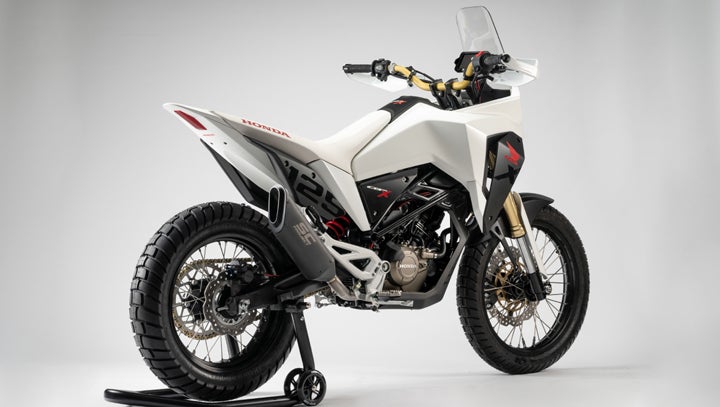 But it's an interesting machine. Designed by Honda's R&D center in Rome, Italy, it has an aggressive, forward-leaning stance. Honda say that the design was inspired by their Rally Race machines, like the Africa Twin Rally.
In addition to a bash plate, it has full handguards, what looks like a bigger tank than the one on its sibling and a tall screen. It also has three forward-facing lights. There's a central headlight and two additional lights tucked inside the bodywork.
So the CBR125X is a pretty cool-looking, small-calibre adventure bike that's compact, lightweight, and multipurpose.
It may never make it to the US, but in Europe, sales of 125 cc bikes jumped by 25% in the first half of 2018. And the CBR125X might also find a warm welcome in Asia (one Filipino bike media outlet is decidedly enthusiastic about it.)
And who knows? If it reaches production and takes off, maybe someday Honda will put a bigger motor in it and bring it over here.