Honda Motorcycles Japan has an idea to help grow ridership.  And that idea is called HondaGO Bike Rental (note: the HondaGO website is in Japanese.  You'll have to have Google Translate at the ready.)
Honda says its idea is based on the concept of "Start with HondaGO".  It's Honda's attempt to help people that may have an interest in motorcycles, get on one quickly and easily.  They believe that to attract young people, Honda must promote awareness and understanding of motorcycles.  And, HondaGO is their new initiative to do just that.
Easy rental initiative
According to Honda's research, in Japan, 40 percent of people who have motorcycle licenses have never owned their own motorcycle.  They think that HondaGO will provide these people with an opportunity to ride without having to purchase a bike.  And that that opportunity to ride may end up in the sale of a motorcycle.
The keywords "easier" and "more familiar" are what Honda is hanging its hat on.  HondaGO offers the convenience of WEB motorcycle reservations.  It also reduces some of the key barriers to riding.  With your reservation, you can rent many different things necessary for safe riding.
Moto gear available for rent as well
Motorcyclists can also reserve, moto equipment (e.g. helmets and jackets), obtain insurance and personal coverage.   Honda thinks that HondaGO's convenience helps potential riders overcome some of the psychological hurdles that some riders may see as barriers.  And, HondaGO increases the opportunity to ride.
HondaGO is currently available only in Japan at selected stores.  However, Honda expects to have the HondaGO bike rental program in approximately 250 stores by the end of June.
Going forward, HondaGo plans to develop services that will help riders with information such as touring routes, scenic areas, food recommendations and attractions close by.
What you can rent
If you are wondering what kind of motorcycles you can rent and how much rentals cost, Honda is making a very wide selection of models available with pre-set pricing.  However, each Honda store determines which models they will rent.
Since Honda sees HondaGO as a means to get people interested in riding, the program has been developed for "short term" rentals.  You can rent a bike for as little as two hours or as long as 55 hours.   Whether longer-term rentals are available is not clear.  The same goes for whether the program will ever be offered outside of Japan.  Certainly, local laws and regulations will have an impact if Honda chooses to do so.
Pricing
Here's a chart which shows the available rental plans and their costs* (prices are approximate USD converted from Yen):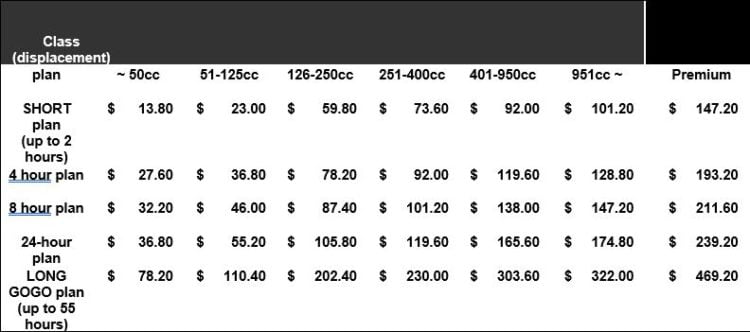 Available models
And which models fit into that category?  Here you go:
PREMIUM MODELS
950cc PLUS MODELS
401cc TO 950cc MODELS
251cc to 400cc MODELS
126 – 250cc MODELS
51cc TO 125cc MODELS
UP TO 50cc MODELS
Certainly, this represents a very wide selection of Honda models to rent.  But if that isn't enough, some outlets are reporting that Honda's newest and meanest track weapon, the CBR 1000 RR-R is available for rent as well.  I couldn't find it as an available model, but perhaps they have some inside information?
What do you think?
So if Honda made he HondaGO program available in the US, would you rent a bike or two?  Do you think that the increased access to bikes will contribute to the growth of ridership, particularly for millennials or Gen Z-ers?
Will HondaGO help increase motorcycle sales?  Or could it have the opposite or offsetting effect and reduce sales at the expense of increased rental sales?
Let us know what you think in the comments below.