Dubai police have begun training on their newest emergency vehicle. No, it's not a sports car or a multi-wheeled overland behemoth; it's a Hoverbike. What's a Hoverbike? It's an electric vertical take-off and landing machine capable of flying at speeds of up to 60 MPH (97 KPH) at altitudes around 15 feet (5 meters).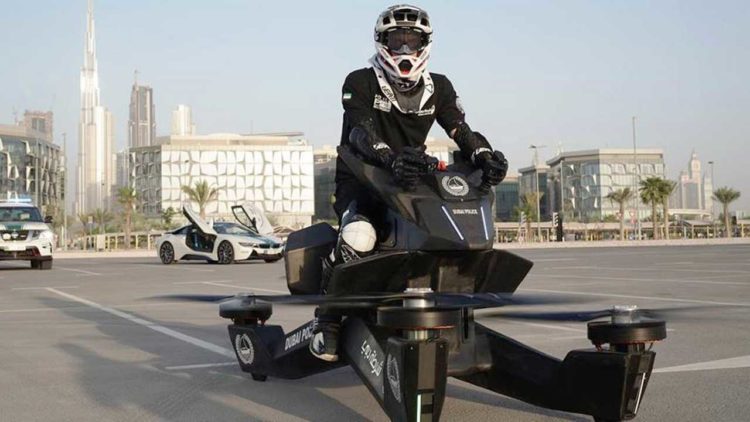 Weighing in at about 250 pounds (114 KG), the Hoverbike S3 has a flight time of 10-25 minutes with a rider. In drone mode, the "bike" has a flight time of up to 40 minutes. It's LiNiMnCoO2 (lithium manganese nickel) batteries currently take 2.5 hours to fully charge. They do not have to be removed from the bike for charging.
The Hoverbike S3 is manufactured in California by a company called Hoversurf. Clearly, the Hoverbike S3 is a complex machine. Hoversurf's website has the following to say about the Hoverbike's systems:
Hoversurf's new flight computer consists of 3 separate blocks connected by CAN bus with its own processor in each unit, an external information display, a tuning system, and an updated firmware V.1085 which is designed specifically for a hoverbike S3.  Auto-take-off (AT), auto-landing (AL), Alt Hold, Manual, and RC control are also  available.

Anatomical arm-adjustable joysticks with covers made of genuine leather, dashboard convenient for glove use, laser all-weather LiDAR. The S3 model also includes, the triple security system: electronic (emergency landing, sound and visual warning system, anti-interference screening), mechanical (kill switch) and passive (embedded deformation zones, power fences, and protective elements for the pilot from carbon with reinforcement).
In the USA, no pilots license is necessary as the Hoverbike S3 is classified as an ultralight aircraft under FAA Part 103.  So if you decide you need one now, it is available to the public as well.  All you need to do is pony up $150,000.