As adventure riders, we all have the same ideals, to get out in the wild and enjoy being away from the humdrum of a busy life and enjoy a few sites and nature…and sleep under the stars.
Whether your camping choice is throwing a pad on the ground and having no cover, or a tent or a hammock there are only two of these three things that can be done anywhere, right? Hammocks cannot be used everywhere!
Wrong!
An image popped up on my Instagram feed that made me stop and do a little research to pass along what I had seen that some of you might not be aware of.
When I'm in the US I hang my hat in the desert southwest, so hammock camping is nearly impossible due to the lack of trees…but not any longer.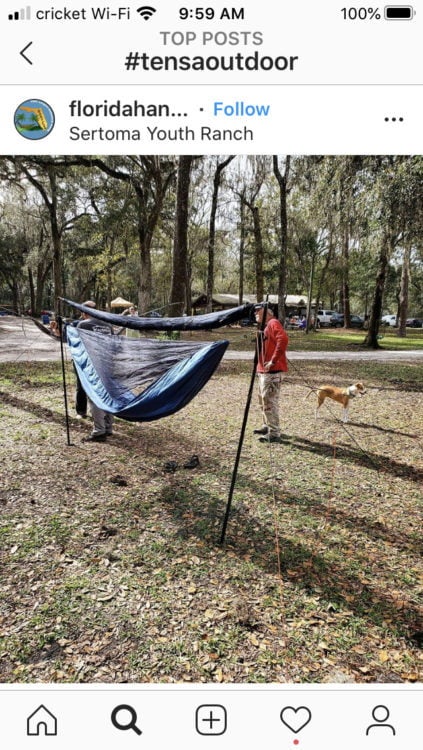 This image makes this 'stand' look very unstable with misaligned posts, but there's a hammock hanging there, so I did a little research and used the #tensaoutdoor that was in this guys description and it leads me to a website called not surprisingly www.tensaoutdoor.com
…and this image from their site
This setup, above, is described as
Tensa Solo packs much smaller and lighter than Tensa4, and costs less. Unlike Tensa4, it requires strong ground anchoring, making it unsuitable indoors, and a little less reliable because not all soils work well with all anchors.
and it's $90
They've covered all the questions on their site but I'll add them here, so the questioners/ doubters have all the information.
packing to 20.5″x1.5″ (52cm/3.8cm). Pole capacity is 350lbs/160kg; in practice, the hold of the ground anchors is more important than pole strength in determining the weight limit. We suggest 250lbs/110kg for more peace of mind.
The Tensa4 they mention is this setup, and more expensive, not surprisingly
and they have a video on the set up of this
So if you're interested do your due diligence, this isn't a sponsored post, I have never even seen one of these in the wild, just thought i'd pass along some information that might be something a few of you might like, those who want to use a hammock but ride in areas where trees or the use of tress is not a possibility, now have more options.