The Dakar rally 2019 is approaching, and according to organizers, this year's race is going to be the sandiest and the most brutal of them all. 324 competitors, 5,000km of which 70% will be sand, and a loop through some of the most hostile terrain in Peru: Dakar Rally 2019 will be epic.
Want to see it with your own eyes? If you can't afford a guided chase tour or a spot with one of the support teams, but you'd sell your soul to see the race, your best bet is to chase the Dakar on your own motorcycle (or just rent one locally!).
Peter Domhill, a veteran adventure rider from the UK, has chased the Dakar in 2015. According to Peter, it was an incredible experience: seeing the race up close, hanging out with other die-hard Dakar fans, talking to legends like Toby Price, camping under the stars and getting a thumbs up from the passing motorcycle competitors was worth it all.
Here's how he did it.
"The race came up from Buenos Aires towards Bolivia and Chile, and I just followed it around some parts of Northern Argentina. There were several 'Special' stages and liaison routes, which were non-timed and linked to the Specials and/or the bivouacs. You don't actually follow the GPS waypoints of the route: instead, you generally follow the race from specific viewpoints, usually close to the road or track or access points that you may or may not be able to get to by bike", – Peter said.
Network
According to him, one of the issues was that while you have a general idea of where each of the stages is going to be, you don't have the actual details of the route until twenty-four hours before.
"So it pays to get friendly with someone in a team, or someone connected directly like the press or support. Usually, if you hang out at one of the bivouacs, you may pick up some info. A Polish guy I met got chatting to one of the Polish competitors and they let him have a pass into the bivouac -very cool!", – Peter explained.
Navigation
Depending on the year and on the route and county, the Dakar route may be in a loop in some points, or double back on itself. "If that happens, you can base yourself somewhere and go out to the special stages each day. But sometimes the distances will be so large that to get to the viewing points and get organized is very difficult. Then again, once you start chasing the Dakar, there's like a hole troupe of people who are following the race, so it's easier. I met some great overlanders that way, and kept bumping into them on the North Argentina sections!".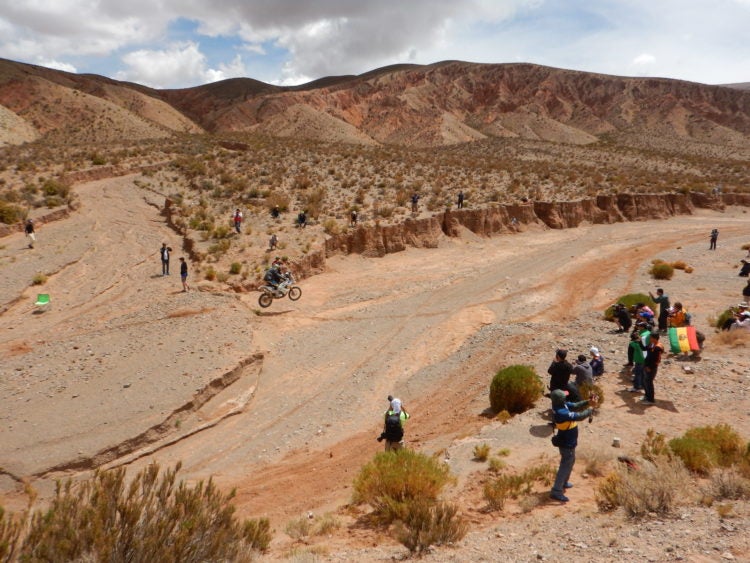 Say Hello to Toby Price and Laia Sanz
Long, hard and hot days, clouds of dust, uncertainty and exhaustion – chasing the Dakar isn't the same as racing, but it's no easy task. So why do it?
"I love bikes and that was the main draw… but the trucks are freaking awesome, too!! Frankly, just watching the racers come and go from the bivouacs and hoping to get a 'free' pass in was the dream. In some sections, before they start the specials you can get up close to the vehicles and drivers and actually talk to them. When they find out you have been making the effort to see them on your bike, they like that. I even spoke with Toby Price and Laia Sanz! And on the way back, from Tucuman to Salta, on the kissing stretch I got ahead of them all going back to the Salta bivouac and had them all passing me and giving me the thumbs up! Must have been all my international stickers – I even got a big wave from legend Carlos Sainz!', – Peter said.
"Seeing the action close up – virtually sucking in their exhaust smoke as they're ripping it up through sand or through water crossings is a huge adrenaline fix. You'll find the best viewpoints by speaking with people and getting your info lined up, because usually getting to these places is a VERY early start!!
When you are actually there, immersed in it all, there will be others you'll meet to hook up with. Most of the Dakar followers are mental about the race, and madly passionate about motorsport. They set up day camp, and sleep in the dunes. I've been invited to join locals and enjoy a beer and empanadas with them…you will not be alone!".
Want to follow Peter, or ask him some questions about the Dakar? Connect via Instagram!
Images: Peter Domhill