Over the years, I have dragged friends on all sorts of crazy moto adventures from riding crappy Chinese bikes in Peru to hard enduro training events, full-blown big bike motorcycle tours, and rally races. Recently, I've also moonlighted as a motorcycle tour guide in Ecuador and Colombia; so if you want to organize a motorcycle tour for your friends or riding buddies, here's what you'll need to think about. Even if you're not planning to do this professionally (although if that's your dream, by all means, go for it!), you'll need to keep a few things in mind:
Taking Responsibility
If you're the one organizing the motorcycle tour (or an event, a race, or simply just a ride-out), people will look to you for pretty much everything while on the road. And that's OK – after all, you were the one who convinced them to drop everything and ride with you. This means that their needs and fun will have to come before yours, and you'll need to take responsibility for the routes, the stays, the off-bike activities, and likely, all the mechanical or other issues that may arise while on the trip. Road closure? Dead battery? No hot water at the hotel? It'll be on you to fix that, so be prepared for it. Even if you're putting the ride together for your best friends, you're still the one responsible, and it's best to accept it early on. It's extra work and extra stress, for sure, but the joy of sharing the adventure more than makes up for it.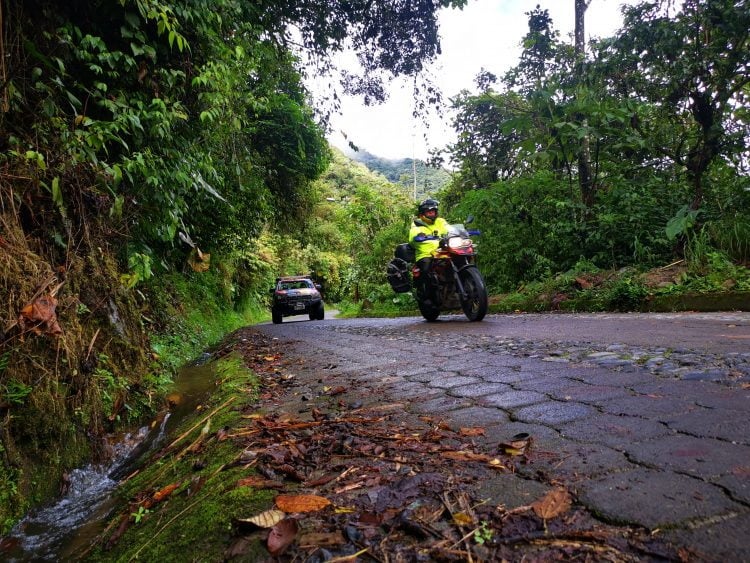 Planning and Prepping
Depending of what kind of a motorcycle tour or event you're organizing, you'll need to prep as much and as best as you can. On the one hand, you can go Ed March-style and promise people pure chaos, high probablity of breakdowns and flights into ditches, unpredictable weather and shoestring budget; or you can enlist the help of a larger bike rental or tours agency and make it an all-inclusive big bike tour with high-end hotels and tons of pre-organized activities off the bike.
Whichever way you go, you'll need planned out routes, pre-booked accommodation (unless you're wild camping, in which case you'll need to know whether it's permitted/legal in the areas you'll be traveling through), and a good knowledge of the countries or regions you'll be exploring. In addition, I'd strongly suggest having a GPS backup, a good selection of tools and spares, and some local contacts – mechanics, emergency services, and local fixers if you're going to cross several sketchy borders. Finally, make sure all your riders have good travel insurance, all the right paperwork, and decent riding gear with them.
Problem Shooting
Even during the best-organized motorcycle tour, there will be all sorts of unexpected glitches. Flat tires, bad weather, unstable political situations in some countries, possibility of landslides or floods in others, hotel reservation mix ups, clashing personalities, varying riding capabilities – all of these issues can crop up during the trip, and you need to be prepared to deal with them on the spot. Organizing a motorcycle tour isn't just about the riding and the traveling – you'll also need good people skills and talents in diplomacy, psychology, mechanics, languages, and culture. No matter how well you've planned everything out and how great your riding buddies are, there will be unexpected situations on the way, and it'll be up to you to sink or swim.
Realistic Expectations
Even if you and your friends are hard enduro maniacs, a motorcycle tour isn't just a day's ride or a weekend-long bike abuse out on the trails. It's a ten, twelve, fourteen-day expedition, so keep in mind that fatigue will set in sooner or later. Typically, putting the hardest sections in the beginning of the tour is a good idea as people will start to tire after 5-6 days of riding. Plan a couple of rest days, too, because fatigue often leads to mistakes and accidents. Finally, do plan some off-bike activities, because adventure motorcycling is about travel and discovery as much as it is about the riding.
Finally, keep in mind that people's expectations and riding abilities will vary to one degree or another. Have empathy and don't plan nine-hour riding days for the whole length of the tour; sure, it's important to give people challenges and get them to push their own edge and improve their riding. But if you know that your riders aren't very fit, highly skilled, or extremely experienced, don't make them suffer on an endless single track with several deep river crossings and a sandy section for dessert. All that's going to happen is you'll end up riding in the dark or destroy people's confidence for good. Unless, of course, you're taking your friends rally racing or hard enduro training, in which case, by all means, do make them suffer as much as they want.
All in all, organizing a motorcycle tour is about keeping it interesting but doable, challenging but achievable, and as fun as possible. If you're ready to take on the responsibility, do the planning, help your riders every step of the way, and make sure everyone's having a ridiculous amount of fun, you're all set!