You're about to complete a long overland journey on your bike when you suddenly realize you're not ready to go home just yet – but your finances are depleted, and it seems like there's no other way?
There is. I'm not independently wealthy, I haven't won a lottery and I come from a country where a national minimum wage is 400 euros ($460) a month. Despite all of this, I'm riding around the world with no return date – and no, I don't sleep in ditches or eat pot noodles all the time.
So how to travel the world indefinitely? All you need is a little creativity, patience, and grit!
Get Rid of Debt
Before you go, get rid of all debt. Easier said than done, that's for sure – but if a young woman with student debt and on a teacher's salary can be debt-free, own a house, and travel the world, surely so can you!
It's hard to resist temptation to shop and amass new things in a credit card culture, but just think about what you're sacrificing for all your new stuff: freedom to ride the world. The world!
Mr Money Mustache is a great resource for those who are looking to start living more frugally and get rid of debt and unnecessary spending. Another great website is The Minimalists if you're looking for some inspiration to de-clutter and begin buying happiness instead of things!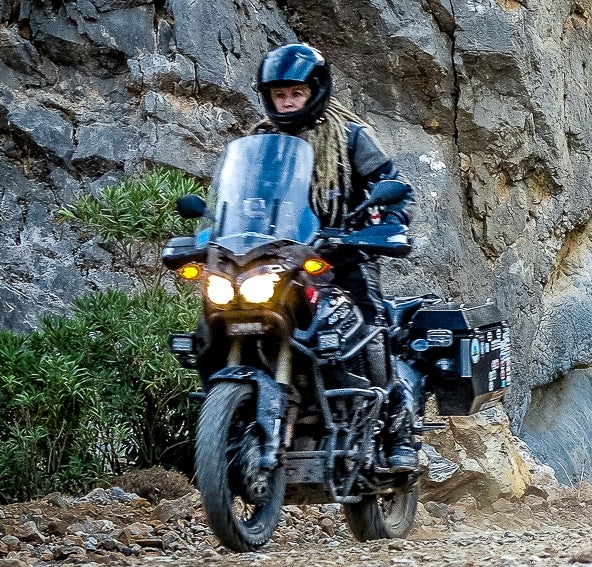 Set Your Priorities
To ride a motorcycle around the world can be very costly – but it can also be done, very comfortably, on $20,00 a year including everything: food, fuel, accommodation, bike shipping, and insurance. How much do you spend on your rent, car, groceries and entertainment at home, as a comparison?
Setting your priorities is extremely important to determine how much money you'll need on the road. The way you travel, your level of comfort, your speed, bike choice, route – take all of that into consideration and see whether you can compromise some things to prolong the journey. Spend less on hotels, restaurant meals and new gear, afford more months on the road. Or, travel more comfortably, but for a shorter period of time. Neither way is wrong – you just need to decide what's more important for you.
Work on the Road
The easiest way to boost your bank account is to make some money as you go along.
Get a TEFL certificate before you go – this will enable you to teach English abroad.
You can also teach yoga, diving, self-defense, martial arts, programming, web design, architecture…literally anything while you travel!
See if you can get a work visa in the countries you visit and look for a job in your own field
Work remotely (online) by either creating your own business online, or looking for freelance jobs on websites like Fivver and Upwork
If you can't or don't need to commit to longer jobs or contracts as you travel, consider something even simpler: volunteering for room and board to save costs, or try barter. Can you take amazing photos? See if hotel owners might be willing to offer you free stay for some high-quality images. Have great people skills? Offer to help at the reception. Crave for a nice restaurant meal? See if they need an editor for their English menus!
Creating income while you travel isn't the easiest thing to do, but if you're not ready to go home just yet, it might be a great option to continue your travels! Besides, working locally is the best cultural immersion there is – so that's a double bonus.
Create A Passive Income
Having a steady source of income that you don't need to work for is a great way to finance your travels. Of course, passive income doesn't just happen – you need to put a lot of effort and energy into it, but at the end of the day, it's worth it because you don't need to worry about working anymore. Or at least, working a lot – even if you can't replace your regular income with the passive one, it can be a great additional resource.
Creating passive income will depend greatly on your specific skills and talents. If you're good with real estate, consider renting your apartment or house out; if you understand the stock market, see if you can invest in a way that will generate steady income. If you're a creative, write an e-book or design an online course – it's a lot of work in the beginning, but once your e-product is completed, it can be sold via Amazon or Teachable for years to come. If you're good at sales, consider affiliate marketing or set up a website to sell products online.
This Business Insider article offers even more passive income ideas. And if you're still not convinced, check out the For Hour Work Week and get inspired to make a change now!