While everybody was looking to the main brands such as KTM, Honda, BMW, etc to provide the thrills in terms of motorcycle news, Husqvarna shocked the whole crowd with one single move: the Norden 901. This bike is easily the biggest adventure riding news from this year's show. Some details recall old "friends", for example, the presence the KTM 790 adventure style fuel tank and the KTM 990 front fairing shape, but it's vibe and general outlook, are completely fresh.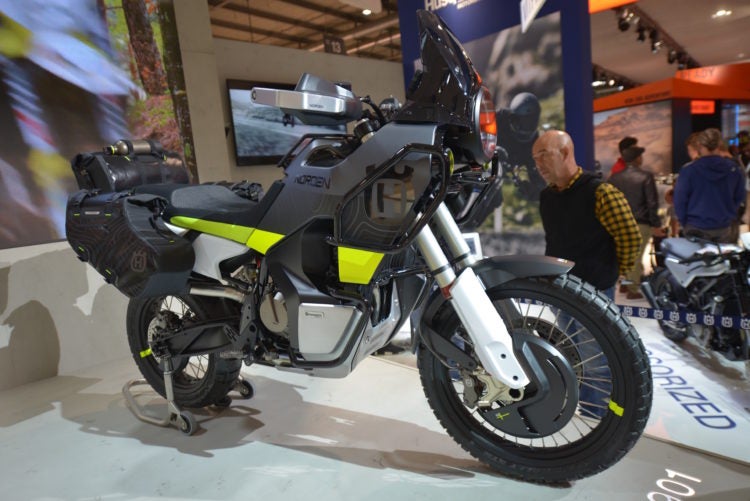 The radical change, was undoubtedly the single round headlight, unprecedented for this style of bikes; Husqvarna managed to make an "old look" for motorcycles in general, feel new and fresh, mostly with the use of LED technology and the addition of two extra anti-fog lights in yellow, on the side.
The 901 Norden, has been declared to be still a concept bike but, this outing of the austrian brand, makes it pretty official about what they are planning to achieve. The engine is 889.5cc with unknown hp, for now; weight is uncertain as well, but supposedly similar to its step sister 790 adventure (roughly 190 kg dry).
Little we know overall about this bike specs except from what we can see with our naked eye: 21″ spoked front rim and 18″ at the back, large TFT screen (which seems to be paired with a top smartphone mount with GPS features), Cruise Control, WP adjustable suspensions, proprietary single exhaust, steering dumper, NO hydraulic clutch and proprietary aluminum handguards.
The captivating aspect about this bike is that, it is almost too perfect to be true.  Being a KTM fan, I know that Husqvarna delivers a similar type of engine in its motorcycles (Husqvarna Motorcycles GmbH is part of the KTM Group), so I know what to expect already; the fact that Husqvarna never really had a bike like this in its spectrum, brought a fresh new vibe to the brand and definitely captured the attention of many adventure lovers.
Will this be the ultimate adventure bike machine in 2020? I'm sure that the first test drives for this bikes will be the most awaited for next year.