A ride that started just over a decade ago, and one I have heard mentioned so many times I have lost count in my 7 1/2 years on the road, is by DR.Rock and La Donna Fugata
The Mobius Trip is a legendary ride that many have probably thought of but not many followed through with. The premise is simple. DR. Rock explains it like this: keep our main bikes in NYC, and buy two DRZ400's. Whenever we can coordinate a 2 week vacation, ride the DRZ's from wherever we left off, to the next destination. Cover as much remote, isolated dirt, forest service, logging roads, and jeep trails as possible. Camp and cook on our own mostly, hotel when we must. Ditch the bikes in a storage unit somewhere, fly home. REPEAT!
David tells us the story of his and Francine's decade-long and still running ride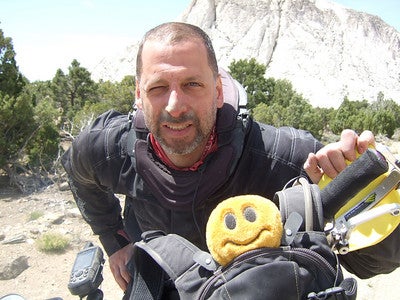 Tell us about the name DR. Rock, and how it came about?
My ADV handle comes from two double meanings. My first proper dual sport bike was a DR650, hence the DR, and my first proper dual sport ride on it was in northern NJ on a bunch of rocky trails. Also, I actually am a physician, so DR, and my last name starts with "Rocc" so Rock has always been a nickname.
Are you riding anywhere right now or planning to go next?
LDF and I are still riding. Despite her crash in Mobius episode 11, we've continued the more or less twice per year 2-week trips. Though since then I haven't really kept up the ride report after all the video links got trashed, and also it seemed to be getting redundant (re-doing the TAT to bring our big bikes from NYC west), but anyway we now have all 4 of our bikes at 3-Step Hideaway in UT and that is our base of operations doing loops out of there.
What is your current bike?
Upgraded to a WR250R to match LDF. Mine, Dave Hills (McDope) had tricked out in Denver before putting it up for adoption. It was super clean, but I've fixed that. Honeybee, my DRZ, went to a good home after the stator died on M17. I even had a spare. Swapped it out in the middle of the night at a campground, and wouldn't you know it, it was defective. Grrr.
Do you have a dream bike that isn't your current bike – if you had an unlimited budget?
I still have the Terra Mostro, the dirt-capable Ducati monster… that's still the bomb for me.
Obviously, the USA is your favorite country to ride, have you ridden anywhere else?
We did a 2-week ride in Vietnam on rented 250's, and that was just nuts. Fun, but nuts. I still think the western US has some of the most varied terrain, spectacular scenery, and remote areas that we can realistically ride on our 2-week trips. Until we've fully plumbed what we've got here, I'm less inclined to rent bikes in foreign lands or travel with ours there, especially having to deal with the import/export hassles. I haven't been able to figure out how to leave bikes in storage abroad for an extended period.
Is there one particular road or track that stands out above all the rest?
Poison springs from UT95 to the Flint Trail. I could ride that every day. Most under-rated: Dunn Ridge in Montana.
A dream location to ride to that you have yet to visit?
The Himalayas.
Scariest moment on your travels?
LDF's crash at the start of the Old Mojave Road. She was out of work for 2 months from a TBI, but all better now.
Most memorable day?
I think for me it'd have to be the first time we rode above tree line in the Rockies, early on when we did the TAT… there's something about seeing things in ride reports, finally getting to ride them yourself, and finding out that it's WAY better in real life.
Do you think more people should travel and why?
Definitely, I have two whys and they result in different trips. The first reason is to explore the world and experience different cultures, like our Vietnam trip… That was the primary objective, that it was on motorbikes was completely secondary. The second "why" is to challenge yourself, have an adventure, reflect on your life, and gain perspective on your day to day… that's been Mobius… challenging trails, backcountry camping, not always comfortable.
Top 3 tips for a new rider?
Learn the difference between a "drop" (bike gets horizontal not moving, everybody laughs), a "get-off" (bike gets horizontal while moving, but on your terms, you laugh about it later), and a "crash" (out of control bike and rider get horizontal on the bike's terms, nobody laughs about it ever).
Don't ever crash ever.
Slow down, and enjoy the scenery.
When you aren't riding what do you do for a job?
We're both in health care.
What does the word 'adventure' mean to you?
Being challenged in some way, and more often than not, in a way you didn't anticipate. We can plan trips that increase the probability that we'll have an adventure, but the actual adventure part of the trip rarely (never?) is what we planned.
What is your one favorite photo ever from all your travels?
Mine:
LDF's:
Ten years ago it was day one, do you have any vivid memories as you left NYC behind?
That's been the beauty of the Mobius Trip, which is we have been able to do a long overland trip in sections, leaving the bikes and gear in storage and flying back and forth from NYC to continue our travels.  Neither of us would be able to take months at a time off to do it right, so this was the best we could do, and it's been fantastic. A big reason I wrote it up is that I wanted to show that it could be done.
What is happening right now for the Mobius Trip?
Well…. The adventures continue, but it was time to retire the ride report.  We're still out there riding.
The DRZ400 was the bike of choice in 2008, if you were looking for bikes now, would you pick the same or has something new peaked your interest?
In 2008 when we started, the DRZ was a tried and true platform, and the Yamaha WR250R had just come out. I'm old school, but fully endorse fuel injection. I draw the line at traction control, anti-lock brakes, and continuous variable transmissions, for the record. Criteria for an adventure bike for me are: parts readily available, non-fussy maintenance intervals, field serviceable, can be picked up fully loaded even when tired.
Your route page with all the gpx tracks is a great resource, which if you had to pick one would you love to ride again?
Ahh… Actually, our last ride, southern UT and northern AZ greatest hits… Anyone wants the route/tracks, they can hit me up directly.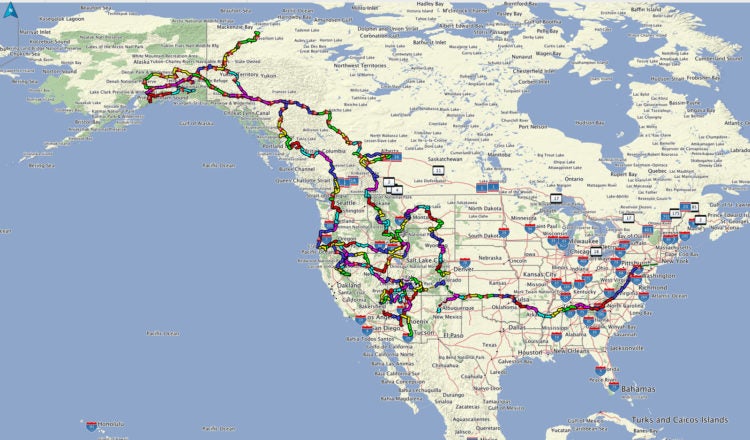 Any advice for people that want to do their own Mobius trip and what you learned about leaving the bikes to make life easier on your return?
It's easier than you imagine… plan well, but then don't be afraid to call an audible. Some of our best memories are when we rode with, stayed with, and hung out with other ADV'ers… What a fantastic community we have. Tent space is an awesome resource. Regarding bike storage, the cold killed a battery in Alaska, and the dry cracked some carburetor gaskets in Albuquerque, so know your bike, and carry spare parts that are likely to fail… a stator for the DRZ's, a fuel pump for the WR.