I first met Mark aka Radioman back in 2011 at a motorcycle event in North Carolina. I had just ridden from Ushuaia to Prudhoe Bay to Newfoundland and now was setting up my tent at the event when he came across to speak with me.
On that first meeting, Mark came across as the consummate gentleman, and as time went on, I watched and read his RTW travels here on ADVrider. To me he has always seemed like the 'gentleman traveler' and a great ambassador to adventure motorcycle riders everywhere.
Mark has been very open about his life in his various ride reports. I won't go into details in this interview. I think its best you sit down with your favorite beverage and do a little reading to see into the life of this amazing (radio) man
His question to me that day was about packing: what he needed and what he didn't. He felt as I have been on the road for a long time I had what I needed and nothing more. As I unpacked my panniers for him, he diligently took notes. He later told me he went home before setting off and it helped him reevaluate what he needed for his travels. We have been friends ever since.
How did you come up with your inmate name "Radioman"?
I had a leather jacket back in early 2000's, and I wanted to have my iPod remote on the sleeve so I could adjust volume while riding it was wired (pre – Bluetooth). I took jack to seamstress and she put wires inside lining, and she thought it was funny I wanted to listen to music, so she called me "radioman." Just happened that I was signing up for advrider.com that night and needed a screen name. Was still chuckling as her calling me radioman, and now it has stuck. Have been recognized and called by my screen name in 4 continents!
Are you riding anywhere right now or planning to go next?
I am back to work in my full-time career, but I still ride for fun each month. Dreaming about a possible future trip but will have to see how the next few years work out. I will make sure to keep adventuring and hope another motorcycle trip is in my near future!
What is your current bike?
Still riding 2006 R1150 GSA with 112K miles, and my 2011 F800GS with 80K Miles.
Do you have a dream bike that isn't your current bike – if you had an unlimited budget? 
I would probably buy new GS.
Where is your favorite country to ride and why, and which other two round out your top three?
I loved riding in Colombia on my RTW ride. The people are super friendly, great and varied riding terrain. I would say I loved Northern India and Namibia would make the top 3.
Is there one particular road or track that stands out above all the rest?
Riding the road from Manali to Leh in northern India, the Carretera Austral, Chile or roads in Bolivia not just the Death road.
A dream location to ride to that you have yet to visit? 
Still would like to ride in SE Asia, so that would be the dream ride.
Scariest moment on your travels? 
Probably the scariest day was being sick in Quito Ecuador, but fellow travelers took me to Hospital and got the super high fever under control. Not sure I could have done that on my own. The best part of travel is the help of "strangers" or fellow travelers.
Most memorable day? 
Riding in Northern India to the top of Khardung la, which is the highest motorable road in the world, and then bike breaking down on way back to Manali.
Do you think more people should travel and why?
Travel makes your perspectives richer as you see how fellow humans live, their varied cultures, food, and lifestyles. It's an amazing way to see the world and to connect to so many people, and some amazing lifetime friendships with that you can gain.
Top 3 tips for a new rider? 
Get rider training so you gain confidence in your abilities in varied terrain, and ride within your own limits,
Ride with good gear,
Enjoy every moment on your motorcycle no matter what your ride is.
When you aren't riding what do you do for a job or used to do for a job? 
I have spent a 30-year career in the printing industry, currently in the printing of corrugated boxes. What I love is the challenges in communication between all the various parties that buy, market, and bring products to market.
What does the word 'adventure' mean to you? 
Adventure is really about the mindset to explore and be curious about the world around us. Motorcycle adventure means willing to go and ride in places that you never thought you would or could!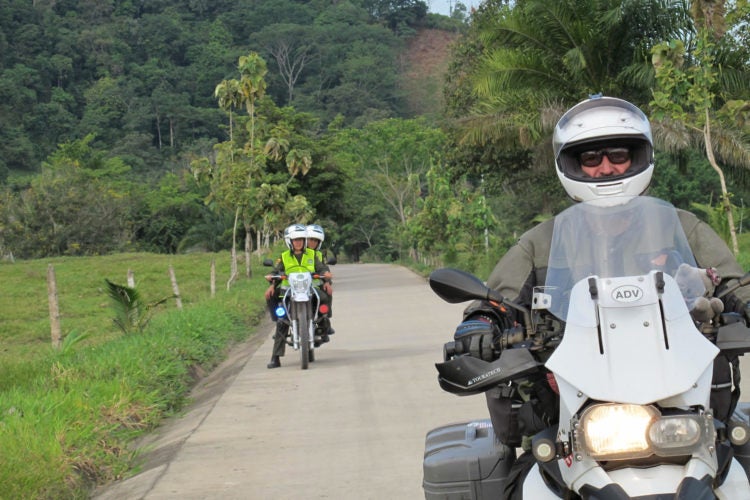 What is your one favorite photo ever from all your travels? 
I took over 70K in two years on the road, but one that fellow Traveler, "young James" took in the Tatacoa Desert of Colombia.
Any countries you regret going to? 
Nope
A new lady in your life and marriage since you finished your RTW, would the next trip be two bikes or two up or four wheels? 
My wife rides her own Ducati, but planning on taking some off-road riding courses to see if she might like that as well. We will have to see how life develops to know what way we will travel.
Are you still involved in speaking engagements? Can you tell us a little about that? 
Upon returning from my RTW travels I did 12-14 presentations in front of 25-4,000 people. It was a great way to share my riding and life experiences.
You're a BMW guy. Do you like the new bikes and styles or still prefer what they used to do?
I have had owned many different bikes from different manufacturers over the years. The designs in the adventure category have all been getting closer together from many manufacturers. For me, as a rider, it is deciding which make and model fits your riding style and uses best. Sometimes a bigger bike is great, others you want a smaller bike. There are trade-offs as you figure out what you like best!
If you could tell BMW anything from a design point as an accomplished RTW rider, what would that be? 
Keeping designs simple to service and repair is key to a motorbike that is headed off the beaten pathways. BMW has a great network of dealers worldwide and that was one big appeal for heading off in the world!
Where did Radioman Jump come from?
I was on a motorcycle ride back in 2007 with a buddy. We were riding through the western part of the US, with some amazing scenery. Got tired of just a photo of us and our bikes in front of some national park, especially as we were enjoying the amazing sights. So we started finding cool places to do the Radioman Jump. As I shared on Social Media…friends started asking if I did a jump. I have them in 30 countries around the world now! Even made myself a coffee table book with jump images! Been a fun way to show the amazing sights in the world!
For more interviews and a small look into the life of some inmates make sure you check out the Interview Series in the forum that has been running since 2007 – you can find it here