I was riding with Thomas B. and his wife Sandra last year in Mexico and do they have amazing stories from decades of riding.
English is not their first language so Thomas certainly makes up for the minimal wording of his ride reports with spectacular photos from areas of the planet that only a select few have seen.
The ride reports –
Current ride report running right now
Past RR's
You were adventure riding before it was a popular thing to do, where did your first adventure take you and on what bike?
My first adventure ride took me into the Sahara back in 1987. I was riding a modified BMW R80G/S, a bike I still own today. It was a life-changing trip. I had done road trips to several parts of Europe before, but this was different. It was challenging in many ways and that was what I liked.
We didn´t know much about the places we wanted to go and the tracks that should take us there. There was no GPS at that time. All we had was a compass, a very general Michelin Sahara map, a couple of French IGN 1:200000 from the 1960s, and some track descriptions from a German.
There wasn´t much information in those days, but we were young and just went for it. The riding was fantastic and different from anything we had done before. We had much too much stuff with us and riding sand with all that weight was the biggest challenge.
I learned a lot during that ride and changed many things before I went into the Sahara again the next year. On that trip I fell in love with the desert. The freedom of riding and camping wherever you want was just amazing. Living off the bike with only the bare necessities opened my eyes to what is really important in life.
What did you learn from that first adventure?
I don´t need luxury to be happy – freedom is much more important.
Where are you right now, and where have you been in the last few years on the road?
At the moment Sandra and I are in Argentina and arrived in Ushuaia on the 10. January. We left our home in Switzerland in April 2016 and have been on the road ever since.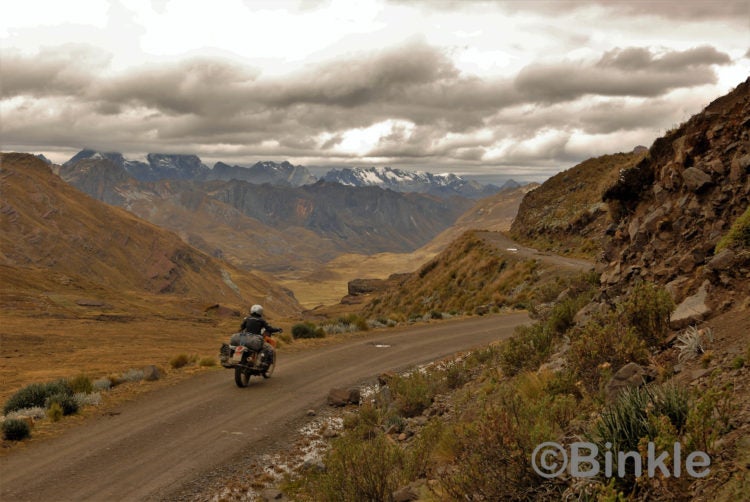 First going east through the Stans (Kasachstan, Uzbekistan, Tajikistan, Kyrgyzstan), Mongolia, and Russia all the way to Magadan in far eastern Siberia. We then shipped the bikes to Vancouver BC and visited South Korea and Japan with rental cars during the shipping. After spending winter and spring touring in the USA we went up to Alaska and when we ran out of road we turned around and have been going south ever since. Now we ran out of road heading south and are turning around again.
You rode the BAM and Road of Bones, any lessons learned you could share with others thinking of doing the same?
The Road of Bones is a good road when the weather is dry and actually I would say it's an easy ride.
If it rains most of it is good riding too (the Russians do know how to make good all-weather gravel roads), but there are some places where it gets really nasty.
The earthen road surface gets slippery like ice and the mud can get very deep. I went down 4 or 5 times when the surface suddenly changed to bad after being good for many miles.
We saw the Russians improving some of these places so they might disappear in the future.
The BAM is a whole different ball game. If going is hard or very hard depends on the weather. There is a lot of water to go through and if it rained rivers can be impassable. The old bridges are rotting more and more and will get too dangerous to cross in the future.
And the Vitim bridge lost a pillar last year. I know of two Germans and two Swiss that went over it after that happened so it is still doable. If that bridge collapses the Bam is not ridable anymore I think.
The railway bridge that runs parallel is guarded and I don´t think that they will let bikes cross and the river is too big for any vehicle. If you want to do it do it soon. Take a light bike (it makes things easier) and don´t go alone. If you get into trouble you will wait a long time for help if you are alone.
What is your current bike?
Sandra and I are on the same bikes – old KTM 640 LC4 from 2000 and 2001.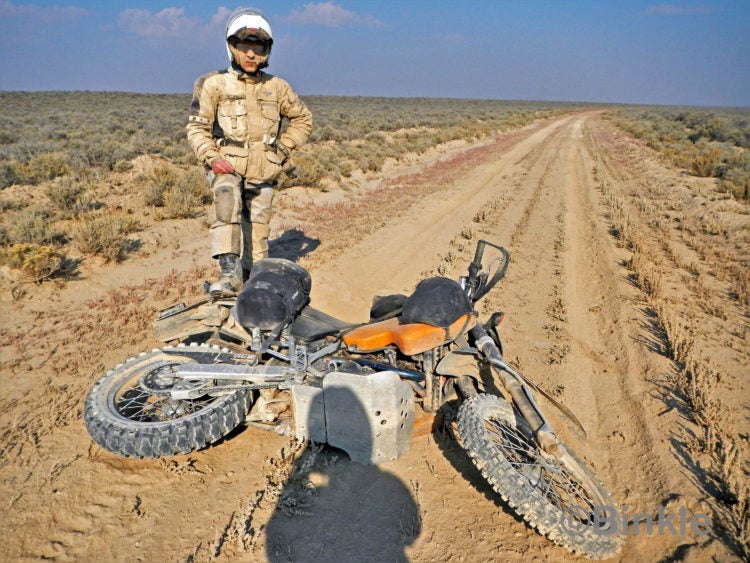 Do you have a dream bike that isn't your current bike – if you had an unlimited budget?
I am a guy that gets very attached to his bikes the longer he has them and the more places it has taken me, and for me, the KTMs we are going RTW with are pretty close to what I want.
I modified them to fit our needs and we have taken them to the remotest places. I still have my old BMW that is pretty much like the BMWs that won the Dakar in the 80s it is highly modified as well.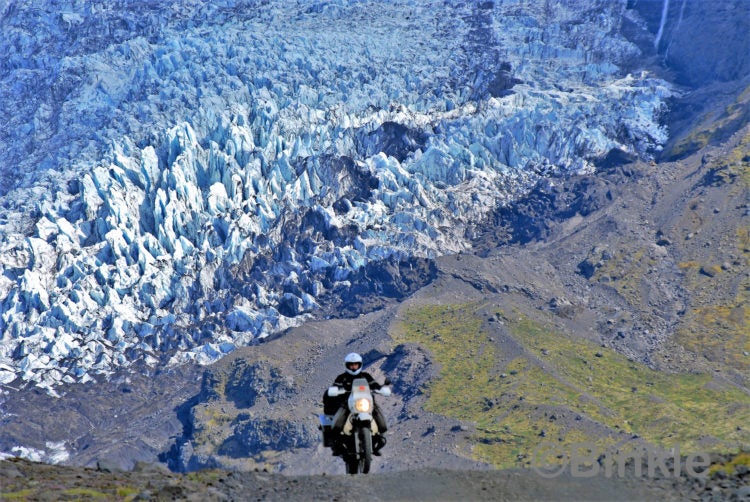 I love both bikes and they are sort of my dream bikes and I would never sell them. They are getting old, but still, have some life in them to keep me going.
If I would go for a new bike and had the money to spend I would maybe look at a KTM 500 exc. After meeting Aaron (***read the interview and find out why) on engineer pass in 2017 and talking to him about his it got me thinking. I have never ridden one, but it could be interesting.
Where is your favorite country to ride and why, and which other two round out your top three?
I would have to say Algeria. It is for me the most beautiful Sahara country. I would love to visit it again, but since I don´t think the current situation in the Sahara will change during my life and I don´t like taking an organized tour, it won´t happen anymore.
Peru would get the second place. We were there last year and I loved it. We were in the mountains for almost 3 months and the scenery and riding is spectacular and never gets boring.
Third place goes to another desert country. Oman. It has so many different landscapes to offer, interesting Islamic culture, and the riding is spectacular. Definitely worth a visit.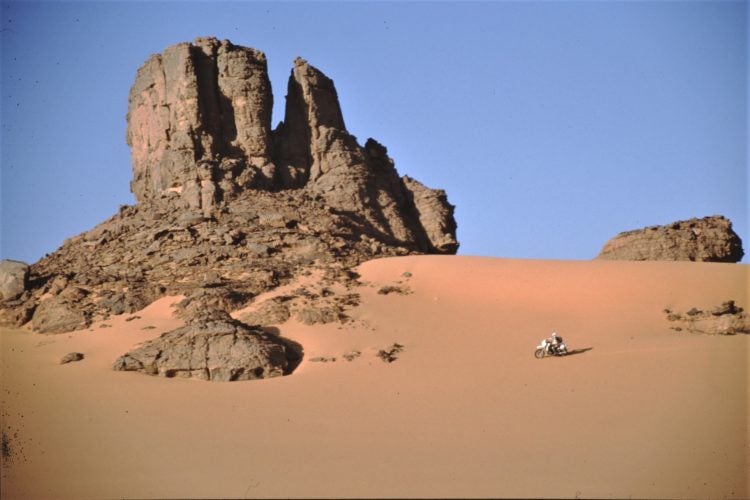 Is there one particular road or track that stands out above all the rest?
The BAM is certainly a very special road and there isn´t much like it. That is pure adventure, but I have done several special roads like the Turkana road or the Tefedest east passing in Algeria for example. They are all different, all challenging, all remote, and all memorable.
A dream location to ride to that you have yet to visit?
My dream was always Afghanistan, but that is not going to happen. I don´t think it will be safe there any time soon.
Scariest moment on your travels?
We were riding in India in a very rural area and a friend of ours that was with us hit a girl that ran over the street. Our friend went down so I stopped to help her get the bike up. Luckily the girl was not seriously hurt. By the time we were ready to roll again a lot of people had shown up. Coming from the fields they had shovels, machetes, and other tools with them. The whole situation became very aggressive and the locals wouldn´t let us leave. It became really scary. Luckily a local guy in a truck showed up and calmed the whole thing down.
Most memorable day?
Doing long travels arriving at a destination is always a memorable day like arriving in Magadan, Deadhorse, Ushuaia or Cape Town.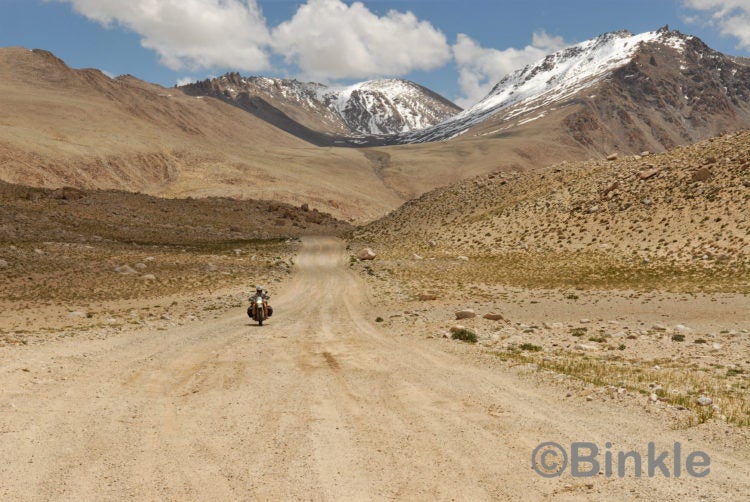 Do you think more people should travel and why?
If you want to travel (not everyone wants to do that) then you should definitely go. It lets you see other cultures and you can learn a lot if you keep your eyes open. I think if more people would travel the world might be a better place, because the tolerance towards others would increase.
Top 3 tips for a new rider?
Just take off and start exploring. Don´t overanalyze the preparations. You´ll learn everything while you travel.
Look what others do and how they travel, but then find your own way. Everyone travels differently.
You have to do it the way you like it. Be open to different cultures. Look around and be curious. The world is a great place.
When you aren't riding what did you do for a job?
I used to work as a mechanical engineer designing machines for the post-printing industry, but that part of my life is over. If I can afford it I will never go to work again and I do hope my plans work out. If not I will find something else to make some money.
What does the word 'adventure' mean to you?
The word adventure is used a lot nowadays, often for things I don´t find very adventurous. For me, it means to go to places you have not been yet, ride tracks you haven´t ridden, take risks, but do think about them and be careful. You want to get home alive.
What is your one favorite photo ever from all your travels?
That´s a tough one. I have been traveling for over 40 years, have visited 117 countries, and rode at least 500000 km on different bikes. I have always liked to take photos and have taken who knows how many. Probably hundreds of thousands. To pick the one favorite photo is almost impossible, but at the moment I have a photo on the desktop of my PC that I really like. It is a photo I took of Sandra crossing the Vitim bridge on the BAM. It is not a very good photo, but it reminds me of that road, and that was a pretty unique adventure ride.
Any countries you regret going to?
Nope. There are counties I wouldn´t visit again, because there is not so much to see or do, but every country is worth at least one visit to see how it is.
Where next?
No idea. As said above we just made it to Ushuaia and are heading north now mainly to get some warmth for Sandra and to get out of the wind. We started to talk about a new destination a couple of weeks ago, but have no plan up to now. I´m sure all of a sudden we will know.
===========================================================================
For more interviews and a small look into the life of some inmates make sure you check out the Interview Series in the forum that has been running since 2007 – you can find it here