From Estonia with Love was one of the very first ride reports I followed for its entirety after joining ADVrider. For me to personally make it come to life was to hear some of the stories first hand when I was riding through Estonia myself. I had the chance to meet up with Margus and Kariina in Tartu, their hometown. They are nothing short of inspirational in person as they are in their Ride Report
If you haven't done so yet, do yourself a big favor and see the world through their eyes. It is more stunning than you could ever imagine, and easily one of the great RTW out there.
From Estonia with love (Round the World)
Explain your inmate name?
tsiklonaut – in Estonian "Tsikkel" is a motorcycle "naut" is an insider or a street word for addicted-to. In Estonian, it's a motorcycle version of the word astronaut. Thus the word "tsiklonaut" describes the very hidden inside of me – an adventurous soul wanting to strive in one's chosen environment.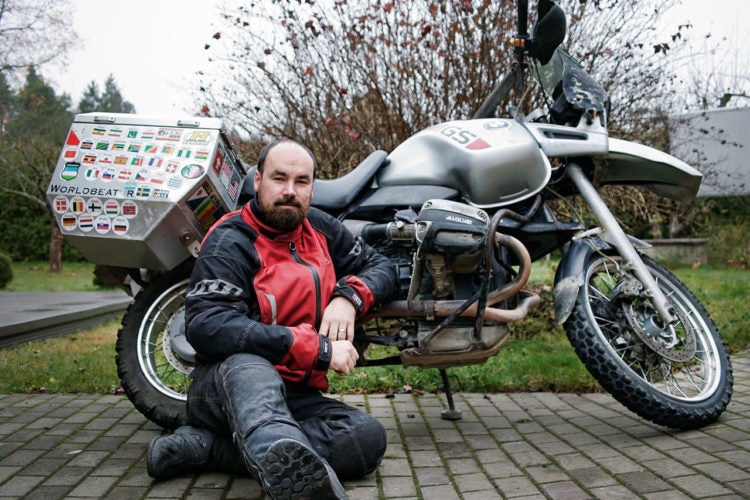 Are you riding anywhere right now or planning to go next?
After the birth of a baby boy we are on a short break till he finds his legs, then we'll probably be in a market for a proper sidecar. The definition "destination" is mostly meaningless for me. I go as I get inspired in all levels of life.
What is your current bike?
Three bikes in the family. Our main workhorse R1100GS is what I use for everything, from commuting to traveling. Wife Kariina is using a DRZ400 (all of our recent travels are on two bikes) and we have a trials bike in OSSA TR280i to hone our riding skills if we have some spare time.
Do you have a dream bike that isn't your current bike – if you had an unlimited budget?
Despite the modern trends going smaller and lighter, I like a bit heavier but a lot more torquey old school bigger displacement bikes for long distances with rough offroad patches in between. They just excel better for my riding taste. Probably a heavily modified HPN HP2 Enduro or a hand-built R900RR modeled for adventure traveling. Hey, we can all dream, can't we?!
Where is your favorite country to ride and why, and which other two round out your top three?
The first spot probably goes to Yemen. It's really an undiscovered rough pearl very few motorcyclists have been to – stunning nature of the little-known lush green mountains in Arabia with excellent adventure riding trails to the well known Arabian desert pistes on the plains, strange yet great people, too. We traveled it before the war of course and it's a massive pain for me to see what's happening there now. It's a paradise lost.
Pakistan – I have a love/hate relationship with this country. The Karakoram trails (not just the KKH) are stunning to ride, yet I don't like to ride the overcrowded hot lower plains where people tend to be intolerant. This steals the first spot. Thankfully in the high mountains, there's another (and better) Pakistan!
Bolivia – Bolivian altiplano with its otherworldly landscape and very few people to spoil it makes it to the top of my list.
Is there one particular road or track that stands out above all the rest?
Lake Turkana trail in Ethiopia/Kenya cattle track crossing. They are now paving the other side to make it really easy, but to experience the over 1000 kilometer sandy cattle track 2-up with full RTW gear alone was a thing to remember.
A dream location to ride to that you have yet to visit?
I've always been fascinated by the northern Chad (Tibesti mountains and its tribes) or the Empty Quarter in Saudi Arabia (on a paddle-tire offroad bike with a triple sized fuel tank), but those are a bit complicated locations now unless you have lots of money (which I don't). Hopefully, the future will make them more doable.
Scariest moment on your travels?
An utterly angry American cop with his hand on his weapon, loaded and safety lock-off screaming at me with every other word being "f***k", I really thought it's the last light I see on that day. I'm lucky my Estonian number plate saved me in the critical moment. Most of the third world is safer than the USA if you ask me.
Most memorable day?
On top of Gibraltar rock smoking a cigar (and I don't smoke!) given by a friend when I was in Angola and thinking back to almost a year of Africa (and also the three years around the world) challenge. Before entering Africa I really had thought I couldn't have done it for that long, but that day I remembered that thought and it was a really a magic moment gazing across the narrow gulf. You can see the African continent with your own eyes sitting in Europe. My memories overwhelmingly kicked in goosebump style. "Man, what a ride it was!"
Do you think more people should travel and why?
Naturally, people should travel more to make the World a better place since it's mostly enlightening for any person. It makes one less hateful and the level of intolerance and hate I see is what's growing in nowaday's developed societies everywhere in the world. Traveling is probably the greatest antidote to that. I'd normally stop here but every coin has two sides. There's a physical side to things. I really feel people are littering and dirtying the very same environment too much with their increasing consumerism demands (which also includes increasing traveling needs the people have these days). The solution might be in the traveling style. I always try to keep my needs low. I intentionally keep riding the same old bike that just works for me despite the "better" models coming out each year. I never ever leave any rubbish behind even the remotest places I go. I leave like I wasn't there other than my foot (or tire) tracks anywhere I camp and I rarely waste anything. I'd really want and hope other travelers would have the same mentality towards traveling so we can preserve those amazing places for those who come after us.
Top 3 tips for a new rider?
1. Don't listen to self-proclaimed specialists telling what type/model/modification bike suits you the best for travelling. Go with the bike you have and love, just learn to know it (it's strong and weak spots).
2. Keep the rubber side down.
3. Go!
When you aren't riding what do you do for a job or used to do for a job?
I work as a senior IT-specialist at a university, but really longing for new, more inspiring challenges. So if anyone has a job offer in the field of motorcycle expeditions, I'm all ears!
What does the word 'adventure' mean to you?
It used to be a great word of indescribable inner beauty, a fine tango between risk and reward. But I guess I've been around a bit too long since the word "adventure" has become somewhat overwhelmingly a hype machine, a business tool or just a cliché among the traveler's community itself these days. In the old days, you had to eat dirt, have multiple crashes, suffer illnesses while taking a ride around the Globe or at least around the continent to barely deserve that "adventure" stamp for that multi-year undertaking. Now one could easily say an "adventure" is buying a brand new BMW, KTM or Honda or any other "adventure motorcycle" and going to your local Starbucks on Sunday since you're riding an "adventure" marketed motorcycle and using "adventure" marketed gear. It's an industry now and I guess it illustrates what's wrong with the World today: more people quickly judge from the outer surface while fewer dare to take their time to discover the inside core.
I do like the word "expedition" a bit more nowadays. Its content can bring back that proper old fashioned undertaking that requires more serious sweat and big balls to be worthy of the mark, but even this word is now starting to fade into the obscurity of comfort zone of "normal consumerist people" with its commercialization. Do we need a new word?
What is your one favorite photo ever from all your travels?
A good question, I've taken too many photos and my taste of photos is constantly evolving with time and experience, so it's a moving target practice to choose a favorite photo. Today I'll name the magnificent Jebel Shams canyon in Oman. At the precipice it's a straight down 1000 meter drop.
Any countries you regret going to?
I've had loads of bad experiences, but as someone said, "traveling is glamorous only in retrospect." From the 105 countries I've been to so far: none. I'm curious if there ever will be one I'd regret going to looking at it in the retrospect.
Estonia is right next to Russia. I think a lot of people would assume you'd ride there but didn't on the RTW. Why?
Ironically Russia is just a 1.5 hour ride from us and we thought we can go there any time. We focused on far-away countries and places on our RTW that would be hard to get to if time-limited (when working and getting only holidays), yet with later (longer holiday) rides we have gradually filled the empty spots on the Globe, Russia among them, and loved it.
Your love of photography is well known. Any advice for riders who want to get perfect shots like yours?
Don't try to get it perfect. Nothing is. For me, a good photo is about a fine balance between a shadow and a highlight. Highlight gets the first attention as what's on the image, but what a lot of people don't know – then, it's the dark shadows where the human eye settles and starts looking for a mystery and to dream about "what's there?" If you think, frame, meter and shoot a photo this way, you're creating art, or "painting with light" as they say. If any of those parameters don't work, most seem to go the HDR route to compensate any of the shortcomings but I would just delete that shot. (for me the modern "pushbutton HDR-effect" photography with all the shadows pushed out seriously kills the art of photography)
Do you still own the BMW, how many Kilometers on the clock now?
Good old R1100GS yes, although it visually looks rather crap. It's over 20 years old, over 300 000 on the clock rolled through 95 countries in 6 continents, but it's working like clockwork with a fully original engine and ready for another RTW in a moments notice if required.
Tell us a little about your book and where people can buy it.
Since the publishers only offered us the classic book format, we did it our own way. Our book "From Estonia With Love" is a self-published premium quality book that works both as a coffee table photo book and as a textbook to get those long winter nights over sooner. We invested around 3 years to make the book since we really wanted to make it right, not to follow today's trends of rushing it out when everything is still fresh but have it lacking in many aspects. We write about being evacuated by the military in Pakistan, trapped in no man's land for over a week on the border between Angola and DRC, and taken and given succour in the middle of the night by Laotians when our shaft drive failed among many other things. As the Overland Magazine editor Paddy Tyson says: "This is one of those quality coffee-table publications you really should have, especially if you're trying to encourage your partner".
It's available through Amazon at this link
We haven't really promoted it much, but will definitely make a special offer to any ADVrider inmate. Just post a private message to me!
The Trans European Trail (TET) goes right thru Estonia. Have you ridden any of it?
I haven't ridden it in a single shot, but I've ridden many parts of it on my separate trips. In fact, I've probably ridden most of the Estonian offroad tracks over the many years since our country really is tiny. I can tell first hand you could do TET in many other ways through Estonia if you just let your imagination go and pick your direction according to your offroad skill level.
For more interviews and a small look into the life of some inmates, make sure you check out the Interview Series in the forum that has been running since 2007 – you can find it here