Before outlining the border crossing between Iran and Pakistan, I'd like to start by saying that Iran is one of those countries that should be on every traveler's bucket list. Check out my article on Iran here. Unfortunately, American, British, and Canadian travelers need a guide (unless they manage to find an Iranian to sponsor the visa application and accept legal responsibility during one's time in Iran) but it is still doable. I have also read blogs of people (backpacking, not on a motorcycle) that traveled the country alone without any agencies or guides, but it is always a risk.
I am writing this article to give more insight on the border crossing between Iran and Pakistan. Many people dread this part of the trip. Others skip Pakistan altogether because they are scared of this crossing, which is a pity.
Reading some travelers' experiences makes you feel like you're going to war and will never return. But even though it is a fact that the Baluchistan is unstable, the situation is not as scary as one may think it is. This is how it was for us.
DAY 1 – Leaving Iran
We left our hosts early, hoping to make it to the border by 8am. Hotel owners usually inform the police about foreigners so that they escort them to the border. However, staying with a local allows you to ride to the border alone.
We were stopped at a checkpoint outside the border at 8.15 and waited for around thirty minutes to be escorted. At the Pakistan border, as soon as we were done sorting out the paperwork, we were taken to the police station (which also serves as a prison to illegal immigrants). Officials told us that we will spend the night there and start the journey on the following day. It was around 11am, so we were still in time to start moving, but all the travelers we have met to date were kept at the police station for the first night so it seems like no matter what time you make it, you will spend your first night there.
Recap
Location: Levies' station very close to the border
Accommodation Fee: None
Tip: We were taken to get some food from a small shop at the border with limited snacks, so prepare yourself beforehand and stock up for a day and a half!
DAY 2 – Our first move
We had to be ready by 7.30am but we left an hour late. We stopped around ten times at different checkpoints, providing the same details (Name and Surname, Father's name, Country, Passport number, Visa Number and Vehicle Reg Number). Travelers that experienced this suggest preparing photocopies of passports and visas to make the stops at the checkpoints faster. However, most of the levies record travelers' details in a book, and the photocopies were useless. We arrived in Dalbandin before dark and had to sleep at the hotel we were taken to.
Recap
Location: Dalbandin
Accommodation: We got the price down to 500 rupees for a room. Food available from the hotel at around 150 to 250 rupees per plate.

DAY 3 – Quetta
We started our way to Quetta. This time, we stopped around eighteen times. Beware of the prices when you stop to get fuel.
Hotel Bloomstar
The guys at the reception were asking us for 2000 rupees per person, irrelevant of whether we'll stay together or in separate rooms. We started arguing that this price is too high and they went down to 1500 per person, which was still very expensive. Despite all the arguments, that was their final price. The staff have no clue on hospitality and Bloomstar is a terrible place to be at. The room was dirty, the shower was clogged, and were stuck there for two nights. In order to spend the least possible time at this hotel, it is advisable to leave Iran on a Monday or a Friday. Basically, one requires an NOC (No Objection Certificate) from a government office in Quetta that is closed on weekends. Therefore if you get to Quetta on Friday you automatically have to stay at Bloomstar Hotel for four nights, which would be horrendous!
Recap
Location: Quetta
Accommodation: 1500 rupees, per person, per night including breakfast.
Food: We obviously had to order from the hotel
DAY 4 – Pakistan NOC
After breakfast, we waited for the police to pick us up to go to sort out the NOC (You just need your passport for this). We left at 10.30am and spent around 3 hours there, went back to the hotel, and even though we insisted that we would like to buy some fruit and snacks (a market was just across the road), they did not let us. The more snacks you can carry for this crossing, the better.
Recap
Location: Quetta
Accommodation: 1500 rupees, per person, per night including breakfast.
DAY 5 – More Escorting
We all got ready to make a move – our next stop was Sukkur. We left Quetta around 12pm. From this point onwards, police accompanied us (instead of levies).
Recap:
Location: Sukkur
Accommodation: 1500 for a double room. Breakfast at 200 rupees. Food was available at around 400 to 500 rupees for traditional meals.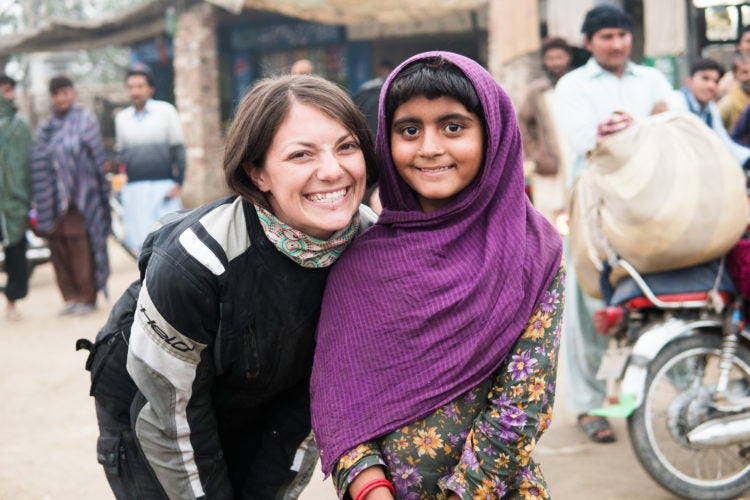 DAY 6 – Frustration
Our next destination was Multan. At this point, this whole journey got tiring and frustrating. Having to spend the night at another expensive hotel made it more frustrating. We insisted that we cannot afford this. Most of the others in the group had higher budgets, which made it harder for us to bargain.
Recap
Location: Multan
Accommodation: 3000 for a double room including breakfast. Food was available at the hotel for around 500 rupees for traditional dishes.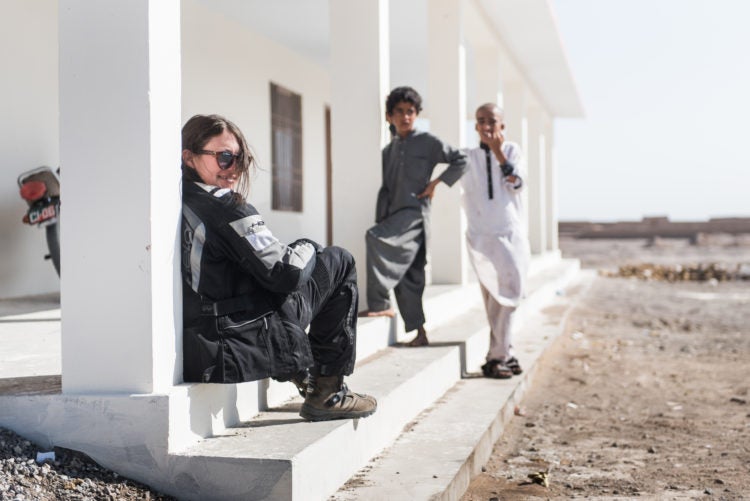 DAY 7 – The end!
We woke up to start our journey to Lahore. The Police were driving at around 50km/hour on the highway. We felt it was time to move on and we distanced ourselves from the group and continued riding to Lahore on our own. On the way, we came across various policemen and none  tried to stop us. Most travelers ride on their own as soon as they are out of the Baluchistan, but it seems that they treat every group differently. We were a big group and they might have been extra cautious not to attract attention, but you can never know!