I decided to find out for myself!
1000 miles in less than 24 hours, is what their website states 
I was in Bogota, Colombia a few weeks back and met up with inmate Bob, aka, tricepilot while he was there doing a short ride for ten days.
We spoke about me returning to the US and I told him I have a Super Tenere in Louisiana I need to go and collect on my return and ride it back to Arizona. He offered me tent space on my ride across the country.
There was no mention of doing an Iron Butt at that time, just an arrangement to meet up if it fitted in with both of our schedules.
Three weeks later I was in Louisiana, called Bob and told him I was headed west, "then stop on by, I'm here," he told me. I got his address and dropped it into google for a rough idea on distance taking the least amount of freeway from where I was in Louisiana,  358 miles…a very long day for me but backroads will be cool.
Then I added the San Antonio/ Arizona section and it was right there in front of me 1018 miles door to door.
When I arrived at Bob's house I joked about doing an Iron Butt or another option was to ride back via Mexico. He quickly squashed the Mexico idea telling me about recent fuel shortages and issues in northern Mexico.
The IB was on, and it became the least prepared, least motivated ride I think I have ever done. I was looking at 1376 miles in two days…this is NOT my kind of riding, at all.
If you follow any of my ride reports you'll understand this, if not you can see here that's around one month worth of riding for me…I'm a dirt guy.
How did I prepare: I didn't AT ALL!
Bob and I went out, around Downtown San Antonio, multiple Ubers on a Saturday night on a mini pub crawl, drank microbrews, ate Mahi, Mahi fish tacos…I'm sure that's not on the official prep list, finally got to bed after midnight after taking and devouring a box of donut holes, and then up before 6am.
Good idea a 5-hour sleep and a whole lot of blacktop in front of me!
Bob was up, he's a morning person, I AM NOT! He had prepared the official IB send-off breakfast, bacon, eggs, bagels, and orange juice, if it's not it should be!
I rode to the gas station less than a mile away and topped off, so I would have an official start time, what do you know the pump receipt maker thing was out of paper, so inside and wasted valuable seconds…but it was still dark and 06:50 and 50 seconds… I was off.
Sunday morning around northern San Antonio was a breeze, zero traffic and I was headed towards the I-10.
At 08:38 I did my first gas stop and only added 3 1/2 gallons of fuel, as I'm filling up I'm standing there yawning and a guy at the next pump looks to me, "just got off work, heading home?"
"No, I'm riding 1000 miles to Phoenix today!"
"Dude, you're funny, go home get some sleep."
I went inside the store grabbed 5-hour energy (AOW fail!) and drank a 1/3 of it and I was off and jumping on the I-10 my GPS showed turn left in 574 miles…I groaned, turned the music up in my earphones and started my classic rock mix I had on my phone to assist in the staying awake game.
10: 49, Bakersfield TX- I had been riding the last hour trying to remember how far my reserve would get me. The bike holds 6.1 gallons, and I also knew in normal riding conditions, a mix of backroads and town riding I could get 254 miles, I remembered that much.
I have a few bikes and for some reason, I was thinking 13 miles, I looked down and right then the fuel gauge went to reserve and started flashing, I'd done 165 miles, I was doing 80mph.
OK, time to find fuel, I tapped the fuel icon on the Garmin and right there in front of me…next gas station 22 miles – crap!
I made it, I rolled in and filled up putting 5.239 gallons in my tank and decided that at around 125 miles maybe, just maybe, I should start checking where the next gas stop is. I mean this is southern TX, there is a whole lot of nothing out here!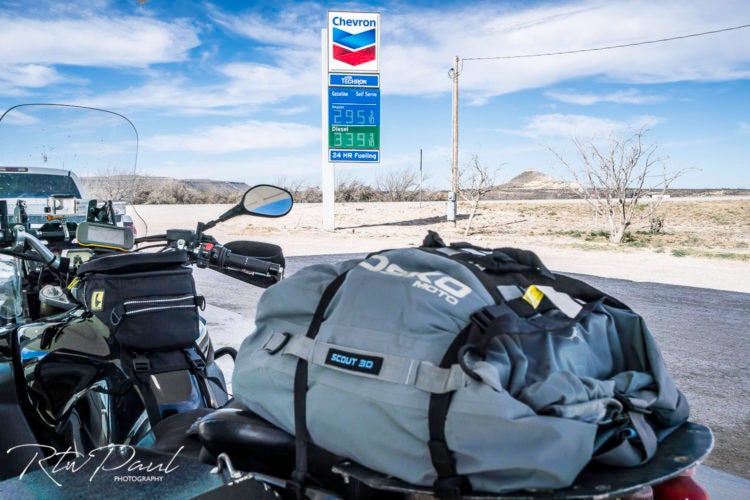 I'm guessing this is what the experienced IBA riders already know, but they also have auxiliary tanks so I'm told, they don't need to stop as much.
Two hours and 155 miles later I was stopping in Van Horn, TX, filling again, I already done 443 miles, sang along to dozens of songs, knowing every single word of every song…but if you asked me to do that with any of them without the track playing I doubt I could complete one line.
Rolling out of Van Horn, TX and back on the I-10 after a few miles and no one around on either side of the freeway I spotted something in the distance moving at the right side of the road. It saw my LED's and froze as I approached it at speed, it was a Coyote, a big one, right before I reached it the sound of the exhaust was enough of a scare and it ran…luckily away from the freeway.
13:49 (again) Lunch was in El Paso and I'd gained an hour here crossing into the Mountain time zone, as this is an all American ride, gotta eat good 'merican food, bacon cheeseburger seemed appropriate! This is a fail on the AOW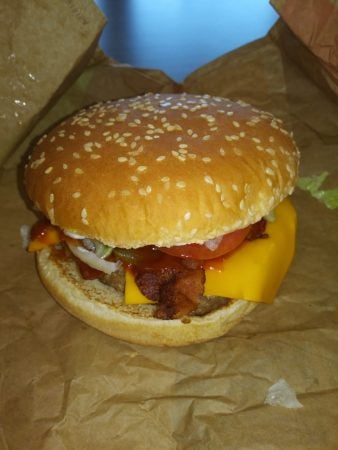 16:18 – Lordsburg, NM, 5 more gallons
18:30 – Tucson, AZ 4.3 gallons
Hitting the city limits in Phoenix, my odometer shows 1000.0 miles exactly, we all know that's a joke in itself, and no way would be accurate enough if I was at my front door.
…and I know this cause the GPS is telling me I still have another 35.1 miles to go, so that makes the odo at least 17 miles out, maybe more.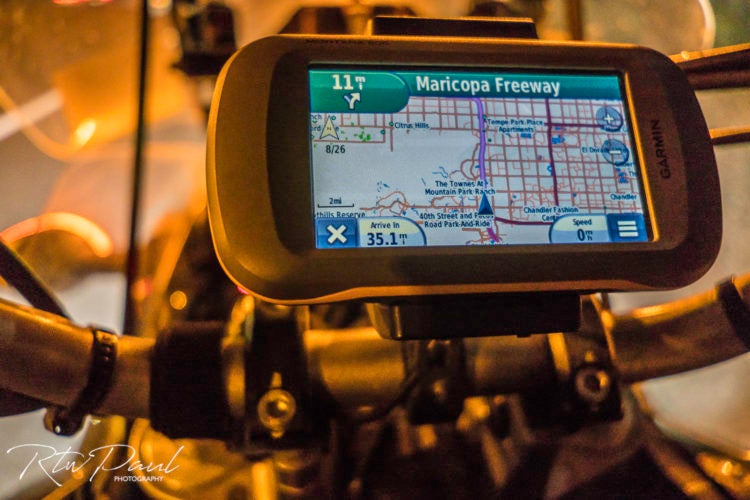 20:51 – El Mirage, AZ the arrival at the final gas station, or 21.51 if I was to do it all on the same time zone.
More importantly, it took 15 hours 1 minute according to the time stamp on the gas station receipts, 2 minutes different to the clock on the bike, which also shows 1036.5 miles total.
BUT the 'actual' according to the GPS log was 1017 miles/ 15 hours 43 minutes or an average speed of 64.7mph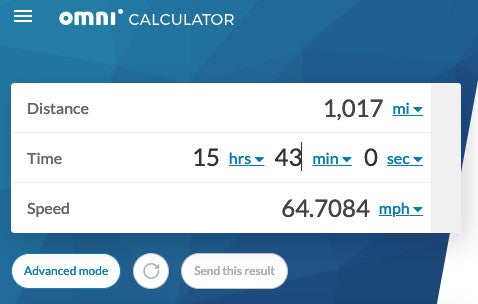 So, the obvious questions?
Did I enjoy it and would I call it an adventure?
One word, NO!
To me, a freeway for 1000+ miles is boring, monotonous, and you don't see anything cool, except the coyote I guess.
There is no option, but to do some of the riding in the dark, unless you were at a northern latitude and longer days, or speeding. What's that comment I hear other riders say – First rule of Adventure Riding: NEVER RIDE IN THE DARK – instant fail as I pulled out of the driveway IN THE DARK.
To me, an adventure is something you can share with people, take cool photos, enjoy the ride, see interesting stuff. I honestly don't see how I could hold anyone's attention talking about this ride…except you, if read this far
Did I or will I join the IBA?
No, sorry all you IBA members! Following on from above, it's not for me, I don't need to spend $56 for someone to agree with me that I rode 1017 miles in less than 24 hours (according to my GPS) and send me a certificate and plaque.
Sorry again IBA guys I don't get it, not sure if I was supposed to get into some zen state as I rode. Or, is just about being on the bike and riding, well I do that anyway and prefer my way of riding, and my slower speed and amazing scenery.
horses for courses I guess
Why did I do it?
I had to get back to AZ for a wedding this coming weekend. It was there. Its a question I get asked a lot, if I've done one, now I can say yes, and direct people to this article.
How much did it cost?
Around $80 in fuel (forgot to grab one receipt) and $12 in food, and I guess I saved the price of a hotel room midway for one night
How were the temperatures thru the ride?
The mercury never got above 59 degrees, the sky was blue all day long, rarely saw a cloud, except for one that looked like the Tasmanian Devil spinning, somewhere over TX
Anything special I did to the bike or me for the ride?
I didn't even know I was doing it basically until I hit El Paso for lunch, so no. Music was a big plus for sure, as were my heated grips, take either one away and there is no way I could have carried on for 15+ hours. I simply would have talked myself out of it thru sheer boredom.
How was the traffic?
It was Sunday so basically, the roads were empty the whole way, made for an easy ride.
How do you feel the day after?
Ok, a little tired, back aches like I was hit by a baseball bat a few days ago, hands are still vibrating a little, kind of minor pins and needles.
Did you follow the Archive of Wisdom, AOW? Link
Too funny, I just found that as I'm writing this, I think I didn't do or ignored 18 of 26 them so I guess I should have failed. Maybe because I ride all the time I just scraped thru.
Do I want to thank anyone?
Tricepilot for awesome bacon and eggs, his crazy sense of humor, hospitality and taking me to the Alamo.